Red Sox
'Sorry guys, he raised me': Mookie Betts crashes Torey Lovullo's NLDS press conference with a hug
The pair spent about three seasons together with the Red Sox as player and bench coach from 2014-16.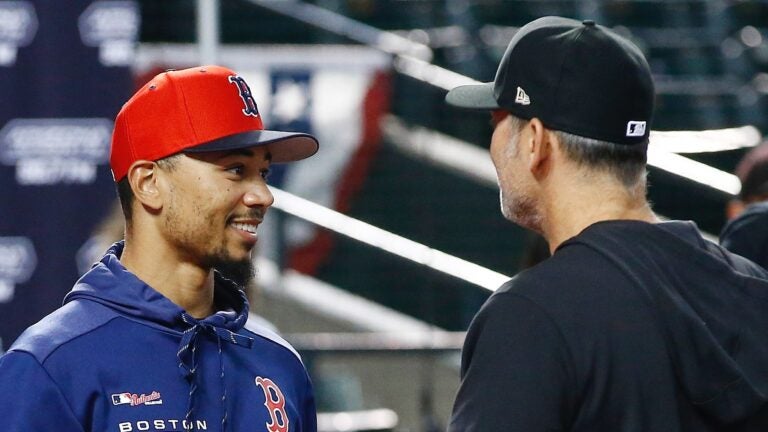 A couple of former Red Sox embraced one another before they go face-to-face in the National League Divison series.
Former Red Sox player Mookie Betts pressed pause on former Boston bench coach Torey Lovullo's media availability on Friday to give him a hug. He apologized to the media for the inconvenience, but the reunion was very wholesome.
"Sorry guys, I gotta give him a hug," the Los Angeles Dodger Betts said as he made his way up the podium where Arizona Diamondbacks manager Lovullo was speaking. "He raised me."
The pair briefly hugged each other, both with smiles on their faces.
Lovullo made a quip at Betts, though, just over 24 hours before Game 1's first pitch at Dodger Stadium.
"Good luck, but not really," Lovullo said to Betts as he made his way back in front of the microphone.
The Diamondbacks' manager and the Dodgers' utility man spent about three seasons together with the Red Sox. Lovullo was the team's bench coach from 2013-2016 and Betts's MLB debut came in June 2014. He also served as Boston's interim manager for the remaining seven weeks of the 2015 season after John Farrell was diagnosed with lymphoma.
Since Lovullo's departure from Boston in 2016 and Betts's in 2020, the pair have spoken highly about each other. When Arizona hosted Boston in 2019 for a three-game series, Lovullo had nothing but good things to say about the player and the Red Sox' young core from his time in Boston which also included players such as Xander Boagerts, Brock Holt, and Jackie Bradley Jr. in the mid-2010s.
"It's always fun to go back and watch first-hand some of the young players I was around for so long," Lovullo told The Boston Globe's Peter Abraham in April 2019. "One of them was arguably the best player in the league last year (2018); I'm excited to see Mookie."
Betts has recalled plenty of good memories between himself and Lovullo, too. Betts told AZ Central in 2021 that he appreciated certain characteristics of his former bench coach.
"I don't know about now, but I know that with me it was his ability to relate and take pressure off of you," Betts said. "It's super important to know that when guys come up you're going to feel pressure to play well and he just somehow takes it off of you in a special way."
In that same interview, the then-29-year-old also explained how comfortable he felt around Lovullo as a player. Betts said they would talk about anything, whether it be baseball or off-the-field topics, and it made him feel good.
Saturday night's NLDS Game 1 first pitch between the Diamondbacks and Dodgers in Los Angeles is set for 9:20 p.m. EST.
Sign up for Red Sox updates⚾
Get breaking news and analysis delivered to your inbox during baseball season.