Red Sox
New names surface in Red Sox' head of baseball ops search
Also, a list of candidates who declined interviews has been revealed.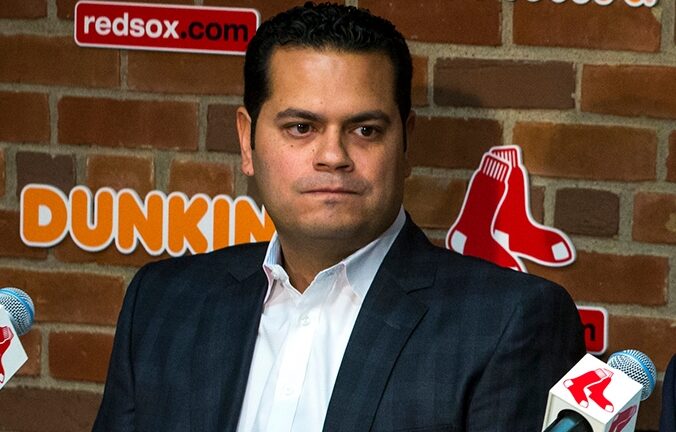 The search for the Boston Red Sox' newest head of baseball operations is underway, and so far they haven't been able to win over most of their top targets.
Multiple reports over the past few days have stated that "multiple" of the Red Sox' preferred candidates declined interviews with the club. Some of those candidates include Philadelphia Phillies general manager Sam Fuld, Los Angeles Dodgers GM Brandon Gomes, and Minnesota Twins president Derek Falvey, according to The Athletic's Chad Jennings. WEEI's Rob Bradford reported that former Texas Rangers president Jon Daniels chose not to interview with the Red Sox either, and USA Today's Bob Nightengale wrote that former Miami Marlins president Michael Hill has no interest in leaving his current job as a vice president for MLB.
Why did these candidates refuse an interview? Per multiple reports, a lot of the hesitancy surrounding the Red Sox job involves the circumstances surrounding the position, including the mostly set-in-stone surrounding infrastructure and the short leash ownership has given to the last three decision-makers. Other reasons for some of these refusals to interview include candidates' lack of willingness to uproot their families, per Bradford and The Boston Globe's Alex Speier.
But the Red Sox aren't exclusively experiencing rejection. Multiple reports confirm that assistant GM Eddie Romero has interviewed for the position, and he's "widely viewed as the favorite among internal candidates," according to Jennings. The New York Post's Jon Heyman reports that Minnesota Twins GM Thad Levine will interview for the position, and Jennings reports that Levine was in Boston on Monday likely for that very reason.
Beyond those confirmed interviews, the Red Sox reportedly have more names of interest. Jennings wrote that Toronto Blue Jays vice president of baseball strategy James Click, who declined a one-year offer to stay with the World Series-winning Houston Astros last season, is "believed to be in the mix" for the position. The New York Post's Joel Sherman wrote that Chicago Cubs assistant GM and former Red Sox reliever Craig Breslow could be a candidate as well.
One popular name across the baseball world is former Miami Marlins general manager Kim Ng, who resigned on Monday after the Marlins tried to hire a president of baseball operations to supervise her, per ESPN's Jeff Passan. It's not yet known whether the Red Sox are targeting Ng, but she has known manager Alex Cora since she was an assistant general manager for a few of the Dodgers teams Cora played for.
The Red Sox have indicated in the past that their search to replace Chaim Bloom will involve many candidates. Many of those candidates are still linked to the Red Sox, but only one can become the top executive in Boston.
Sign up for Celtics updates🏀
Get breaking news and analysis delivered to your inbox during basketball season.