Red Sox
Former MLB GM maps out potential Red Sox trade for superstar Juan Soto
"Can you imagine Verdugo being a centerpiece in both the Mookie Betts trade and a potential Soto trade?"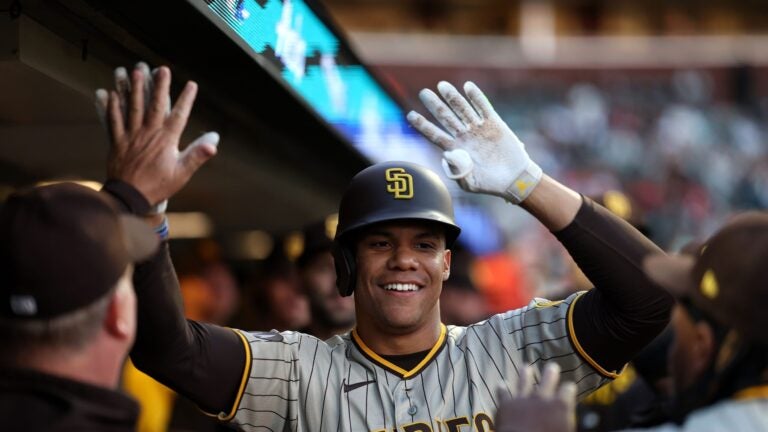 After finishing in last place in the AL East for the third time in four seasons, the Red Sox should be primed for an aggressive offseason this winter.
With Boston set to spend in free agency, the Sox could be viable candidates for talented pitchers like Yoshinobu Yamamoto, Blake Snell, Aaron Nola, Lucas Giolito, and Jordan Montgomery.
The MLB hot stove has yet to catch fire with the postseason still ongoing, but multiple reports continue to link Boston to two-way superstar Shohei Ohtani ahead of what could be a record-setting contract for the Angels DH/pitcher.
But with a restocked farm system now in place, could the Red Sox also be in the position to swing a blockbuster trade or two this winter in order to significantly upgrade their roster?
Former MLB GM Jim Bowden mapped out such a scenario in his latest piece with The Athletic on Tuesday, listing the Red Sox as one of five teams to watch for if the Padres opt to listen to offers for star outfielder Juan Soto.
Soto, who turns 25 years old next week, has established himself as one of the most feared hitters in baseball.
A three-time All-Star, 2019 World Series champion and 2020 batting champion, Soto slashed .275/.410/.519 (158 OPS+) with 35 home runs, 109 RBIs and 12 stolen bases last season in San Diego, leading MLB in walks while also playing all 162 games.
But with the Padres in a state of limbo following a massively disappointing 82-80 record in 2023 — coupled with the expected mega-deal Soto is expected to command as a free agent following the 2024 season — the case could be made that San Diego should sell high on Soto rather than see him walk next year.
Even though dealing Soto with just one year remaining of team control could hurt his overall trade value, Bowden believes that Boston would have to include at least two MLBers and two prospects to facilitate the deal.
"A potential Red Sox package could start with Alex Verdugo, who would immediately become the Padres' starting left fielder," Bowden noted. "Add in starting pitcher Tanner Houck (who would go right into the Padres' rotation) and a couple of good prospects such as outfielder Miguel Bleis and right-hander Luis Perales.
"Can you imagine Verdugo being a centerpiece in both the Mookie Betts trade and a potential Soto trade? I can't either, but with Soto having only one year of control remaining, it obviously reduces the return significantly."
Given that Verdugo could already be on the move this offseason after another up-and-down season in Boston, the Red Sox may not have qualms with moving him — especially if it nets a star like Soto who can replace him in the outfield.
Bleis and Perales are both listed as top-10 prospects in Boston's farm system (per MLB.com), with the 19-year-old Bleis garnering plenty of praise going into the 2023 season as a potential five-tool outfielder with plenty of room to grow. Bleis' development was stunted back in June when he underwent season-ending shoulder surgery while playing for the Single-A Salem Red Sox.
Even if Boston did move both Bleis and Perales, the Red Sox still have plenty of blue-chip prospects still in place on their farm system in Marcelo Mayer, Roman Anthony, Ceddanne Rafaela, and Kyle Teel.
That being said, such a surplus of young talent could also prompt the Padres to ask for even more if a bidding war were to break out this offseason for Soto's services.
Along with the Red Sox, Bowden listed the Yankees, Mariners, Giants, and Guardians as the other MLB franchises with the willingness (and assets on hand) to try and pry Soto out of San Diego.
Sign up for Red Sox updates⚾
Get breaking news and analysis delivered to your inbox during baseball season.