Red Sox
Pedro Martinez thinks that Shohei Ohtani will sign with Red Sox this winter
"I would love to have him."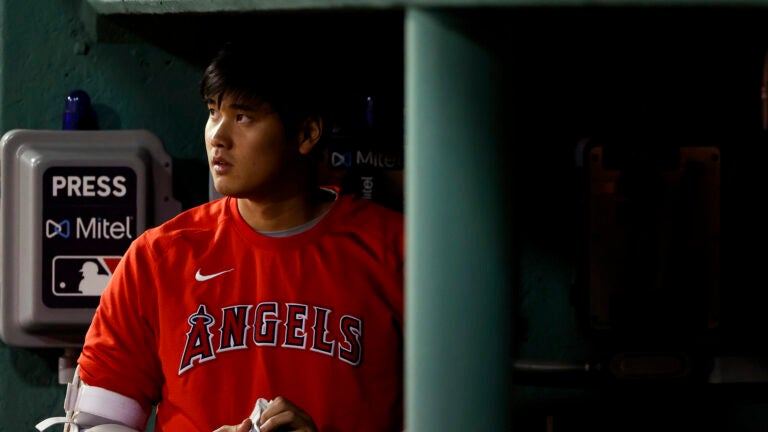 The Shohei Ohtani sweepstakes won't officially commence until the 2023 World Series concludes.
But even before the free-agent feeding frenzy begins this winter, there have been plenty of reports linking the Red Sox to the Angels superstar.
The 29-year-old DH/pitcher will not be able to take to the mound in 2024 while recovering from elbow surgery. But with the perennial MVP candidate still expected to slug at the plate next season (and return to pitching in 2025 and beyond), Ohtani could still rewrite the record books this offseason in terms of a hefty new contract.
Count Red Sox legend Pedro Martinez among those who think that Boston will be the one to hand Ohtani that lucrative contract this offseason.
"I think he's going to be playing in Boston," Martinez told Sports Illustrated. "I would love to have him. But I think LA is also suited for him. I think San Diego could be another team where him and his friend, Yu Darvish, could probably meet together. I know (Kodai) Senga is on the Mets and they can also bring the money to pay him. So it's gonna be a few teams that can also afford him. Those are the few places that I can think of Ohtani maybe landing. But I have to say Boston No. 1."
Given Martinez's obvious connections and affinity toward the Red Sox, it comes as little surprise that the Hall-of-Fame righty thinks that his former team will be the one to reel in Ohtani during the offseason.
But several MLB reporters have hinted at the shared interest between the Red Sox and Ohtani and the possibility of a deal being struck.
Given Boston's desire to bolster its roster (and generate plenty of headlines) after posting its third last-place finish in four seasons, a marquee free agent like Ohtani has plenty of appeal.
"Shohei Ohtani and the Red Sox are starting to be linked more and more," Jon Heyman wrote in the New York Post earlier this month. "One executive with an interested team said he believes they are a real threat. Ohtani has a new big deal with New Balance out of Boston. Perhaps more important: The Red Sox need to balance things out after three last-place finishes in four years.
"If the Red Sox do land Ohtani, maybe their faithful forget Mookie Betts. For a little while, anyway."
Last month, Peter Gammons noted on X, the platform formerly known as Twitter, that an "N.L. Executive long familiar with Shonei Ohtani believes he is interested in Boston, partly because of his relationship with New Balance CEO Jim Davis."
The case could be made that the Red Sox are better served utilizing their spending power on multiple proven starters like Yoshinobu Yamamoto, Blake Snell, Aaron Nola, Lucas Giolito, and Jordan Montgomery.
But if a generational talent like Ohtani or Juan Soto is up for grabs this offseason, the prospect of bringing that star power to Boston might be too tempting to pass up.
Sign up for Red Sox updates⚾
Get breaking news and analysis delivered to your inbox during baseball season.