Red Sox
'I'm an underdog': How Joe Jacques turned his childhood Yankees fandom into a love for pitching in Boston
"It doesn't really get much better than Fenway."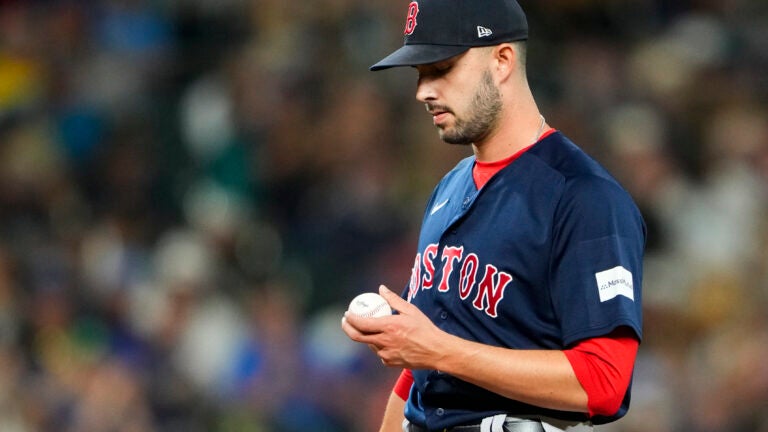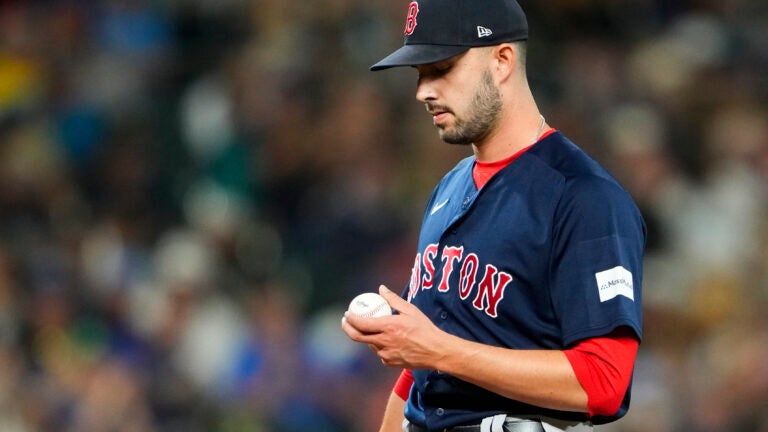 Joe Jacques was sitting in a barber chair on a cold December day when he heard his phone ring.
As his barber sculpted his brand new haircut, Jacques took out his still vibrating phone and read the name at the top. What could his agent want from him?
The impending call could be about a number of different things, but Jacques already had a good idea of what he was about to hear. The 2022 Rule 5 Draft was just around the corner, and Jacques, a minor league pitcher in the Pittsburgh Pirates organization, was eligible to be selected by a new team.
Jacques answered the call and put the phone up to his ear. And as he suspected, a new haircut wasn't the only change he would be making that day.
"You're going to get picked in the Rule 5," his agent told him.
Jacques was not surprised to hear the news. He learned that day that the Pirates had taken him off the Triple-A roster he spent the prior two years pitching for, making him eligible for the minor league portion of the Rule 5 Draft. That cut came not too long after Jacques learned that a member of the Boston Red Sox' front office had asked several questions about him to one of his former teammates.
At that point, the possibility of Jacques leaving the franchise he spent the last five years with seemed almost inevitable. The call at the barbershop was just confirmation.
The Red Sox officially selected Jacques in the first round of the minor league portion of the 2022 Rule 5 Draft, which he learned after returning home from the barbershop. Jacques welcomed the change and happily packed his bags for Massachusetts, hoping that his new team would give him the big-league call-up he never received from the Pirates.
"I was ecstatic," Jacques told Boston.com. "I needed a change of pace at that point. It was a great thing for me and it worked out well."
Playing for Boston provided not just a call-up opportunity, but a chance to live out one of his dreams. He went to his calendar and circled June 9th, the day the Red Sox would begin a three-game series in the Bronx against the New York Yankees. The New Jersey native and born Yankee fan had always wanted a chance to play at Yankee Stadium with his friends and family in attendance, and he knew the Red Sox would have plenty of games against their archrivals this season.
But as the calendar started to approach June, Jacques had yet to receive an invite to the big-league club. He began to realize that this dream would have to wait at least another series.
Jacques had accepted that reality by June 8, the night before the Red Sox-Yankees series was to commence. He returned to his apartment that night and began spending it with his girlfriend and David Hamilton, his roommate and teammate at Triple-A Worcester, before he picked up his phone and noticed a missed call from Chad Tracy, his manager.
Suddenly, a blaze of hope began to re-ignite in his heart. He returned the call and was soon met with Tracy's voice. Jacques's trembling body and shocked expression were enough for his girlfriend and Hamilton to know that his dream was coming true before their very eyes.
Joe Jacques was going to Yankee Stadium.
"I was just shaking on the phone," Jacques said. "I knew [the Yankees series] was coming up, so it was pretty wild to get that phone call."
The Bronx had meant a lot to Jacques long before making his major league debut was ever a possibility. It was the location of Manhattan College, the school that gave Jacques his very first opportunity.
"I just showed up to Manhattan, went to the coach's office, [and] asked when tryouts were," Jacques said.
To say the odds were stacked against Jacques would be a massive understatement. He hadn't received a single offer to play baseball at a college and still chose to try out for Manhattan's team instead of taking a much safer career path, knowing full well that most walk-ons typically don't make it to the pros.
But that didn't matter to Jacques. In his eyes, it was just another time he'd been overlooked and another opportunity to force people to notice him.
"I'm an underdog," Jacques said. "I've been an underdog my whole life."
Then-Manhattan manager Jim Duffy certainly noticed Jacques during tryouts and rewarded the underdog with a spot on the team. But Jacques was not done proving himself. By the end of his freshman year, he went from a no-name walk-on to a starter in the Jaspers' rotation after proving to his coaches that his talent translated to consistent success on the mound.
"You could have stuff, you could have whatever, but it's all about being able to do it on the field, under the lights every time, giving the manager what they're looking for," Jacques said. "They don't want a wild card, [where] you don't know what you're going to get that day. So I kind of pride myself on being consistent."
When Jacques first walked into Duffy's office to ask when tryouts were, all he wanted was a chance to play baseball after his career appeared to be over. But five years, 209 strikeouts, 256.2 innings and a MAAC All-Championship team selection later, it appeared as if he could continue playing baseball at the professional level.
"[Playing professional baseball] was always an aspiration," Jacques said, "but I don't think it became real until the end of my junior year or senior year when I started getting some real interest."
That interest turned into a contract after the Pirates selected Jacques in the 33rd round of the 2018 MLB Draft, but the Red Sox were the ones to make his dream of suiting up at Yankee Stadium come true. He never actually played in that series, but he did record his first MLB win against them about a week later during the Red Sox' 15-5 blowout of the Yankees on June 16 at Fenway Park.
It may not be his childhood team's ballpark, but Fenway Park is still a very important one to Jacques. He's seen it countless times while watching the Yankees play the Red Sox and is aware of the many battles his childhood team fought on that diamond over the years.
Now, Jacques is a professional baseball player who pitches his home games on that stadium's mound, which is a reality that he still has not fully processed yet.
"I don't know if I believe it just because it's still hard to think about," Jacques said. "I pitched for the Red Sox in Fenway. It doesn't really get much bigger than that."
The historic grandiosity of the Red Sox' home doesn't intimidate Jacques whatsoever. He loves pitching at Fenway Park and doesn't want to pitch anywhere else.
"Hopefully I stay here forever," Jacques said. "But it's almost like it only goes downhill from here because it doesn't really get much better than Fenway."
But it's not just the spectacle of Fenway Park that excites Jacques. He's completely bought into the Red Sox and cherishes his sometimes-unpredictable role as a middle-inning reliever. At that position, his primary job was to keep Chris Martin and Kenley Jansen, the two best arms in Boston's bullpen, from having to come into low-leverage games. But sometimes he was called to pitch in close games, and those are the games in which he feels he grows most as a pitcher.
"You're trying to eat those innings when it's not necessarily a leverage game," Jacques said. "But sometimes you do get into leverage situations and it makes you a better pitcher and you learn for the future."
Jacques learned a lot in his rookie season with the Red Sox, especially while he was on the mound. He was sent in to pitch in many unfamiliar situations throughout the season, but he adapted to each challenge by the time the season ended.
"Obviously there were some struggles in [my rookie year], but I think for the most part I got the job done in a lot of ways they asked me," Jacques said. "Sometimes it wasn't things I was used to, like going multiple innings."
He enjoys these challenges given to him by manager Alex Cora, someone he never imagined he would work with when he was a kid. Cora and catchers' coach Jason Varitek played on the Red Sox during Jacques's youth, and knowing that they trust Jacques to pitch on their team gives him the belief that Fenway Park is exactly where he belongs.
"It's wild. [I was] watching those guys growing up," Jacques said. "So just talking with them and being able to play for them gives me the confidence that I could pitch in the league for a long time."
Jacques had believed that he could pitch in the major leagues ever since he was drafted and had always wanted to do so. It was a wish that the Red Sox granted, but they didn't give it to him. Jacques earned a spot on the Red Sox' 40-man roster spot because of his confidence, consistency and work ethic that turned him from a walk-on into a professional baseball player.
He's earned everything he's gotten ever since his days at Manhattan College, and he's ready to earn even more in his first full MLB season next year.
"[I was] always kind of an unknown guy, and I would just make myself a 'dude' in the bullpen and gain the trust of coaches wanting to put me in the game," Jacques said. "I think that's what's brought me here."
Sign up for Red Sox updates⚾
Get breaking news and analysis delivered to your inbox during baseball season.