Red Sox
Craig Breslow on what the Red Sox need, what he learned in 2013, and being an 'Ivy League nerd'
"I know what it takes to win here, and I'm willing to make the hard decisions necessary to deliver."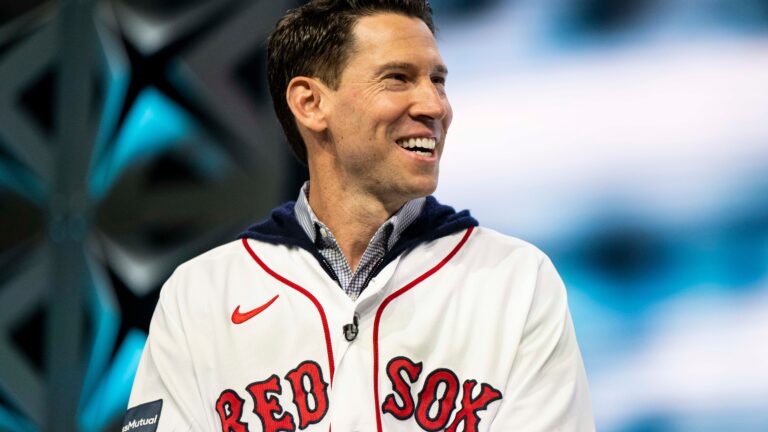 Craig Breslow knows what it looks like.
"I understand that some of you will see me as another Ivy League nerd with a baseball front office job," he said Thursday. "It's true. I am that. But I'm also a 13-year big leaguer and a 2013 Boston Red Sox World Series champion. I know what it takes to win here, and I'm willing to make the hard decisions necessary to deliver."
Breslow, 43, was introduced Thursday as the Red Sox chief baseball officer, succeeding Chaim Bloom. Here's what he and team president Sam Kennedy had to say.
Key takeaways from Breslow's introduction:
Sam Kennedy on why Breslow emerged as the top candidate: "Throughout the process, Craig clearly emerged as the ideal choice to lead the Boston Red Sox' baseball operations for three primary reasons. No. 1 was his unmatched clarity of vision of the department, and especially his plans that he articulated for player acquisition, player development and ultimately player performance at every level. Second was his baseball intelligence. You may have noticed and it has been widely reported on, Craig is a problem solver of the highest order. He literally turned himself into a big leaguer and turned himself into a front office executive using innovative and nontraditional methods.
"Finally, what stood out to us was his incredible experience as a major league baseball player. He played for seven major league teams over a span of 13 years, and most importantly to us, he played right here in Boston at Fenway Park. Craig knows firsthand what it takes and what it means to win here."
Breslow's opening statement: "I've watched a lot of baseball games at Fenway Park. Some from the stands, some from the bleachers, but most from the bullpen. I know what it's like to put on a Red Sox jersey, to jog through the bullpen gate across freshly cut outfield grass. I know what it's like to stand on the mound in front of tens of thousands of the most passionate fans in the game. … I know what it's like to hoist a World Series trophy overhead, the culmination of a group of people coming together to accomplish something they couldn't have done alone.
"Red Sox fans deserve a standard of quality and consistency. Quality meaning a team that can win the AL East and contend for a World Series title, and consistency meaning we can do that year after year."
Breslow on his reputation: "I understand that some of you will see me as another Ivy League nerd with a baseball front office job. It's true. I am that. But i'm also a 13-year big leaguer and a 2013 Boston Red Sox World Series champion. I know what it takes to win here, and I'm willing to make the hard decisions necessary to deliver."
Breslow on what he's looking forward to: "One thing that I am very, very excited to point to is the emergence of this really exciting young core, some of whom are contributing right now at the major-league level, some of whom are reaching the upper levels of the minor leagues, and some who, candidly, are not here just yet."
Breslow on the Red Sox' biggest needs: "Pitching certainly stands out as an area of need. Defense, and I think certain players coming back from injury and being able to solidify middle-infield defense will add to that. I think if you look at the overall construction of the roster, there's the possibility that maybe we can add a right-handed bat to even it out."
Breslow on financial restraints: "I don't see financial resources as a limiting factor."
Breslow on possibly naming a general manager: "I think the most prudent path right now is to evaluate the landscape. Over time, the right profile, the right thought partner will unveil itself, but currently I'm not feeling a rush to do that. I think there are some decisions that are more pressing."
Breslow on Alex Cora: "Unequivocally, he'll be the manager in the 2024 season, and he's someone for whom I have great admiration and appreciation and a long-standing relationship with. We were teammates, back longer than I'd like to remember, but I'm excited to build that relationship."
Breslow on team ownership: "One thing that became clear through this process was the unwavering commitment to winning from ownership. I think the responsible, the prudent path of a front-office operation is to search all quarters for those opportunities, to overturn every stone and unearth every option. There are multiple pathways to building sustainable winners, and we need to be willing to run down all of those."
Breslow on what he learned being with the Red Sox in 2013: "I would point to the pillars of healthy organization-building being acquisition, development, and optimization, and the complex interactions among those three things. What 2013 told us above all else is that there's heavy lifting and incredible work to be done in the front office in terms of bringing players together and organizing a baseball operation. And then there's the opportunity to get more out of the group of players that's in the clubhouse every day.
"What I learned from 2013 is that you can't look at any one of those things in isolation, but you have to appreciate the complex interactions of all three."
Breslow on his relationship with Theo Epstein: "I spoke to Theo. He's someone that I would call a trusted confidant, a mentor, and someone from whom I would seek counsel, and I'm immensely appreciative not just for any of the advice that he's given me through this process, but for his role in bringing me to the Cubs and bringing me into the front office for the first time."
Breslow on building a consistent team: "Part of building a consistent winner at the major league level is making really bold, difficult decisions. Some of those include trading favorite players, and some of those include leveraging prospect capital to enhance your major league team."
Breslow on spending in the offseason: "I know that we have some needs to fill on our major league rosters. I think that there are multiple ways to get there, and our job is to take as comprehensive a look as we can at all possible paths there."
Breslow on developing players: "We generally tend to talk about the acquisition side of things. I think it's important not to lose sight of the opportunity to develop our players and continue to push those and really identify clear goals and build really detailed and comprehensive plans around them and ensure that we're executing."
Breslow on how he's prepared for this job: "I'm ready to take on this challenge. The way that I approach problem solving is transferable and scaleable. I also can point to two things that will help me in this regard. One, the number of talented and experienced people in this front office, and two, the opportunities that I've had to learn from some of the most successful executives and people that I would call mentors in this game."
Breslow on what he accomplished with the Cubs: "The blueprint there was identify the current state and see how we had fared relative to organizations that have reputations as being strong pitching development organizations, identifying where those gaps were, and kind of figure out what we wanted the ideal future state to be, and then figure out the roadmap to get us there.
"Ultimately, the realization there was that the Cubs had an organization that was maybe lacking in the pure stuff, the pure quality of pitchers that could contribute to major-league success. So we worked backwards from understand what a major-league pitching contributor looks like in each of those corresponding minor-league levels knowing that the goal anywhere is not to build the most competitive minor-league team, it's to build major-league value and major-league contributors.
"Given the size of today's offices, given the information available, it's really easy to get caught up in trying to find the newest, the brightest, the most current information when it turns out that getting an organization directionally aligned behind something is far more powerful."
Read more:
What's on Craig Breslow's to-do list as the Red Sox' new chief baseball officer?
Craig Breslow is a problem solver. His next project? The Red Sox.
Sign up for Red Sox updates⚾
Get breaking news and analysis delivered to your inbox during baseball season.