Red Sox
Craig Breslow's big brain Red Sox' new plan in sport building toward the middle
We can't be sure exactly what Breslow has planned, but we all know what he needs to do as the Red Sox' new chief baseball officer.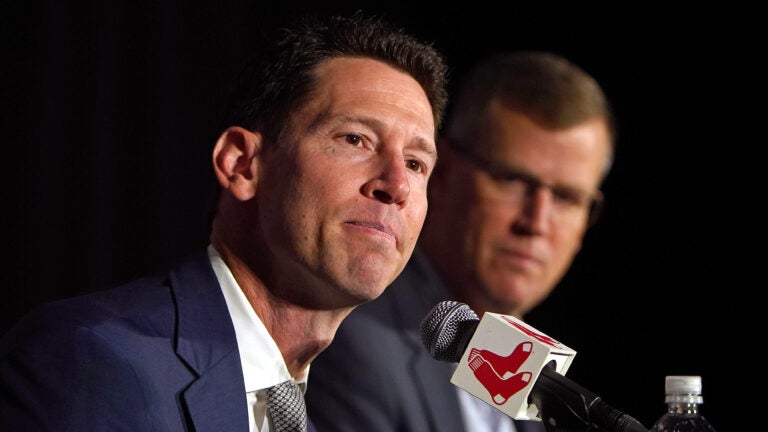 COMMENTARY
Craig Breslow, as you're likely already sick of hearing, is smart. Molecular biophysics and biochemistry degree smart. Almost quit baseball to go to medical school smart.
These refrains are part of the business when being sold the next thing, and goodness have the Red Sox been introducing a lot of new product in their baseball operations line. Recite them by heart with me.
Theo Epstein is young!
Ben Cherington is a Sox lifer!
Dave Dombrowski is decorated and old school!
Chaim Bloom is collaborative and does things the right way! (And has his own Yale degree, for the record.)
New team architect Breslow and Sox president/CEO Sam Kennedy spoke for 40 minutes on Thursday, filling the time with the sort of nothing to which we're accustomed. There were nuggets worth keeping, and we'll get to those, but there was a lot of "leveraging prospect capital" and "synthesizing analytical information" and "engage in conference with kind of the empathy of all parties" and "we need to be anchored to the various pathways" and . . .
"There's been some words that he has said that I have no idea what they mean," manager Alex Cora quipped to reporters at Fenway. "But I'll just keep rolling with him."
We can't be sure exactly what Breslow has planned, nor should we expect much telegraphing beyond, "It's the starting pitching, stupid." We can be sure there's not a ton of value in the "he played here, he gets it" leaned hard into Thursday.
"I know what it's like to put on a Red Sox jersey. To jog through the bullpen gate across freshly cut outfield grass," Breslow said during his opening remarks. "I know what it's like to stand on the mound in front of tens of thousands of the most passionate fans in the game."
I, too, remember 2013. Its relevance to 2024 is lacking. Someone should probably clue in Sam et al. that no one who cares about the Red Sox today needs a reminder about their accomplishments from 2002-18. If anything, they need to hear about it less, because the comparisons to today are not flattering ones.
That outfield grass was covered with golf balls Thursday, a sign of the times as Fenway now cosplays as a driving range each November. Gotta diversify those investments, you know.
Also a sign of the times? John Henry — the owner of the grass, the team, and Boston Globe Media Partners (including Boston.com) — rolled into Thursday's welcome presser 20 minutes late and left without a public word.
"John is focused on leading the organization, leading all of Fenway Sports Group," Kennedy, in part, told reporters. "I can tell you there's a commitment from John to the Red Sox that people may not see or hear publicly each and every day. The passion for winning has not changed at all."
The ability to achieve it sure has.
In an overarching sense, those oft-referenced smarts offer the most comfort as the Red Sox reset again. Someone as bright as Breslow, with as solid a gig as he had with the Cubs — working from home in Newton, in a job he basically crafted himself — wasn't going to walk into the Fenway meat grinder without some actual assurances.
"One thing that emerged through this process in spending so much time with John and Tom [Werner] and Mike [Gordon] and Sam is that resources are not a problem here," Breslow said. "The commitment to winning from ownership is not a question here."
And in the modern game, that might be all it takes.
In Rob Manfred's MLB, no one's ever that far away. Both World Series entrants, plus 101-win Baltimore, were 100-game losers just two years ago. It's deeper than that, though: The Diamondbacks won just 84 games this season, and had a 16-34 stretch that was worse than any 50 games the last-place Red Sox had all year. The world champion Rangers went 20-25 after a 40-20 start, then lost 16 of 20 in late summer.
The big-spending Mets, Yankees, and Padres all flopped. The 100-win trio of Atlanta, the Orioles, and the Dodgers went 1-9 in their playoff ousters.
You think those are bugs? The commissioner and his gap-toothed smile don't.
"My own view," he told reporters in a pre-World Series briefing, "is that the format served us pretty well."
The players' union knows what's up. Lest you forget they're all that stopped there being two more playoff teams in the most recent CBA. Manfred would've had the 83-win Cubs in the party, too.
With the bar for a championship now "be nominally competent and get hot for a month," how can any team ever feel years away from contention? Especially one with the ammo stores of the Red Sox, who were notably rebuffed by a slew of baseball boss candidates, but ended up with a guy who basically big-brained his way into a 12-year MLB career and subsequent place as a front-office rising star. (Alex Speier more artfully deemed him a "problem solver" in the Globe.)
It's a copycat league, and the Red Sox think they just got the next Chris Young.
The Rangers general manager was himself an Ivy League pitcher who lasted a decade in the majors before running his hometown club in short order. He didn't spend like the Mets, Yankees, and Padres, but was there when Jon Daniels gave Marcus Semien and Corey Seager a half-billion dollars, then supplemented them with Jacob deGrom, Nate Eovaldi, and Andrew Heaney. They also re-signed Martín Pérez for almost $20 million before tacking on Jordan Montgomery and Max Scherzer at the deadline.
It's the pitching, stupid. It's the defense. (Which the Rangers made demonstrably better this season despite most of the same regulars from 2022.) And it's the money. The Rangers' payroll was fourth, per Spotrac, just ahead of Dombrowski and the Phillies. The Dodgers (6th), Astros (7th), Blue Jays (9th), and Atlanta (10th) remind spending big on the right guys remains the contention keystone.
"I don't see financial resources as a limiting factor," Breslow said Thursday. "I think that's something that was clear in the conversations that we had."
And with that, Breslow enters the breach. There's an "exciting young core" built by those before him and a relatively contrite ownership aware they've missteps to correct. He has the blessing of Epstein, whom he called "a trusted confidant, a mentor" in as stirring an endorsement as anything said about 2013.
"I think I've got unique perspective," Breslow said. "I also think I have the willingness and the conviction to make the tough decisions necessary to succeed in this role."
The nature of fandom is that hope springs eternal, and the nature of baseball is every spring, you can talk yourself into just about anything.
"We know that we have to be competitive next year. So we're going to be competitive next year," Sox chairman Werner said to reporters. "We're going to have to be full throttle in every possible way."
I don't know if I believe him, and I suspect you don't either.
We'll just have to take solace that a guy a heck of a lot smarter than both of us does.
Sign up for Red Sox updates⚾
Get breaking news and analysis delivered to your inbox during baseball season.