Red Sox
Alex Cora says Red Sox will have a set uniform schedule next year
"There's going to be structure next year," Cora said. "There's going to be a lot of whites, a lot of grays."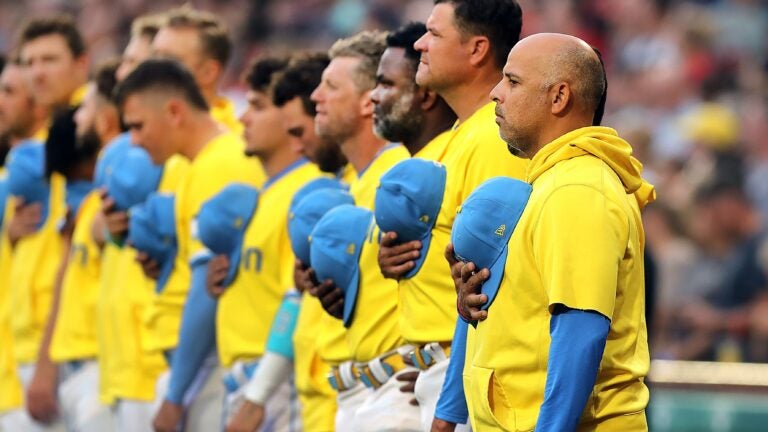 The Red Sox used to choose their uniforms somewhat arbitrarily before games. That won't be the case next year.
Manager Alex Cora that the Red Sox will have a set uniform schedule for the 2024 season, revealed on the DraftKings' "Name Redacted Podcast." The team will wear alternate uniforms less frequently, as Cora wanted to see the Red Sox wear their traditional white home jerseys and gray jerseys more often.
"There's going to be structure next year," Cora said. "There's going to be a lot of whites, a lot of grays."
The Red Sox will typically wear their white jerseys at home and gray jerseys while on the road. But on Fridays, they will don their red alternates for home games and their blue alternates for away games.
For Saturday games at home, the Red Sox will wear their yellow City Connect jerseys.
"On Saturdays, people know, 'City Connects.' You go wearing yellow to Fenway Park," Cora said.
The City Edition jerseys were unveiled in 2021 as a way to honor Patriots' Day, and their yellow and light-blue color scheme was designed to resemble the Boston Marathon. The Red Sox have found enormous success in these jerseys, as they are 27-7 in games they've played while wearing them.
During a difficult stretch last season, Red Sox clubhouse manager Tommy McLaughlin wanted the Red Sox to wear the City Edition jerseys for good luck, as the Red Sox had a 10-game winning streak while wearing them from July 27, 2022 to Aug. 7, 20223. But going forward, the jerseys will no longer be used as a crutch for poor performance.
"We cannot rely on yellow whenever we suck," Cora said. "Is it the uniforms or is it us?"
The Red Sox may not be wearing their City Connect jerseys — or even their red and blue alternates — as much as they did last season, but they will still be a part of their strong uniform lineup next year.
"I think our uniforms are great, Cora said. "Good-looking uniforms."
Sign up for Red Sox updates⚾
Get breaking news and analysis delivered to your inbox during baseball season.