Red Sox
Craig Breslow believes the Red Sox have a need for a 'bonafide starter or two'
The Red Sox ranked 25th in quality starts in 2023 as their pitching staff fell off down the stretch of the season.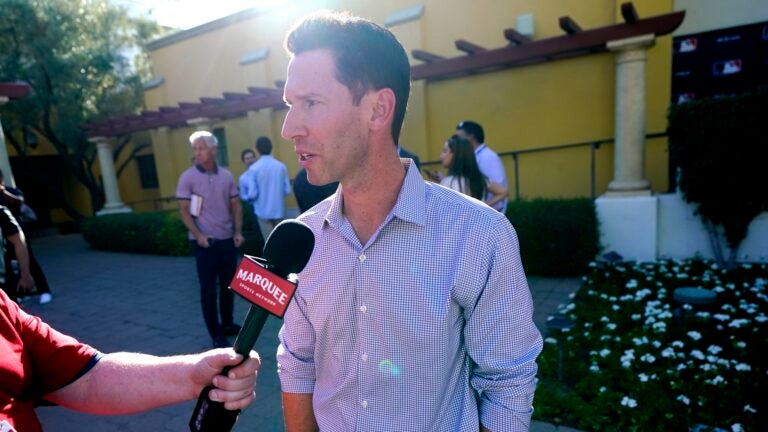 Craig Breslow officially embarked on his first offseason as the Red Sox' chief baseball officer this week, attending the GM meetings in Arizona with free agency officially underway. As the meetings wrapped up, Breslow identified a key area of need for the Red Sox this offseason: pitching.
In an interview with MLB Network's Jon Morosi, Breslow gave an indication of what he might need to do to shore up the rotation when asked how many spots he believes are set.
"Really, really hard to pin that down," Breslow said. "I think what we're trying to do is build out as much depth as we possibly can and also recognize that there's a need for a bonafide starter or two."
The Red Sox' need for starting pitching was pretty evident last season, especially down the stretch. Boston rolled out a three-man rotation for much of the summer, which came back to bite it down the home stretch. The Red Sox also ranked 25th in quality starts last season and they only have three pitchers that exclusively started 20 or more games for them in 2023 currently on their roster.
Luckily for the Red Sox, this year's free-agent pitching market is considered to be loaded. Several top-of-the-rotation pitchers have hit free agency, including Blake Snell, Aaron Nola, Sonny Gray, Eduardo Rodriguez, Lucas Giolito, and Marcus Stroman.
Yoshinobu Yamamoto is considered by many to be the top arm (outside of Shohei Ohtani) on the free-agent market. The 25-year-old Japanese pitcher is reportedly expected to be posted by the Orix Buffaloes within the next week, giving teams a 45-day period to negotiate and agree to a deal with him.
Jordan Montgomery is another top arm on the market. The southpaw was a force for the Rangers in their run to the World Series, 4-2 with a 2.90 ERA in the postseason. Red Sox officials have already spoken to Montgomery's agent, according to Morosi.
The Red Sox also have some options within their roster to fill the back end of the rotation. Even if they sign two starting pitchers in free agency, they'd likely have to decide if they want any one of Tanner Houck, Garrett Whitlock, or Kutter Crawford to be in their rotation.
As all three pitchers have bounced between the rotation and bullpen in the first few seasons of their MLB careers, Breslow told reporters Wednesday that they'd build Houck and Whitlock out to be starters this offseason. Speaking to Morosi, Breslow thinks that having guys like Houck and Whitlock are valuable to building a team.
"We had a number of guys that were successful in flashes in the rotation and bullpen," Breslow said. "If we can stretch those guys out to take rotation spots, that just really adds to our depth. I think we're in a unique situation where we have a number of guys who can do both very, very well."
The other hot-button topic surrounding the Red Sox' roster this week was the future of Alex Verdugo. The right fielder was the center of trade rumors over the last few days, with the Yankees being named as a potential suitor.
As Verdugo enters his final year under team control, Breslow didn't deny that teams have been calling about him. But he also iterated a positive view of Verdugo.
"I think Alex is a great player who's on our team," Breslow said. "He's been a major contributor to Major League wins and will continue to be one. By nature of where he is and teams casting a wide net, they've reached out. We're happy with Alex on the Red Sox."
Looking toward the future, Morosi also asked Breslow if he has any inclination if top prospect Marcelo Mayer will be Major League-ready this coming season. Breslow didn't want to set any expectations for the young shortstop.
"Really, really difficult to try and forecast that and place unnecessary pressure on him," Breslow said. "What I can say is that he's a really, really exciting young player who's made a ton of strides, who we fully expect to enter the 2024 season completely healthy. I like what he can do on both sides of the ball and I'm really, really glad he's in our system."
Sign up for Red Sox updates⚾
Get breaking news and analysis delivered to your inbox during baseball season.