Red Sox
What Pedro Martinez and Jason Varitek said about Craig Breslow's hiring
"I hope he understands that as much as Boston loves him, that he's willing to love Boston, he's willing to put up with Boston and to be patient with Boston"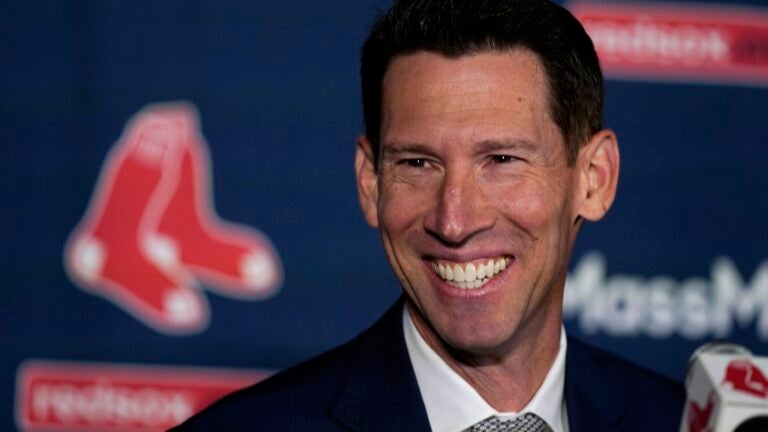 Craig Breslow's first stint as a Red Sox pitcher came two years after Pedro Martinez's final season with the Red Sox.
Breslow joined the Red Sox in 2006. Martinez left in free agency after the 2004 season.
While they didn't overlap as players, Martinez says he's excited to see Breslow take over as Boston's chief baseball officer.
"I think it's great. I just hope he's prepared to be patient, more than anything. Just to be patient," Martinez said during an appearance at the Pedro Martinez Foundation gala. "You don't get to the goal by rushing into it or by being lucky. You have to put together a lot of stuff … you have to have the people around you to help you, everybody pulling together towards the same goal.
"I hope he's patient. I hope he doesn't start getting gray (hair) because he has pretty dark hair," Martinez continued. "I hope his hair doesn't go grey too soon and that he understands that it will take a lot of work and dedication. I also hope that Boston fans are patient with him because he's got a lot of work to do."
The Red Sox fired Chaim Bloom after finishing last in the AL East for the second year in a row.
Breslow, who was on the postseason roster when the Red Sox won the World Series in 2007 and 2013, is now responsible for getting the team back to its winning ways.
"I think Breslow knows both sides," Martinez said. "He also understands that Boston is going to love you, but Boston is going to demand, and Boston is going to be watching you. So I hope he understands that as much as Boston loves him, that he's willing to love Boston, he's willing to put up with Boston and to be patient with Boston."
Former Red Sox catcher Jason Varitek, who is now on the team's coaching staff as a game plan coordinator and catching coach, said he's looking forward to working with Breslow.
"He was a brilliant player that got a lot out of his career and has continued to excel and look for different avenues to make himself better," Varitek said. "There's so much newness now. There's so much — GM meetings within a week of him being hired … there's a lot. We've got people to hire and stuff. Our time will come and we'll have the opportunity to see what direction we're going and to have personal conversations."
Martinez and Varitek were among the stars who appeared on the red carpet at the seventh annual Pedro Martinez Foundation Gala Friday night.
Inspired by Martinez's experience growing up in the Dominican Republic, the foundation strives to give support, assistance, and educational programs for children and families in low-income communities.
Spearheaded by Martinez and his wife Carolina, the foundation is building a charter school in the Dominican Republic that will provide technical and vocational training that will prepare students for careers related to, but not necessarily dependent on playing sports.
"I'm extremely grateful because I am going to bring others opportunities that I never had," Martinez said. "That says a lot for a guy who didn't have much but baseball to strive for. Imagine that I didn't make it in baseball. Where would I be? I ask myself the same question. That's what I want to bring. Different opportunities."
Sign up for Red Sox updates⚾
Get breaking news and analysis delivered to your inbox during baseball season.