Red Sox
4 things to know about Andrew Bailey, reportedly close to becoming the new Red Sox pitching coach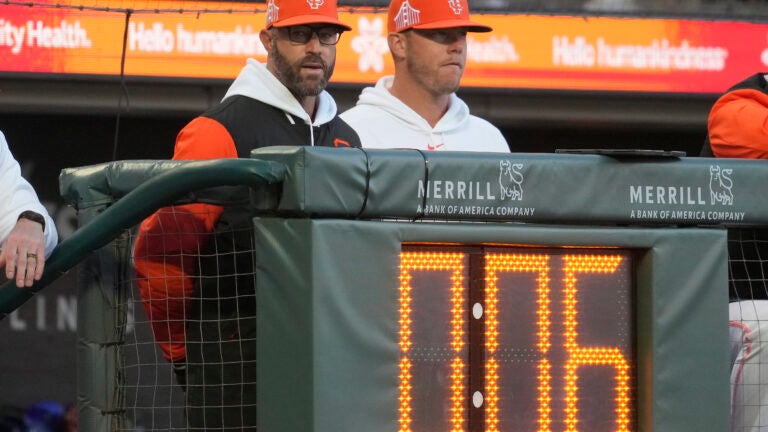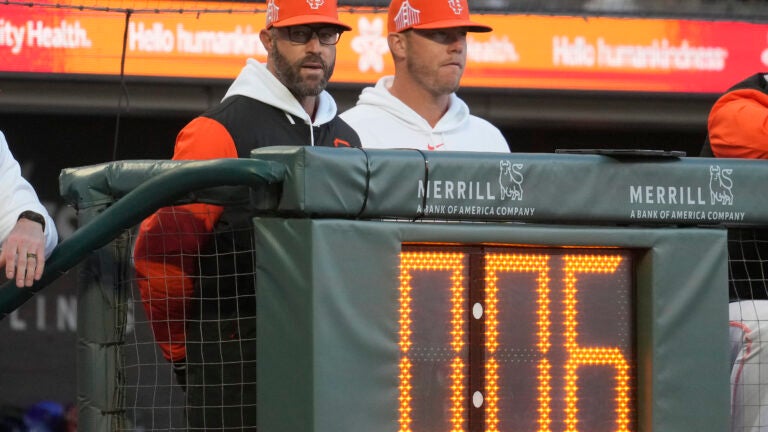 The search may nearly be over for the Red Sox' new pitching coach.
According to Ken Rosenthal of The Athletic and Alex Speier of The Boston Globe, the Red Sox are close to hiring Andrew Bailey to fill the position, replacing Dave Bush, who was fired a month ago.
There is a lot of excitement in Boston about this hire, an unusual amount for a pitching coach.
Here are four things to know about Bailey.
He is credited with turning around the San Francisco Giants' pitching staff
Bailey's reputation as a talented coach comes from how he turned the San Francisco Giants' pitching staff into a league-wide juggernaut. He'd been with the Giants since 2020, a year in which San Francisco pitchers finished with the 18th-best ERA (4.64) and 16th-best WHIP (1.32) in MLB.
Since then, the Giants' pitchers finished with the second-best ERA (3.24), WHIP (1.15) and FIP (3.55) in 2021, the second-best FIP in 2022 (3.43) and gave up the fewest home runs (173) and walks (403) in 2023. When combining the four years that Bailey has been their pitching coach, the Giants had a team ERA of 3.81, which ranks as the sixth-best in baseball per Speier. Comparatively, the Red Sox' 4.57 team ERA over the last four years ranked 23rd.
He didn't just improve the teams' stats either. Every year since the pandemic-shortened 2020 season, Bailey managed to turn at least one Giants pitcher into one of the best in baseball. Kevin Gausman made his first All-Star Game and finished sixth in NL Cy Young voting in 2021, his second year in San Francisco. Carlos Rodón finished at the same spot the following year in 2022, his first and only season with the club. Their current ace, Logan Webb, is a finalist for the NL Cy Young race this year, earning a Top-3 spot over flamethrowers Justin Steele, Spencer Strider and Kodai Senga.
Multiple teams were interested in Bailey, including a Red Sox rival
As a result of Bailey's work in San Francisco, multiple teams wanted to bring him to their organizations. According to The New York Post's Joel Sherman, the Red Sox, Baltimore Orioles, and Miami Marlins considered Bailey to be their pitching coach, and he denied the Chicago White Sox an opportunity to do the same.
The New York Yankees also had interest in signing Bailey as the team's bench coach to replace Carlos Mendoza, who was hired as manager of the New York Mets. Bench coach comes with a higher status than pitching coach, and living in New York seemed like an ideal opportunity for Bailey, a Jersey native and former Yankee.
He pitched for the Red Sox and won a World Series with them in 2013
Red Sox fans are most likely to recognize Bailey's name for his contributions on the mound at Fenway Park. The Red Sox traded with the A's for the former AL Rookie of the Year after the 2011 season, and he pitched his first game in Boston near the end of the 2012 season. He became the team's closer following an injury to Joel Hanrahan shortly after the 2013 season began, and he then he began his best few months since leaving Oakland.
Bailey registered a 3.77 ERA and a 1.221 WHIP with 8 saves, 39 strikeouts and an American League Player of the Week award (week of April 21, 2013) in 30 appearances. He suffered a season-ending shoulder injury that July, but in his absence his team capped off an astounding playoff run by winning the World Series trophy.
The Red Sox chose not to tender Bailey a contract following the 2013 season. He signed with the Yankees and would pitch for them, the Philadelphia Phillies and Los Angeles Angels before retiring in 2018.
He is close with new Red Sox CBO Craig Breslow
Bailey and Breslow were teammates on the 2013 World Series-winning Red Sox and are also close friends. The relationship between the two newest Red Sox leaders goes back to 2009, when they pitched together on the A's. Since then, they've only grown closer, as the two used to live close to each other in Connecticut and worked together on Breslow's Strike 3 Foundation, which is dedicated to raising funds and awareness for pediatric cancer.
Sign up for Red Sox updates⚾
Get breaking news and analysis delivered to your inbox during baseball season.
Sign up for Red Sox updates⚾
Get breaking news and analysis delivered to your inbox during baseball season.