Boxing
If boxing's popularity is waning in the US, why are movies about it so popular?
"I think it's due to the strength and consistency of the metaphor that boxing provides."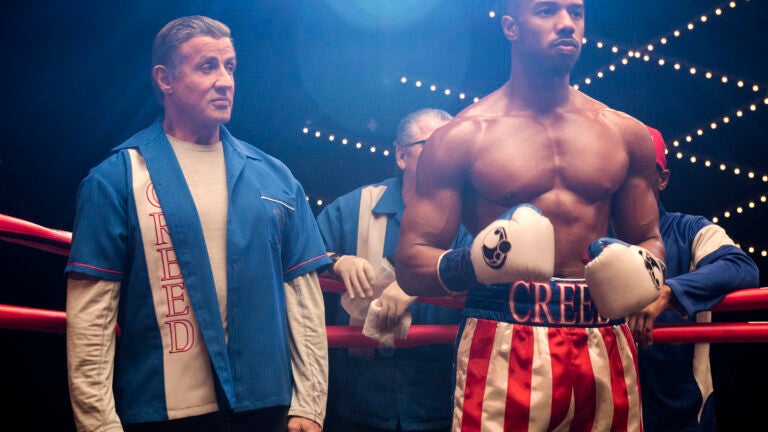 Some of a certain age may be feeling a little nostalgic when they see previews for the movie "Creed II.'' It is the sequel to the 2015 blockbuster "Creed,'' which raked in $173.6 million worldwide and brought the "Rocky'' franchise back to life.
Adonis Creed is back, this time training to fight the son of Ivan Drago, who killed Creed's father, Apollo, in Rocky IV.
That's where the sense of déjà vu comes in for fans of the film series. Just as "Creed II'' will be, "Rocky IV'' was released the day before Thanksgiving, in 1985. "Rocky IV'' grossed $127.8 million in the US and Canada and $300 million worldwide, the most of any Rocky film.
While the series was popular, the sport of boxing may have had an equal share of the spotlight in 1985.
In April of that year, "Marvelous'' Marvin Hagler and Thomas "Hit Man'' Hearns fought an epic battle that is still mentioned in conversations about the greatest fights of all time, with Hagler prevailing with a third round knockout and holding on to his middleweight crown. Just this past summer, the two combatants joked the fight should be made into a movie. In September of 1985, Larry Holmes saw his seven-year reign as heavyweight champion come to an end when he lost to Michael Spinks. Both fights were considered among the biggest sports storylines in 1985.
Boxing does not enjoy such prominence in 2018. Most US sports fans would be hard-pressed to name the heavyweight champion. (It's Anthony Joshua). HBO, which broadcast some of the biggest fights of the last 45 years, announced in September that it was dropping its coverage of the sport.
So if the sport's popularity is waning, why are boxing movies so popular?
We posed that question to legendary boxing announcers Jim Lampley and Al Bernstein in 2017. Lampley, who has served as a commentator for HBO's boxing broadcasts since 1988, bristled at the notion that boxing's popularity was on the decline, saying that on a global level it's probably more popular than ever.
There is something to that. The biggest boxing story in 2018 was the fight between middleweights Gennady Golovkin of Kazakhstan and Canelo Alvarez of Mexico. Not one of the six fighters on the September card leading up to the main event was from the US.
"There's no question in the United States boxing is not at the place it was in the 80s,'' said Bernstein, who started calling fights for ESPN in 1980 before jumping over to Showtime in 2003. "That was a halcyon era for the sport. That was a good era, even compared to previous eras where boxing was obviously one of the main sports in American culture. But internationally, boxing is thriving. In the UK, clearly in places like Mexico and Puerto Rico, even the Far East, other parts of Europe.''
Lampley has a thought about why the sport continues to be so popular on the silver screen.
"I think it's due to the strength and consistency of the metaphor that boxing provides,'' said Lampley. "For most of us, life is in some way a fight. That's the same reason why the construct is more frequently adopting the narrative expression than those of other sports. All other sports complicate that metaphor through the establishment of various conventions that turn the competition into a game. Boxing isn't a game. Boxers, fighters, aren't playing a game. So it is a direct correlation between what they're doing in competitions and what all the rest of us are doing in our lives.
"Another way to say it: Boxers parcel out into three round increments what the rest of us call life.''
Aside from the continuation of the Rocky franchise, some of the boxing movies of the last decade depict actual boxing figures. "The Fighter'' starred Mark Wahlberg as Lowell's Micky Ward and grossed $129.1 million worldwide in 2010. "Bleed for This,'' which was based on the life of Cranston, Rhode Island, native Vinny Pazienza, was released in 2016.
Actor Miles Teller, who portrayed Pazienza, said while promoting the movie that it's about the cinematic way boxing can be filmed — and about the backstory of the type of people who become boxers.
"I just think that for me, as an actor, I felt like I wanted to play a boxer. It was so important for my career,'' said Teller. "To play one, to me, there's nothing more masculine or powerful than stepping into a ring. Also, fighters come from very humble beginnings, more than any other sport. These guys are usually fighting because they have to. You take something so barbaric and then you add the personal elements — and the lights and the crowds and the stakes.''
"Bleed For This'' director Ben Younger said it's also about the metaphor — and the marketplace.
"There's definitely a tradition in cinema,'' said Younger. "I don't love boxing, but I love boxing films. I guess that is the answer. There is something so literal and figurative about a boxing match — two men or women, just seeing who can remain standing. There is something elemental about that.
"I think it's a marketplace situation . . . 'The Fighter' came out and made $100 million. Every creative studio exec was like, 'Oh, we can make money on this? Sure, we'll greenlight this.' We're very imaginative people working in a sometimes very unimaginative business.''
"Hands of Stone,'' which was about Roberto Duran, who won world titles in four different weight classes, was released in 2016. "Chuck,'' released in 2017, starred Liev Schreiber as 1970s heavyweight contender Chuck Wepner.
"Boxing movies are never going to go away because, in these cases, they're true stories,'' said Bernstein. "There are so many engaging stories about the sport of boxing, and they're personal stories. It's all about one person so it's an easier story to tell.''
Those stories are easier to follow over the course of a two-hour movie rather than in real time. Following a fighter from the beginning of his career as he works his way into contention for a possible shot at fighting on television and for a world championship could take years, even decades.
There are also practical reasons for making boxing movies, especially when compared to other sports.
"It is the easiest sport to shoot on film,'' said Lampley. "If you want to shoot a football game or basketball game or hockey game or something like that, you have to have a lot of moving parts. You have to have individual characters, who are at some point on the screen and in the camera shot. You have to cover a broader expanse of territory than as is the case of a boxing ring. You only have three characters inside those ropes, so it's a lot easier to shoot on camera than any other sport.''
So what about the future of boxing? Some saw the HBO move as more bad news for the sport, while others point to the emergence of DAZN, the streaming service that has entered the US market by initially focusing on combat sports, as a means of off-setting HBO's withdrawal.
"I don't think it's a wash. I think it's better actually,'' said Paulie Malignaggi, the former world champion who serves as a commentator for Showtime. "I think DAZN has come in with a big push, and I think FOX is coming in with a big push next year with a big contract. So I think, you eliminate HBO, but you enter those big deals, and you remain with Showtime where it is, I think we're in a better position. ESPN has got a great contract with Top Rank as well to have their world-class fighters on. I think the sport of boxing is in a good situation right now. You're eliminating the lesser pieces.''
A look at the recent spending at DAZN explains Malignaggi's enthusiasm. The company tabbed former ESPN president John Skipper as its executive chairman, and landed a $1 billion deal for 32 fights with Matchroom Boxing in May, then followed up with a 22-fight agreement with Mixed Martial Arts promoter Bellator in June. It even reached an exclusive deal with ring announcer Michael Buffer, he of the signature "Let's get ready to rumble!!!!'' ahead of big fights.
When news broke of HBO's pending separation from the sport, DAZN swooped in, reaching an agreement with Oscar De La Hoya's Golden Boy Promotions to stream Alvarez's next 11 fights for $365 million.
"It's a shame to see HBO go because it was such a staple in the sport, and it's sad for the nostalgia purposes, but in reality, they hadn't had a team that was capable of hanging with the business of boxing at this level in a long time,'' Malignaggi concluded. "But for the sport of boxing, you're actually happy, because this is good for fighters and good for fans, that all these other networks are coming in, making big fights and signing big contracts.''