Breweries & Bars
'Team not legible': The story of a mysterious signed baseball plucked from The Fours' auction
What $90 buys in the auction to sell off The Fours' storied sports memorabilia.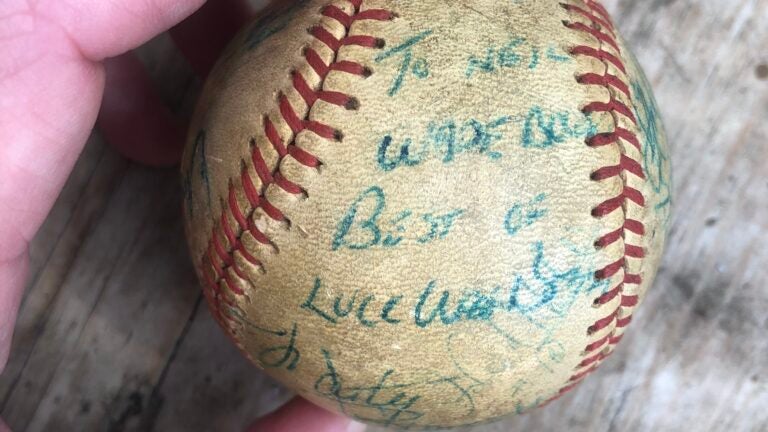 COMMENTARY
On a random afternoon in 2013, bartender Ryan McHugh was working a lunch shift at The Fours, when Cam Neely walked in and grabbed a seat. It was the very last seat at the bar, in the back against the wall. A Hall of Famer's best hope for a quiet, anonymous lunch.
McHugh worked five years at the legendary Boston sports bar, but this was one of his first few weeks on the job. A lifelong Bruins fan, he celebrated Neely's entire catalogue: as a player, as an executive, as the infamous Sea Bass from Dumb & Dumber. McHugh sidled over to take his order, but first Neely had a question: "What's the soup du jour?" he asked.
Eight years later, McHugh still defends what happened next.
"You can't just throw out a line from your own iconic movie," he tells me. "You just can't! You can't be Cam Neely, and go into a restaurant, and ask about the Soup Du Jour. It's a set-up!"
Regardless, he went for it. What's the soup du jour?
"It's the soup of the day."
"Cam looked up from his menu and stared a hole into my soul," McHugh remembers, laughing about it now. "I was legitimately fearful. I'm like: 'Umm, I think it's chicken noodle soup, but lemme check.' I thought I was fired."
That was life at The Fours.
We could reminisce for hours.
But first, McHugh must help me solve a mystery.
Part 1: "Team not legible"
The story begins last August, nearly six months into lockdown, when The Fours closed after five decades in Boston. The news hit like a fork in the eye, another harsh reminder of the world we lived in. Among other things, a world without sports fans, where athletes played before empty stadiums or inside military-grade bubbles. When you couldn't go to a game, or hang out at your favorite bar, or appreciate sports anywhere beyond the indented butt cheeks on your couch.
No one wants to exist in a world like that, but The Fours just plain couldn't. The old bar left an unmatched legacy. In a more tangible sense, it left one of the coolest sports memorabilia collections outside the Halls of Fame. Hanging at The Fours was like drinking at a museum. The bar brought history to life. When The Fours closed, a lot of history died with it.
NOVEMBER
Less than three months later, out of nowhere, The Fours' legendary memorabilia collection went up for auction.
Over the years, I'd spent more nights than I could remember at The Fours, making memories in the shadow of that memorabilia. The pandemic had taken so much away, now I wanted something back. So I jumped online and threw down a few bids – a hat from Larry Bird's old golf tournament, the Reggie Lewis jersey, among others. Then I sat back and watched everything soar out of my price range. Not a surprise, I guess. That was life in the pandemic. While most facets of society struggled, memorabilia shot the moon. There were folks who needed to sell stuff, others still in position to buy stuff. We were all isolated, desperate to connect with pieces of life before the world shut down.
Desperate enough, in the middle of a pandemic, with a month-old baby at home, to spend hundreds of dollars on an old jersey or photo?
DECEMBER
With less than 24 hours left on the auction, I was on the verge of striking out. Outbid for everything I'd dreamed of, only one item remained on my watch list. I didn't even remember putting it on there. A dirty old scuffed up baseball with a ridiculous description: "Autographed Baseball: Signed Team Not Legible."
And now I had to have it.
"What are you doing? These are my thoughts as the bidding heats up, back and forth, from $40 to $50 to $60. Do you really need this baseball in your life?" From $70 to $80 to $90 for a ball that could very well be worth nothing. This is sick. Don't you have enough to worry about?  The answer was yes, but after almost a year of pandemic living, I was inspired by the unknown. The pandemic stole our freedom to create new memories, but it couldn't stop me from unraveling an old one. Or could it?
For three weeks, with our country on edge of collapse, the ball sat in a USPS facility in Florida with no updates or signs of life. There were a few times I wondered if it might be lost forever. Something they'll find floating off the coast in 300 years, after Florida falls into the ocean.
On New Year's Eve day, the ball arrives.
JANUARY
A new year, a new lease on life. Just kidding. Hell broke loose. There's an attempted coup on the Capitol. I need a distraction. Where's that ball?
At first look, it was exactly as advertised. Scuffed up and dirty, covered in scribbled or blurry autographs. The obvious questions: Who is this team? Why did they sign? How did this ball end up inside a plastic case, inside a bigger plastic case, as part of this legendary collection?
With the ball now in hand, I'm inspecting like a squirrel with a nut, and I can almost make out a few names.
That looks like Dave Henderson. That could be Wade Boggs. I think that's Marty Barrett?
It appeared this baseball, believe it or not, was signed by a baseball team, most likely the '86 or '87 Red Sox. But there were also a few outlying signatures, scribbles that didn't resemble any name on either roster. One actually looked like Honus Wagner, but that didn't make sense.
The one thing I could say for sure, my one and only real clue, were five words printed neatly across the sweet spot:
"To Neil. Best of Luck."
Part 2: The Search for Neil
FEBRUARY
That's when I reached out to Ryan McHugh, Cam Neely's old buddy, aka "The Zoomtender." He was my only contact who might know someone who might know something about this ball. Something about this "Neil." Unfortunately, he knew nothing about any of it. However, he did pass along a general email address for The Fours' still-open Quincy location. He said the right people would probably read it. In this case, meet Ed Morris.
These days, Morris runs The Fours Quincy, but he started as a bartender in the mid-1980s, when The Fours was just a hole in the wall with a BBQ pit in the window. One summer, Morris and owner Tim Colton took a scouting trip to Chicago. They toured 30 bars in a weekend, taking note of what they liked, and what worked, and the best way to provide Boston with the sports bar it deserved.
The answer was memorabilia.
"It was more about what it was, than who it was," Ed said.
Speaking of who it was, I tell Ed about the baseball, but he doesn't know anything about it. He lost track of the memorabilia in Boston. He's mostly concerned with Quincy.
"The ball is made out to Neil," I tell him. "It says 'Best of Luck Neil'. Were there any Neils back then?"
Now when I first daydreamed about uncovering the story behind this ball, part of me hoped it would unravel like a plotline from National Treasure, where I'm typing "Neil" into a cipher that unlocks a chest of golden baseballs. Or maybe more like The Fugitive, with Neil and I facing off on the edge of the Green Monster:
"But I spell my name n-e-A-l!"
"I don't care!"
But in this case reality was far more efficient.
"Of course," Ed said. "Neil! One of the old bartenders. He's a lawyer in Boston now. We talk all the time."
A week later, just like that, I'm on the phone with Neil.
He worked at The Fours for almost 10 years in the 80s and 90s. Back then the bar had one of the only satellite dishes in town, and Neil, the low man, would get sent to the roof during snowstorms when the reception got fuzzy. He'd shuffle out on the ice, adjust the antenna, then yell to a guy standing at the door, who would yell to a guy at the bottom of the steps, who would yell to the bartender (standing in front the TV): "How about now?"
Neil knew about The Fours auction. He bought a Butch Hobson photo for one of his brothers. He also bought the framed Ali/Frazier Sports Illustrated and a clock from upstairs.
He just didn't buy the one thing that actually belonged to him.
He didn't even know it was for sale.
He hadn't thought about that ball in 35 years.
"You mind me asking what you paid for it?," he asks.
"$90."
Neil tries (and fails) not to laugh.
"So there's a story," he says, still laughing. "But it might not be the one you're looking for."
He proceeds to tell me about a night at Fenway Park, 35 years ago this October. Game 2 of the 1986 ALCS. Neil and his buddies, in their early 20s, sit in the centerfield bleachers, enjoying a big Red Sox lead, when Dave Henderson jogs out as a defensive replacement. Henderson just happens to be Neil's favorite player, so as he's warming up in centerfield, Neil and friends go nuts: "Hendu! We love you! Throw us the ball!" To their surprise, Hendu actually threw them the ball.
And he had perfect aim.
A few rows back, hands and bodies collide in pursuit of the ball. There's a scuffle under one of the seats. And finally, from the bottom of the pile, our man Neil emerges with the souvenir. He's ecstatic. Hendu! For the first time since he was a kid, he considers waiting down by the players' parking lot, hoping Henderson might sign it through the fence.
But the playoffs made that too cumbersome. Instead, Neil and friends ended the night where they ended most nights.
Back at The Fours, where Neil still has the ball. He's still excited about the ball. He's walking around, throwing high fives, telling everyone who will listen: "Hendu threw me this! I'm gonna get it signed!"
At one point later, Neil gets up to use the bathroom.
When he returns, everyone is else smiling.
Hmm.
"Hey Neil!" someone shouts. "Dave Henderson just came in. He signed your ball!"
"Yeah, yeah," Neil says, assuming a bad joke.
"Yeah," yells someone else. "And Honus Wagner was here. He signed it too!"
Neil returns to his seat to find his baseball covered in signatures.
"They probably had Abner Doubleday on there too," Neil says, still laughing but also still just a little pissed off. "Those clowns…"
Part 3: The story I wanted to hear
The chest of golden baseballs would've been nice, but I didn't get into the blurry autograph business to get rich. I wanted a piece of The Fours history, and that's exactly what this was. Like an awkward lunch with Cam Neely,  the slice of the life we've all been missing. The freedom to meet up at a game, snag a once in a lifetime souvenir, and have your friends use it as ammo for a ruthless practical joke. It's beautiful. That's what sports fandom is all about. Hope. Miracles. Defeat from the jaws of victory.
So Neil was wrong. This is exactly the story I was looking for.
And anyway, why not be optimistic. Vaccines are finding arms at a record rate. Baseball is back at Fenway Park, with human beings in the seats, dreaming of a souvenirs, screaming for players to toss them a ball (and maybe screaming a few other things at the owner's box). With TD Garden back in business and Gillette Stadium soon to follow, sports fans are regaining their footing in the wild. The world's reopening fast. And when it does, the only thing to do is kick its ass, Sea Bass.
Get Boston.com's browser alerts:
Enable breaking news notifications straight to your internet browser.