Super Bowl
A running list of 2021 Super Bowl commercials
Including a sexy Alexa, Dan Levy's M&M habit, and more ads running on Super Bowl Sunday.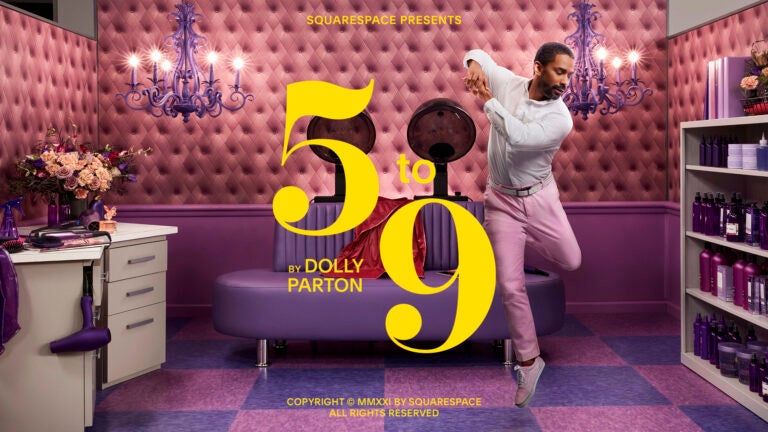 It might not have seemed likely early in the pandemic, but the 55th Super Bowl Sunday is upon us yet again. Each year advertisers pull out all the stops to entertain the crowd of 100 million viewers expected to tune in to the CBS broadcast on Sunday.
This year there are more than 20 newcomers as well as old favorites. Amazon shows off a sexy new body for its Alexa assistant, Dan Levy apologizes for eating M&M's and Bud Light Seltzer Lemonade makes a downpour of lemons a metaphor for 2020's troubles.
And as always, expect some surprises, too.
Amazon "New Body"
In an ad ostensibly to tout Amazon's voice assistant Alexa's new spherical shape, a woman imagines that her new Alexa has the voice — and body — of actor Michael B. Jordan, who takes off his shirt to dim the lights and read an audio book to her in the tub, all to the chagrin of her hapless husband. It's one of the only ads to play with sexual innuendo this year.
"It pushes the sexiness, the weirdness, the fantasy element," said Mark DiMassimo, creative chief of marketing agency DiMassimo Goldstein. "Which is just so culturally right for the moment when people are stuck at home together without a lot of diversion."
Anheuser-Busch "

Let's Grab a Beer"

At a time when so many are stuck at home unable to socialize, Anheuser-Busch's "Let's Grab A Beer" message resonates.
Bass Pro Shops "Get Back to Nature"
For their big game advertisement, Bass Pro Shops and Cabela's are reminding viewers about the great outdoors, telling viewers to get back to nature in order to reconnect with loved ones.
Bud Light "Bud Light Legends"
In a commercial reminiscent of the climactic battle in "Avengers: Endgame," a Bud Light truck driver unites "Bud Light Legends" from various realms (and previous commercial campaigns) to help deliver beer after his truck overturns. One of the "Bud Light Legends" is Post Malone, a frequent feature in several Bud Light commercials.
Bud Light Seltzer Lemonade "Last Year's Lemons"
Bud Light introduces its new Seltzer Lemonade with an ad that depicts a downpour of literal lemons in 2020, which ruins weddings, cancels flights, disrupts at-home haircuts, destroys baseball stadium cardboard cutouts — and causes general chaos. It's a not-so-subtle nod to the plans that were derailed during 2020 and the axiom "When life gives you lemons, make lemonade."
Cadillac "Edgar Scissorhands"
In another nostalgia-fest, Cadillac revisits the classic 1990 movie "Edward Scissorhands." In the ad, actor Timothee Chalamet portrays Edward's son Edgar, who has difficulty with his inherited scissor-hands when he deflates a football and severs a bus's stop cord. Then he tries out the Cadillac Lyriq's "Hands free super cruise" feature which allows you to drive with little hand contact. Winona Ryder from the original film also revisits her role as Edgar's mother.
Cheetos " It Wasn't Me "
Cheetos' ad shows real life married couple Mila Kunis and Ashton Kutcher wrangling over a bag of Cheetos Crunch Pop Mix — to the tune of Shaggy's 2000 pop hit "It Wasn't Me" — with the frayed nerves of a couple who have been stuck inside too long.
Chipotle "Can a Burrito Change the World?"
Chipotle shows off its food sourcing bonafides in this 30-second spot, starring a child who takes viewers through the supply chain of farm-fresh ingredients that go into every burrito.
Dexcom "Nick Jonas"
Diabetes management company Dexcom tapped musician Nick Jonas for its Super Bowl spot, highlighting some of the new technologies available for those with T1D. Jonas has been open about having Type 1 diabetes since the early days of his stardom.
DoorDash "The Neighborhood"
In this spot for food delivery service DoorDash, Actor Daveed Diggs ("Hamilton") visited all of his favorite shops and restaurants on Sesame Street, along with Cookie Monster, Big Bird, and other Sesame Workshop puppets.
Doritos "Flat Matthew"
To announce the return of its 3D chips, Doritos taps Matthew McConaughey as a flattened version of himself. The actor struggles through his daily tasks, from getting coffee to appearing on "Jimmy Kimmel Live!" alongside Mindy Kaling, until one 3D chip gives him volume once more.
Dr. Squatch "You're Not A Dish"
There are more than 20 first-time advertisers this year, but most are sticking to nostalgia and celebrities to stand out. Dr. Squatch, a little known direct-to-consumer soap and personal care brand, is one of the few to embrace weird humor to stand out. The tongue-in-cheek ad shows a man walking through the woods espousing why Dr. Squatch's natural soap is the right choice for the modern man who "opens pickle jars" and "lets his daughter braid his hair."
Fiverr "Opportunity Knocks"
Freelancer marketplace Fiverr's Sunday spot is all about being in the "right place at the right time," using the famed Rudy Giuliani press conference backdrop Four Seasons Total Landscaping as an example.
Frito-Lay "'Twas the Night Before Super Bowl"
In a send-up of the classic yuletide poem read by former running back Marshawn Lynch, various former NFL stars like Joe Montana, Jerry Rice, and the whole Manning family (Archie, Eli, and Peyton) are all hyped up on the eve of the big game.
General Motors " No Way Norway "
When Will Ferrell finds out Norway has more electric vehicles per capita than the U.S., he goes on a madcap journey spanning countries with singer and actress Awkwafina and comedian Kenan Thompson to show that GM's new battery for electric cars will soon be available for everyone.
Guaranteed Rate "Believe You Will"
In a by-the-numbers inspirational ad, mortgage lender Guaranteed Rate gives us a montage of athlete underdogs who didn't give up on their dreams, ostensibly to convince viewers to… go get a mortgage?
Hellmann's "Amy Schumer's Magical Mayo Tranformation"
Amy Schumer plays the mayo fairy, magically transforming disparate fridge leftovers into a delicious square meal with the addition of Hellmann's.
Huggies "Welcome to the World, Baby"
Cute babies are always a plus in Super Bowl ads, and Huggies provided them in spades with this 30-second spot.
Indeed "The Rising"
Millions without jobs have struggled during the pandemic, which makes Indeed's one-minute spot a well-timed one, offering help for the hopeful, the hell-bent, and more.
Inspiration4 " Join Us "
In what is surely a first in Super Bowl history, an ad for Inspiration4, a SpaceX supported all-civilian space mission touts a chance for viewers to join the mission. The ad shows shots of the SpaceX astronaut uniform in space to the tune of "Twinkle, Twinkle, Little Star" and is directed by Bryce Dallas Howard.
Jeep "The Middle"
Bruce Springsteen has long eschewed commercial appearances or licensing his music for ads, but the Boss made an exception for this Jeep ad, which had many fans talking.
Jimmy John's "Meet the King"
Sitcom star Brad Garrett ("Everybody Loves Raymond") plays a power-hungry "sandwich king" whose opulence is threatened by the upstart Jimmy John's, forcing him to employ mob tactics to attempt to maintain a grip on his cold cut empire.
Klarna "The Four Quarter Sized Cowboys"
Online financial provider Klarna brings four mini Maya Rudolphs together to buy a pair of stylish cowboy boots in the Old West, using their combined powers to split the payments into four pieces.
Logitech "Defy Logic"
Aimed squarely at the Generation Z set, Logitech makes a call for the creators, groundbreakers, dreamers, and streamers to defy conventional wisdom and build their own future, underscoring its message with an appearance from boundary-breaking artist Lil Nas X.
M&M's " Come Together "
A bag of M&M's is the perfect apology for mansplaining, calling someone a "Karen," having a gender reveal party accident and other contemporary faux pas. Dan Levy of "Schitt's Creek" apologizes to the M&M anthropomorphic characters that are Super Bowl mainstays and says he promises not to "eat any more of their friends."
Mercari "Get Your Unused Things Back in the Game"
Set to a remake of The Beatles classic "Hello Goodbye," online reseller Mercari encourages you to say goodbye to your unused junk and hello to products that will one day become your unused junk.
Michelob Ultra "Happy"
In an attempt to debunk the established myth of the joyless professional athlete, Michelob Ultra highlights champions like Serena Williams, Peyton Manning, and Anthony Davis enjoying time off, asking the question, "Are you happy because you win or do you win because you're happy?"
Michelob ULTRA Organic Seltzer "All-Star Cast"
In an effort to distinguish between "real" and "fake seltzers, Michelob Ultra Organic Seltzer employs body doubles for major celebrities like Sylvester Stallone and Megan Fox before Don Cheadle arrives to confront his doppleganger and spoil the ruse.
Mountain Dew Major Melon "John Cena Tutorial"
West Newbury native John Cena shows off his counting abilities in this ad for Mountain Dew Major Melon, teasing a million-dollar giveaway in the process.
NFL "As One"
In its annual high-profile ad during the big game, the NFL produced a spot featuring an actor playing the late Packers coach Vince Lombardi. Throughout the ad, a voiceover shares inspirational quotes from the football legend for whom the Super Bowl trophy is named.
Paramount+ "Sweet Victory"
Streaming service CBS All-Access is rebranding as Paramount+ on March 4. To get out the word, the company has been teasing a series of commercials featuring the platform's star talent ascending the brand's famous mountain logo.
Pringles "Space Return"
Instead of being greeted by a welcome party, astronauts returning to Earth are stranded at see in their capsule because mission control is too busy creating new Pringles flavor combinations.
Robinhood "We Are All Investors"
Facing a tide of bad press following the GameStop short squeeze debacle, mobile investment platform Robinhood's Super Bowl commercial emphasizes that everyone can be an investor — just don't try to put all your money in GameStop, or they'll limit your trading abilities.
Rocket Mortgage "Certain is Better"
As Tracy Morgan shows in a pair of ads for Rocket Mortage, "pretty sure" isn't good enough in a lot of situations.
Sam Adams "Horses"
No, this isn't an "SNL" parody: In an ad riffing on the Budweiser Clydesdales, Sam Adams pitchman "your cousin from Boston" untethers the giant horses, causing a chaotic stampede in this spot for Sam Adams Wicked Hazy IPA.
Scotts Miracle Gro "Keep Growing"
With viewers relying on outdoor spaces to spend time with loved ones during the pandemic, Scotts' Super Bowl ad calls for a greater emphasis on improving your backyard.
Skechers "Tony Romo for Skechers Max Cushioning"
You'll be hearing former Cowboys QB Tony Romo serve as a commentator during the Super Bowl, but you'll also see the Wisconsin native serve asa a Skechers pitchman, hawking the apparel company's cushy sneakers.
Squarespace " 5 to 9 "
The website building and hosting company enlisted Dolly Parton herself to rewrite the lyrics of her classic ode to the working day, "9 to 5," to pay tribute to workers who work on their own businesses from "5 to 9″ instead.
State Farm "Drake from State Farm"
Jake from State Farm, meet your stand-in: Drake from State Farm. The rapper was a more convincing body double than the one for Aaron Rodgers, at least.
Stella Artois "Billionaire"
Singer Lenny Kravitz provides the voiceover and backing music for this ad, which posits that everyone is a billionaire if you count heartbeats as currency.
Tide "The Jason Alexander Hoodie"
"Seinfeld" vet Jason Alexander — or rather, Jason Alexander's face emblazoned on a sweatshirt — stars in this ad for Tide, as poor George Costanza is faced with the indignity of dog drool, infield dirt, and other fabric contaminants.
T-Mobile "Team Anthony Anderson vs. Team Mama," "Gwen Stefani/Blake Shelton"
T-Mobile's "banned" ad starring Tom Brady and Rob Gronkowski may not have aired, but the telecommunications company did air commercials starring Anthony Anderson, Adam Levine, Gwen Stefani, and Blake Shelton.
Toyota "Upstream"
The carmaker's ad was one of the many emotional commercials that packed a punch, telling the story of a family whose adopted child is a double amputee.
Uber Eats " Shameless Manipulation "
The food delivery service enlists "Wayne's World" actors Mike Myers and Dana Carvey — along with singer Cardi B — to promote ordering from local restaurants. It's one of several commercial that are trying to capitalize on viewer nostalgia.
Verizon "Can't Beat the Lag"
CGI Samuel L. Jackson makes an appeal to gamers worldwide in this Verizon spot, telling them to stop blaming laggy internet for their gaming losses.
Material from the Associated Press was used in this report.
Get Boston.com's browser alerts:
Enable breaking news notifications straight to your internet browser.