Cars
A short-track star from Connecticut finished eighth in the Daytona 500
Ryan Preece's first race as a NASCAR Cup full-timer was a successful one.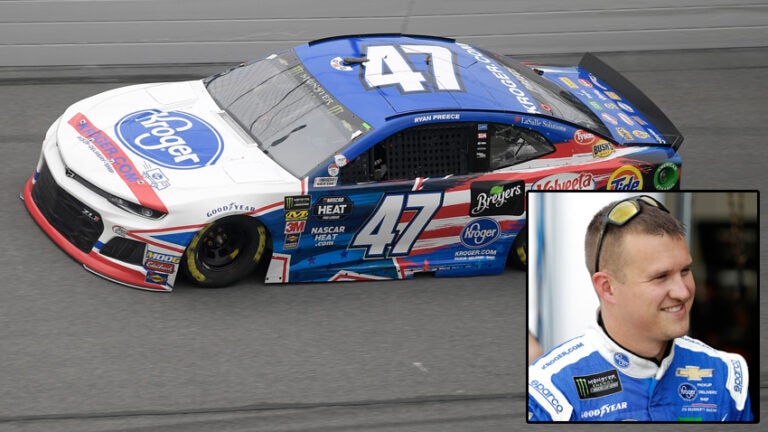 Seven of the 12 caution flags in Sunday's 61st Daytona 500 happened in the final 50 laps of the race. Four were in the last 20 laps, including a 21-car crash on Lap 192 (of a scheduled 205) and a nine-car incident on Lap 200 that ultimately forced the race into NASCAR's two-lap version of overtime.
It was a jumbled version of "The Great American Race" at Daytona International Speedway, one in which three of the rookies in the 40-car field finished among the bottom seven spots. The fourth, Ryan Preece, finished eighth, dodging all the damage in those chaotic final laps to land a top-10 in his first career Monster Energy NASCAR Cup Series race as a full-time driver.
Not bad for a New England kid who grew up racing far from the sport's southern hotbeds.
"Sometimes it's better to be lucky than good too," the Connecticut-born Preece told reporters. "I just wanted to finish, to be honest with you, going into this race because I hadn't finished at Daytona yet. It's a good day."
Denny Hamlin delivered with a storybook tribute for Joe Gibbs Racing by winning his second career 500 at Daytona International Speedway.
Hamlin led JGR in a 1-2-3 sweep of the podium in overtime with Kyle Busch and Erik Jones. The race and the season have been dedicated to J.D. Gibbs, Joe Gibbs' eldest son who died last month after battling a degenerative neurological disease.
J.D. Gibbs helped his father start the race team, ran it while Joe Gibbs was coaching the Washington Redskins, was a tire changer on the team's first Daytona 500 victory and the one who discovered Hamlin during a test session at Hickory Motor Speedway in North Carolina. Hamlin was hired to drive the No. 11 — the number J.D. Gibbs used when he played football — and J.D. Gibbs' name is on the Toyota.
Preece's story can't match that, but the 28-year-old has connections with Gibbs as well, racing part-time for him in the second-tier Xfinity Series and winning twice the last two seasons before earning a full-time NASCAR Cup ride for this season in September. Getting there, however, was built on smaller successes: More than 150 starts on the northeast-based Whelen Modified Tour across the last 12 years.
Though that regularly meant rides at Loudon's New Hampshire Motor Speedway, Preece's 22 Whelen victories — including the four that helped him win the 2013 season championship — are all on short tracks. He's been a regular at the likes of tiny Stafford Motor Speedway, Thompson Speedway Motorsports Park, and Waterford Speedbowl in Connecticut; Monadnock Speedway in New Hampshire; and Riverhead Raceway on Long Island. (To say nothing of his teenage years in the Northeastern Midgets Association.)
A New Englander making it to NASCAR's highest levels is hardly unique: The reigning NASCAR Cup champion is Joey Logano, who's from Middletown, Conn., and who raced on some of those short-tracks with Preece growing up.
Was a cool moment racing up front with @RyanPreece_ there towards the end tonight. From quarter-midgets in Connecticut to the #Daytona500 it shows dreams can come true.

— Joey Logano (@joeylogano) February 18, 2019
Logano, however, moved to Georgia as a 10-year-old and was a phenomenon as a teenager, reaching the Nationwide (now Xfinity) Series by 18 in 2008. Preece needed the Whelan success to crack the upper echelons. He made five NASCAR Cup starts in 2015 to little fanfare, earned a lone top-10 running the Xfinity series full-time in 2016, then got a major step-up in equipment running with Gibbs in 2017-18 and won twice, the latter — last April in Bristol, Tenn. — jumpstarting his road to this year's opportunity.
It all led him to Sunday, when three narrow escapes in those late laps found him third in NASCAR's biggest race with the white flag waving.
"So frustrating, watching it," he recounted to reporters afterward with a smile. "We were in third place on the white flag lap, and we got flushed.
"When I get in my truck and drive home, I'm going to be happy, but I'm going to sit here and watch this finish and say I could have had fifth, I could have had third. But at the end of the day, it's still a great day."
And perhaps the start of something greater.
Material from The Associated Press was used in this report.