College Sports
Kia Nurse now carrying the torch for UConn women
Despite losing its top three players, UConn has designs on another national title.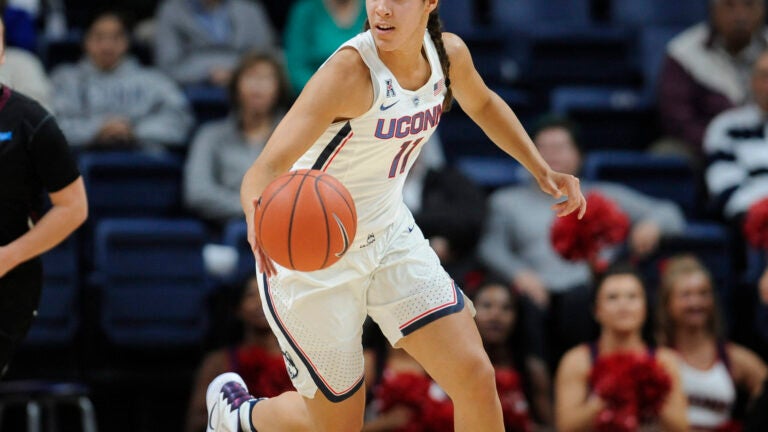 Ponder this math: the Connecticut Huskies, after winning four national titles, graduated picks one, two and three in the 2016 WNBA Draft. Their preseason AP ranking? Third in the country. According to the USA Today coaches' poll? First.
Now some of that is reputation. Some of it is belief in Geno Auriemma, who won 11 national titles in his first 31 years at Connecticut.
But much of it is Kia Nurse, the explosive combo guard who leads UConn into their new era with a dazzling array of skills. And now, with Breanna Stewart, Moriah Jefferson and Morgan Tuck off to the professional ranks, she's going to get a chance to show those off for a retooled Huskies team.
"I definitely think it's a little bit different than what I'm used to," Nurse said in a phone interview. "I think that's a big part of what happens when you come to Connecticut. You're surrounded by such great players, you don't have to be a superhero every night. It's such a team effort. And that was really exciting to be a part of."
To be clear, Nurse didn't sit at the end of the bench during her freshman and sophomore seasons. She played a significant role in both national titles, starting 74 of 77 games over her first two seasons, and averaged 28.3 minutes per game last year. But it is one thing to play alongside three future pros, and another to take a leadership role.
Fortunately, Nurse's ability to embrace that role is a somewhat known quantity, thanks to her time with the Canadian national team. She led Team Canada to the 2015 Pan American Games gold medal (defeating her college teammates Stewart and Jefferson in the final), and played a starring role for Canada in their 2016 Olympic campaign, though that ended with a disappointing seventh-place finish.
"I talked to her about some of this stuff," Auriemma said of Nurse. "Every experience that you have helps you with the next thing… Now this year, she's preseason player of the year in our league. What does that do to you, when you've never been in that situation? Again, our coaches are going to be really key this year. Because they don't have upperclassmen who they can look to who have been there, done that. So we have to do a great job of guiding them."
Between her best performances for Team Canada—notably, 33 points in the Pan Am final—and her rate stats at Connecticut, it is easy to see why stardom is commonly assumed for her. She sees herself as a true combo-one, which is to say with the passing skills of a point guard, the ability to score like a shooting guard. She's played off the ball during her first two years next to Jefferson, but with Connecticut featuring senior Saniya Chong, a more classic two, and freshman Crystal Dangerfield, an inexperienced point guard, Nurse figures she'll be doing more of the facilitating, especially early on in the season.
But she has her sights set on becoming a more complete player, a disconcerting fact for opponents when she's entering the season as a career 38.8 percent three-point shooter, an ability to finish that lifted her accuracy from two above 50 percent, and a defensive awareness that led to four different games with at least four steals last year.
"I think we have a lot of things we've been working on," Nurse said. "I've been fortunate to have the extra game experience, all summer long, playing with the national team. And I think it's being more balanced when I attack the rim so I can finish better. It's being more of a consistent shooter. And then it's a lot of leadership qualities, because I'm taking that on now. And I'm a vocal human, I like to lead by example, but there are a lot of qualities I'm continuing to work on."
Part of that is picking the moments where it needs to be her voice, something she saw Stewart, Jefferson and Tuck do for her entire tenure at Connecticut. Still, she's accomplished enough already that her ascension to stardom, accompanied by talented teammates like Katie Lou Samuelson, Gabby Williams and many others, won't really shock anybody.
I'm the same player I've been, I'm not a different player in any way," Nurse said. "The skill sets that I've had have gotten better. I'm taking better shots. And the confidence is coming along with it. So I don't think it will surprise people."