College Sports
No. 1 UConn escapes Tulane with 101st straight win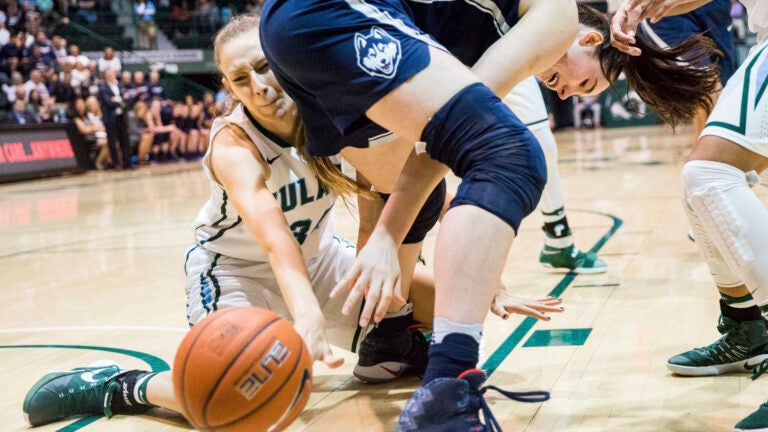 NEW ORLEANS (AP) — Geno Auriemma hopes his UConn Huskies learned something after escaping with a victory at Tulane.
Napheesa Collier had 26 points and 12 rebounds and top-ranked Connecticut held off Tulane 63-60 on Saturday night to push its record winning streak to 101 games.
"We're not as good as everybody thinks we are and today was a perfect example of that," UConn coach Auriemma said. "They think that every shot that they take is supposed to go in and then when it doesn't go in they pout and they feel sorry for themselves and act like 12-year-olds and that's exactly what happened today. Not every shot is supposed to go in. God isn't punishing you. Figure out a way to help us win the game."
Katie Lou Samuelson scored 15 consecutive UConn points in a second-half spurt and finished with 17. Gabby Williams added 14 rebounds for the Huskies (26-0, 13-0 American Athletic).
Kolby Morgan led Tulane (16-11, 7-7) with 19 points. Leslie Vorpahl had 16, and Tene Thompson 14.
"We played everybody and everybody gave us something," Tulane coach Lisa Stockton said. "This team was focused and didn't let anything get them down and they kept battling."
The Green Wave pulled within two points three times late, but could never get a defensive stop. Finally, they got the ball with four seconds left, but Thompson's desperation 3-pointer fell short.
"This was a wakeup call," UConn guard Crystal Dangerfield said. "If we don't bring it every night things like this can happen."
UConn had a 13-point lead when Wells went to the bench with 5:21 left in the third quarter and the lead was 10 when she returned early in the fourth.
"The foul trouble really put a damper on it," Auriemma said. "Napheesa was the only one that had it going. She's the one player that you know is going to show up every night and give you everything."
UConn scored the first 10 points of the game and Wells had 17 of her team's first 25 points before Dangerfield's 3-pointer with 22 seconds left gave UConn a 28-18 halftime lead. That was the lowest first-half point total for the Huskies this season.
The previous low was 30 in the season opener as they trailed Florida State by four points before prevailing 78-76.
This was just the third game in the Huskies win streak that they didn't win by at least 10 points. In addition to the victory against Florida State, UConn beat Maryland 87-81 on Dec. 29.
The Huskies improved to 76-0 in AAC games during the league's four-year history.
BIG PICTURE
UConn: Despite the struggles, the Huskies continue to take care of business as they start trying to build momentum heading into March.
Tulane: The Green Wave should have opened some eyes with their effort and they have two more regular-season games to try and build their post-season resume after falling to a .500 conference record.
POLL IMPLICATIONS
The Huskies position at No. 1 remains secure.
HE SAID IT
"What happened today is the wrong team won. We had them down 17 and our guys are used to the other team maybe missing shots or struggling and this team decided to fight back. We had no business winning that game." — Auriemma
HE SAID IT
"(Tulane coach Lisa Stockton) missed out on a chance to be Coach of the Year. If a couple of more shots go in she wins it. Traditionally the team that beats us gets Coach of the Year. It was within Lisa's grasp and she missed it." — Auriemma, jokingly.
INJURIES
UConn starting guard Kia Nurse missed the game because of a sore ankle she aggravated against South Carolina on Monday.
UP NEXT
UConn returns home to play Temple on Wednesday night.
Tulane hosts South Florida in its home finale Wednesday night.
___
More AP college basketball: http://collegebasketball.ap.org