College Sports
BC will sell beer and wine inside stadium at football games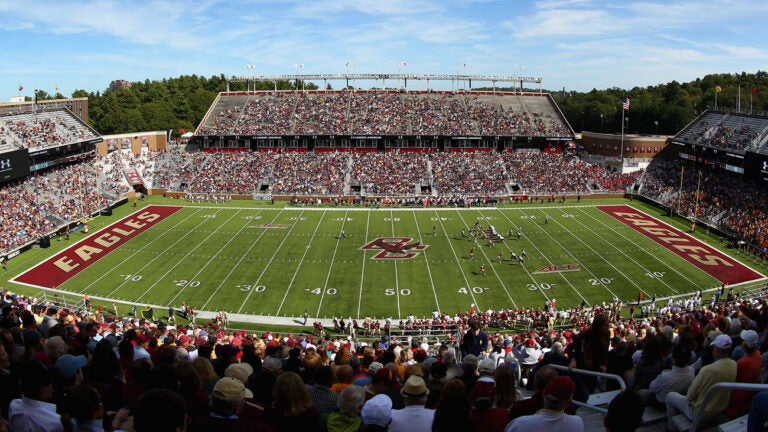 Boston College will expand the sale of beer and wine during football games this season, the university announced Friday.
Once limited to suites and a tent next to Alumni Stadium, alcohol will now be available at concession stands throughout the venue as part of a pilot program.
The decision was made to enhance the game-day experience for fans, said Martin Jarmond, who began as BC athletic director in April.
"One of my focuses when I took the job was to really engage with our fans in a way that we hadn't before in hopes to improve the fan experience and the game-day experience,'' Jarmond said.
"Any time we have fans come to our football games or some of our other events, we want them to have a great time and we want to give them reason to engage and continue to support our teams. So that was a focus of mine when I got the job, was really look at how we're engaging with our fans, what we're doing as far as the game-day experience.
"I thought that doing a pilot program to test it, see how this would be received and how we do, would be a good idea for this season.''
Prior to coming to BC, Jarmond served as associate athletic director at Ohio State, where he was a part of the university's decision to expand its alcohol sales last year. Revenue from beer sales totaled $1.1 million, according to the Columbus Dispatch.
From his experience at Ohio State, Jarmond believed the idea also would work at BC. After engaging with fans, alums, donors, and student-athletes through the formation of BC's inaugural Fan Council, he made the decision.
"Our fans have asked for it,'' Jarmond said. "That's part of a football game or a tailgating experience — not for all of our fans, but for some of our fans, that's their experience. And we're in a town where all the professional teams sell beer and wine.
"So these are some of our same fans that have that opportunities at other venues right here in town. So first and foremost it's consistent with our fan base as far as what they're able to do elsewhere.''
The priority, Jarmond said, is for quality service in a safe manner.
"We want to do this in a safe environment for our fans,'' Jarmond said. "So we had to engage with a couple of companies and personnel to beef up our security and different measures we're going to take just to make sure that we provide, first and foremost, a safe environment.''
BC will join more than 40 colleges across the country that offer alcohol at athletic venues. Jarmond said BC reached out to nearly all of them as they gathered information about implementation and safety.
"There's a lot of research and information that we've been able to glean from other universities that have done this,'' Jarmond said. "Historically, we've been great as far as in-game safety and those kind of things. So that wasn't really something that was a big factor.
"But we talked to other schools, we did research. We talked to other schools and asked them when they implemented this, what were their in-game incidents, how did this impact tailgating, how did this impact the fan experience, attendance.
"So we wanted to make a well-informed decision and we felt good about the results.''
Despite the perception that alcohol sales create a revenue boost, many schools take a loss. A year ago, Forbes surveyed several schools and found "alcohol sales can add revenue to athletic departments, but it's a drop in the bucket compared to major sources of revenue like television and contributions. For the most part, it's an enhancement to the fan experience.''
Jarmond said revenue was not a factor in BC's decision.
"We have not talked about revenue projections one time,'' Jarmond said. "So honestly I have no idea. I know that any proceeds — if we do have any — would go to campus initiatives. And I feel strongly about that.
"This is a game-day fan experience for me. It wasn't a revenue initiative for me.