College Sports
Is UConn's dominance good for women's basketball?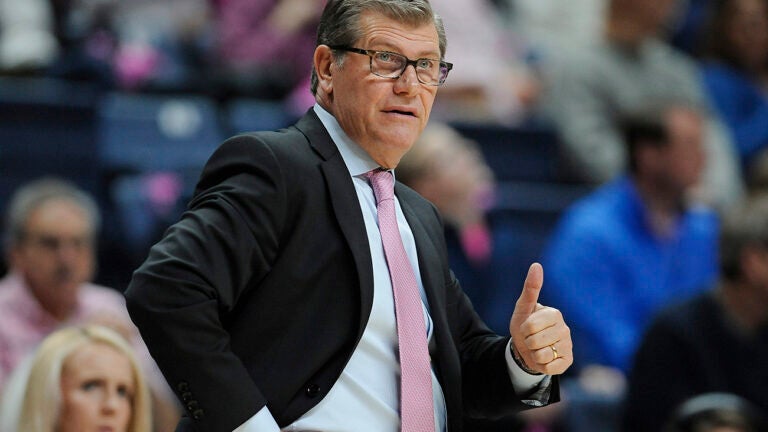 The UConn women's team is good at basketball. If their 12 national championships and seven perfect seasons didn't prove that, perhaps the Huskies' 111-game winning streak extending into last season did. But the question that sprouts anew in columns across the country every March is: are they good for basketball?
Geno Auriemma's team puts their unblemished 34-0 record on the line against Duke on Saturday in their 25th consecutive Sweet 16. The Huskies are averaging 89.8 points per game this season to their opponents' 51.7, for an average margin of victory of 38.1 points.
Although UConn's primary opponent might be their own search for perfection, a victory is still no guarantee. In the Final Four last year, Mississippi State snapped that 111-game winning streak with a 66-64 overtime upset. But the fact that a team could pile up 111 straight wins is enough for some columnists to write that the Huskies are ruining women's basketball.
Earlier this month, Auriemma responded to those takes, tweeting, "Success respects success. Regardless how it's achieved. The great ones know this. They know how hard it is to accomplish. They focus more on self-improvement. They are called 'Winners.'"
Here's a collection of answers to the annual March question: Is UConn's dominance good for the sport?
Yes
David Berri, Forbes
Once upon a time, a men's college basketball team won consecutive NCAA titles. After a less successful season the next year, this team then proceeded to win seven consecutive titles. And then after losing in the tournament semifinals the next year, this team came back to win another title. Add it all together, and this men's college basketball team won 10 titles in 12 years. The team I am talking about is obviously the UCLA Bruins. From 1964 to 1975, the Bruins dominated men's college basketball. And after all this dominance, men's college basketball was over. Right? Of course not. Men's college basketball was a popular sport in the 1960s and 1970s, and it is arguably even more popular today.

As I note in Sports Economics, competitive balance doesn't seem to have that much of an impact on attendance. Studies of Major League Baseball, the National Football League, the National Hockey League and the English Premier League have failed to find evidence that attendance in a league is dramatically impacted by the level of competitive balance.

So is the University of Connecticut bad for women's basketball? Whether we look at the historical or economic evidence, it seems very clear that the Huskies' dominating their sport is really not a problem.
Natalie Weiner, Bleacher Report
This is March, which means brackets, buzzer-beaters and breathless pontificating on how the consistent success of the University of Connecticut women's basketball team is actually bad for the sport. It's not a new conversation: UConn won its first title in 1995, another one in 2000, then three in a row from 2002 to 2004, and six more since. Since the Huskies became briefly unstoppable in the early aughts, people have offered the same take year after year, lamenting how Geno Auriemma and his team are ruining women's college basketball with their overwhelming edge in talent, win streaks and large margins of victory.

If this annual dialogue has taught us anything, it's that the people who insist, despite all evidence to the contrary, that UConn is "bad for women's basketball" are the ones actually hurting the sport—not the Huskies' exceptional athletes and coaching staff. What is presented as concern for the welfare of women's basketball is, in practice, an excuse for ignoring the sport altogether. The trope only endures because of deep-rooted double standards for female athletes and mainstream sports media's unwillingness to challenge them in any substantive way.
No
Dan Shaughnessy, 98.5 Zolak & Bertrand
I don't understand the attraction of watching UConn when every game's like this. Again, the greatest game they had last year was when they lost. They're the best team the sport has. It's not their fault that they're as good as they are. I'll give you all that. Great. But when you have no competition, it's bad for the sport. Nothing equates with this. UCLA with Walton and Alcindor doesn't equate with this, nothing does. Geno will say, 'Was it bad for golf when Tiger was dominating?' No. He won one out of every three tournaments. That's not the same as this.
Phil Mushnick, New York Post
And though the TV folks regularly kiss his fanny and pretend they don't see what can't be missed, Geno Auriemma is a consistent, remorseless bully. He's women's college basketball's version of Vlad the Impaler. And he's here to punish you — stomp you when you're already thoroughly beaten — in the names of the University of Connecticut and NCAA student athletics. The only thing worse than a bad loser is a bad winner, and Auriemma specializes in annihilations and humiliations. Why win by 40, 50, 60 when you can win by 70, 80, 88, making your opponents appear as small and as worthless as possible?

Two weeks prior in Massachusetts, not far from UConn, a girls' high school tournament game was won, 93-7, by East Bridgewater, its coach — ostensibly a responsible adult — flooring the gas though up, 48-4, at the half. Unlike at UConn, where the administration indulges Auriemma with look-away passes — he's the headmaster of Our Ladies of Perpetual Silence — East Bridgewater school superintendent Elizabeth Legault knows right from wrong — and isn't afraid to speak it. She apologized for the dehumanizing result and for a coach who kicked kids when they already were way down — under the heading of "sports," no less.
Josh Peter, USA Today
After the Connecticut women's basketball team beat Saint Francis of Pennsylvania 140-52  Saturday in Storrs, Conn., in the first round of the the NCAA tournament, coach Geno Auriemma was in celebratory spirits. Embarrassment would have been more appropriate.

Auriemma, in unleashing his superior players, exposed what dilutes his accomplishments — the disparity between the best and the rest in women's basketball is so significant, they could use a mercy rule. Or a coach who knows how to show mercy.