College Sports
Tradition, tradition! Harvard-Yale play The Game at Fenway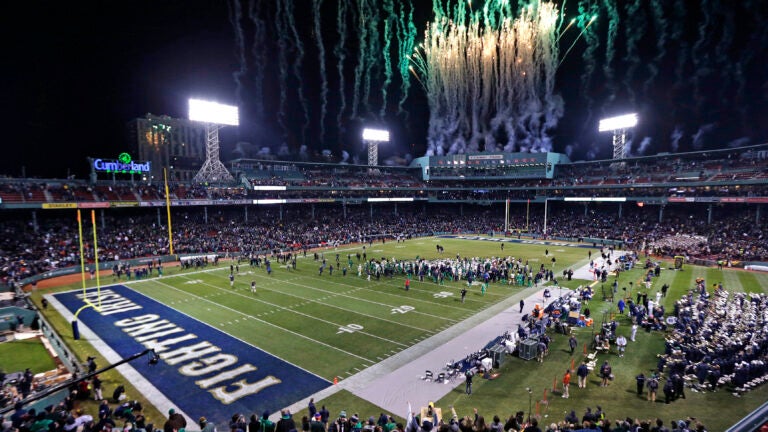 BOSTON (AP) — Yale football captain Kyle Mullen thought he would have one more chance to play in The Game at Harvard Stadium, a last trip to the century-old venue on the nearly 400-year-old campus for the 135th edition of the rivalry.
Instead, the Bulldogs will play Harvard in November at Fenway Park — a ballpark with a bit of history itself.
"I was looking forward to beating Harvard at their home stadium," Mullen said with a smile as he stood in the Fenway stands Tuesday. "But I guess I'll have to settle for this."
The home of the Boston Red Sox — and concerts and other sports events from Irish hurling to big air snowboarding — Fenway will host the Ivy League finale Nov. 17. It's the first new site for the game known as "The Game" since 1912.
"Any time you take the leap of faith, you sort of break up tradition," Harvard coach Tim Murphy said. "It's really an extraordinary opportunity to be playing here next year."
Fenway was the home of the American Football League's Boston Patriots in the 1960s, and it has also hosted college football since it opened in 1912. Last year, it was converted to a gridiron in the baseball offseason for several games, including a Boston College victory over UConn.
Harvard captain Zach Miller said he watched Dartmouth play Brown at the ballpark last year. An Astros fan from Houston, he sat behind the Pesky Pole for a game at Fenway his freshman year as part of a sightseeing crash course that also included a Duck Boat tour and a visit to the Boston Common.
Posing for pictures with Mullen in their football pads before Tuesday's news conference, he couldn't wait to get his turn on the field.
"It was hard not to daydream," Miller said. "Being able to come back here to finish up my college football career is very cool."
This year's Game marks the 50th anniversary of the 1968 edition, when Harvard scored 16 points in the final 42 seconds to rally from a 29-13 deficit. The Harvard Crimson school newspaper famously celebrated with the headline, "Harvard Beats Yale 29-29."
Current Red Sox owner Tom Werner was a sophomore who ran onto the field to celebrate.
Other Harvard and Yale graduates have graced the field through history, dating to the first no-hitter in the ballpark's history, which was pitched by a Harvard Law School student, George "Iron Davis," for the Boston Braves on Sept. 9, 1914. With the Red Sox in 2013, catcher Ryan Lavarnway and pitcher Craig Breslow formed the first all-Yale battery in major league history.
Harvard coach Tim Murphy fell for the Red Sox during the 1967 "Impossible Dream" season as a 10-year-old Little Leaguer in Kingston, Rhode Island. After listening to the ballclub clinch the pennant on the radio, everyone in the neighborhood spilled onto the street to celebrate.
"It was pandemonium. It's was something you'll never forget," said Murphy, who had never been on the Fenway field before Tuesday. "If you would have told me in '67 that we'd be playing in Fenway Park … amazing."