College Sports
Grayson Allen on his polarizing college career: 'You have to address it'
"I just want to answer any questions they have."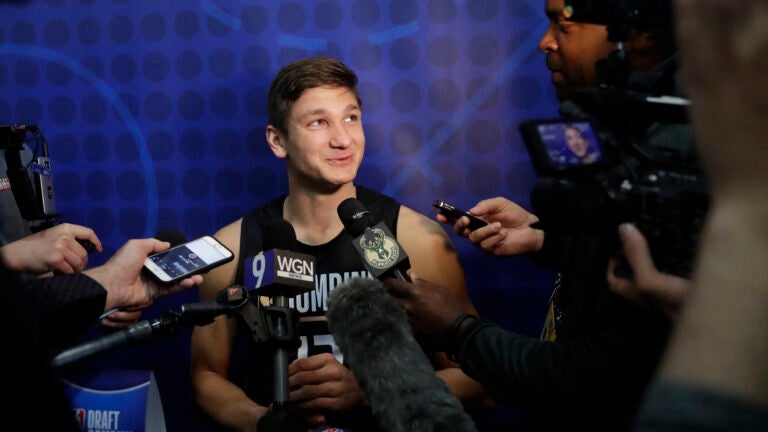 CHICAGO (AP) — The way Grayson Allen sees it, he might as well attack this full-court press head-on.
The guard from Duke understands the concerns NBA teams might have about him after four polarizing seasons with the Blue Devils during which he attracted about as much attention for play that crossed the line as he did for his accomplishments on the court.
"You have to address it, for sure," he said Thursday at the league's draft combine. "It's something that comes from my competitiveness. Competitiveness that I've had as a player, competitiveness that was pointed in the wrong direction and went over the line. It's obviously something that I needed to work on and address."
Allen said he's gotten "a lot better" controlling his competitiveness, without losing it.
"It's something you don't want to put away," he said. "You don't want to put competitiveness and emotion away, so you learn to play with it. You learn to use it for your team. That's what I've been saying."
The question is whether Allen can channel that emotion in a positive direction.
He is projected as a late first-round or early second-round pick after helping Duke win a championship and at times attracting attention for the wrong reasons.
The Atlantic Coast Conference reprimanded Allen for appearing to trip two players on purpose in 2016. He served a one-game suspension by coach Mike Krzyzewski and got stripped of his captain's title in the 2016-17 season after he got caught tripping an opponent. Though he basically stayed out of trouble this past season, Allen hip-checked North Carolina's Garrison Brooks in the ACC Tournament.
And when it comes to the NBA, Allen no doubt has some explaining to do. With the draft on June 21, the next few weeks are his chance to ease any concerns league executives have, to show his emotions are under control.
"I think the NBA, they like competitive guys," he said.
An overlooked member of a heralded recruiting class, Allen grabbed the spotlight as a freshman at the 2015 Final Four. He wound up providing a huge lift off the bench, scoring 16 points in the championship game victory over Wisconsin that gave Duke its fifth title.
Allen put off turning pro after his sophomore and junior years because he enjoyed college and wanted to make another run at the Final Four. He averaged 14.1 points in his career and joined Grant Hill, Jon Scheyer, Danny Ferry, and Johnny Dawkins as the only Duke players with at least 1,900 points, 400 rebounds and 400 assists.
Allen's leadership and ability to blend with four freshmen in the lineup last season, particularly after a switch to a zone defense in February, were crucial for the Blue Devils. Duke just missed another trip to the Final Four with an overtime loss to Kansas, after his bank shot over two defenders at the end of regulation hit the rim, bounced off the backboard and hit the rim again before rolling off.
Now, Allen hopes to show teams these next few weeks that he is not only an intelligent player but the type of person NBA executives want in their locker room.
"I just want to answer any questions they have," he said. "Just kind of show my personality, just let these teams get to know me, get to know me outside of what they see on the court, not just what kind of player I'll be on the floor but what kind of person they'll have in the locker room as well."