College Sports
Boston College runs past Temple, but AJ Dillon leaves with an injury
The Atlantic Coast Conference's preseason player of the year limped off favoring his left ankle.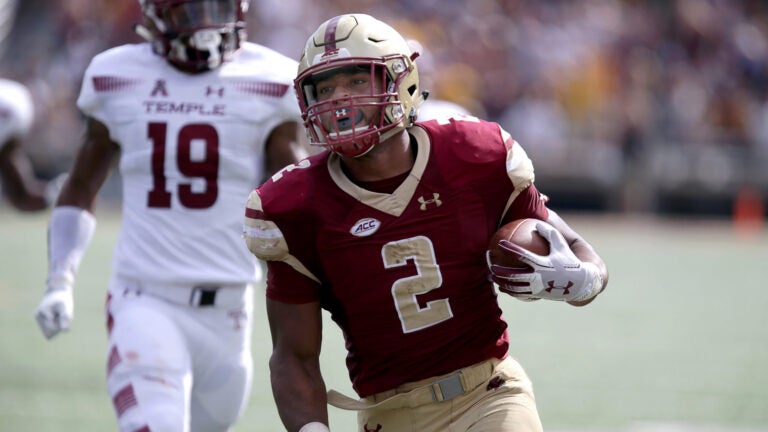 BOSTON (AP) — Anthony Brown threw for two touchdowns and caught one, AJ Dillon rushed for 161 yards and two scores before leaving with an apparent ankle injury and Boston College held off Temple 45-35 on Saturday in a chippy game that saw three players ejected for targeting.
Dillon, the Atlantic Coast Conference's preseason player of the year, limped off favoring his left ankle after a defender fell on the back of his leg early in the third quarter. He went to the sideline, had it taped, but didn't return.
Brown completed 15 of 33 passes for 139 yards for the Eagles (4-1), which rebounded from a lopsided loss at Purdue last week that dropped them out of the Top 25. His mom — Carissa Henderson — sang a stirring rendition of 'God Bless America' at the end of the third quarter.
BC Football – live via https://t.co/PQFwstlJqq https://t.co/kRq3HZHCT5

— BC Football (@BCFootball) September 29, 2018
Backup running back Ben Glines had 120 yards on 23 carries with a TD, and Tommy Sweeney and Jeff Smith each had a TD catch for BC.
Ryquell Armstead carried it 24 times for 171 yards and a career-best four scores for the Owls (2-3). It was his third straight 100-yard game. Anthony Russo was 20 of 45 for 255 yards, but he threw two interceptions.
Trailing 21-13 late in second quarter, BC capitalized on an interception and scored 18 unanswered points to take a 10-point lead into halftime.
Dillon broke around the left side, going 52 yards for a score, and Brown hit tight end Sweeney for a 2-point conversion to tie it.
On the Owls' next possession, Taj-Amir Torres picked off Russo before Dillon's 2-yard scoring run pushed BC ahead.
Danny Longman booted a 26-yard field — on his first collegiate try — with 20 seconds left in the half.
Brown caught his TD — a 9-yarder from QB-turned-receiver Smith — to make it 38-21 midway into the third.
THE TAKEAWAY
Temple: After a rough start this season, the Owls are playing tough, competitive football. They should be a strong contender in conference action if they bring the same energy.
Boston College: The health of Dillon is important for the Eagles' success this season. . BC's offense collected 423 total yards after getting just 229 last week.
EJECTIONS
BC's DB Lukas Denis was ejected early in the second quarter, Temple's TE Chris Myarick for a helmet hit on an interception return, and Owls' safety Jyquis Thomas for nailing receiver Michael Walker.
UP NEXT
Temple: Hosts East Carolina in American Athletic Conference play next Saturday. The Owls will be looking to start 2-0 in league action.
Boston College: At North Carolina State next Saturday. The Eagles can start 2-0 in ACC play for the first time since 2007.