College Sports
Boston College falls by 1 point on road to Florida State
The Eagles are now 7-4, and they'll host Syracuse next Saturday.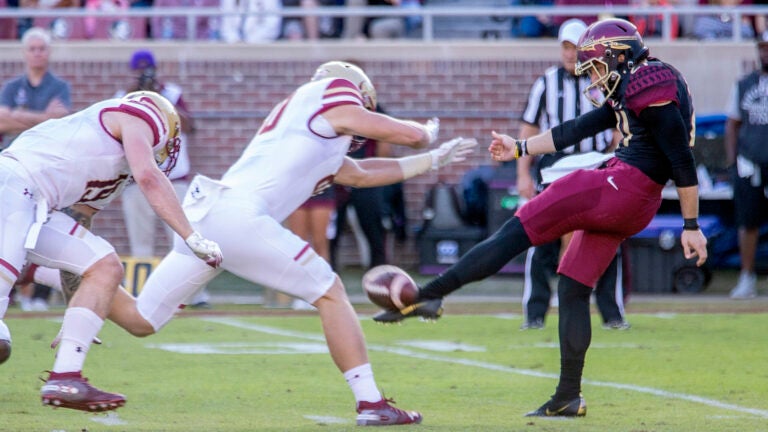 TALLAHASSEE, Fla. (AP) — Florida State has its first victory over a ranked team in almost two years — and a shot at a bowl game.
Deondre Francois threw a 74-yard touchdown pass to Tamorrion Terry with 1:49 left and the Seminoles beat No. 22 Boston College 22-21 on Saturday to keep their bowl hopes alive.
Francois was 19 of 39 for 322 yards, shaking off two first-half interceptions for his fourth 300-yard game of the season. Cam Akers had 19 carries for 110 yards for the Seminoles (5-6, 3-5 Atlantic Coast Conference).
Florida State, which snapped a three-game losing streak, got the ball back with 2:45 left and needed to drive 87 yards to score a touchdown. Francois said he felt confident.
"I smell blood," Francois said. "Really, I was ready to go. I just forgot about the first half. You can't focus on the first half and the mistakes you made. That's what we did as an offense. We continued to be resilient and we drove the ball down the field."
Francois drops a DIME to Tamorrion Terry for the win! WOW! ?#DoSomething? (@FSUFootball ,@_Dirtie12, @TT1Batman) pic.twitter.com/JEFzNzX7gO

— ACC Digital Network (@theACCDN) November 18, 2018
BC (7-4, 4-3) led 21-16 and had fourth-and-1 at the Florida State 40 with 2:52 to go. Coach Steve Addazio called timeout and sent his offense on the field but opted to have quarterback Anthony Brown try a hard count and see if he could draw the Seminoles offside. It didn't work, and the Eagles took the delay-of-game penalty before punting 32 yards and pinning Florida State at the 13.
"It was worth the try," Addazio said. "I felt pretty good about it. With the outcome, your heart is like, 'I should have went for the first down.' But honestly thinking about it that really wasn't the right thing to do. . I know that's the right thing to do. It did not have the right outcome. Obviously you second-guess yourself but really it was the right decision. It just didn't work out right."
Addazio's decision not to go for it took some Seminoles by surprise. Linebacker Dontavious Jackson said he realized quickly "they don't have a play" and none of the Florida State defensive players flinched.
"I thought they were going to run a power, play action or QB sneak," said Jackson, who had a team-leading 14 tackles. "I was kind of surprised they did that. But it worked out for the best."
It certainly did for the Seminoles. Three plays later, Francois connected with Terry for the touchdown.
Florida State secured its first victory in six attempts against Top 25 teams this season and the program's first against a ranked opponent since a win over Michigan in the 2016 Orange Bowl. Florida State has gone to a bowl in each season since 1982 and can extend the streak with a victory over No. 15 Florida next week.
"Hopefully it's the defining moment that we all knew could happen," Florida State coach Willie Taggart said. "It's good that our guys kept believing and found a way. We needed it in the worst way and we've got one more to go against our archrival."
Terry, a redshirt freshman, now has eight touchdown receptions – including long catches of 78, 74, 55 and 35 – this season.
"Every time I know it's one-on-one, I think it's a touchdown," Terry said. "Nobody can guard me, and I know that for sure."
Brown completed 18 of 33 passes for 297 yards, a touchdown and two interceptions for BC hasn't won in Tallahassee since 2008.
DILLON FOR 1,000
A.J. Dillon ran a season-high 37 times for 116 yards and a touchdown for the Eagles, and Dillon has 1,052 rushing yards in nine games this season, missing two due to an ankle injury. Dillon injured the ankle again in the fourth quarter of last week's loss to No. 2 Clemson.
"I think he gave great effort," Addazio said. "I thought he gutted it out hard."
He had 1,589 rushing yards as a freshman in 2017. Dillon is the first BC rusher to have back-to-back 1,000-yard seasons in the 120-year history of the program.
RUN SETS UP PASS
Florida State came into the game ranked 128th in the nation in rushing but ran for a season-high 156 yards on 36 carries against BC. Taggart said the success on the ground set up the Seminoles' passing game.
"We've got to continue to run the football," Taggart said. "That helped set up other things for us. And that's pretty much what our offense was based on is play action
POLL IMPLICATIONS
BC will likely drop out of the top 25 with the loss. The Eagles were looking for their first eight-win season since 2009.
THE TAKEAWAY
Boston College: The return of injured stars Dillon and Brown weren't enough to spark the Eagles on offense. BC made 7 of 19 third-down conversions and 3 of 6 fourth-down conversions to put Florida State on the ropes.
Florida State: The Seminoles rallied for a win after dropping three straight games. Florida State had not won in nearly a month, since a 38-17 win over Wake Forest on Oct. 20.
UP NEXT
Boston College: Host Syracuse next Saturday in the regular-season finale.
Florida State: Host No. 15 Florida next Saturday in the final regular-season game.