College Sports
Harvard running back didn't make obscene gesture at Yale defenders despite initial reports
Photos showed it wasn't the middle finger.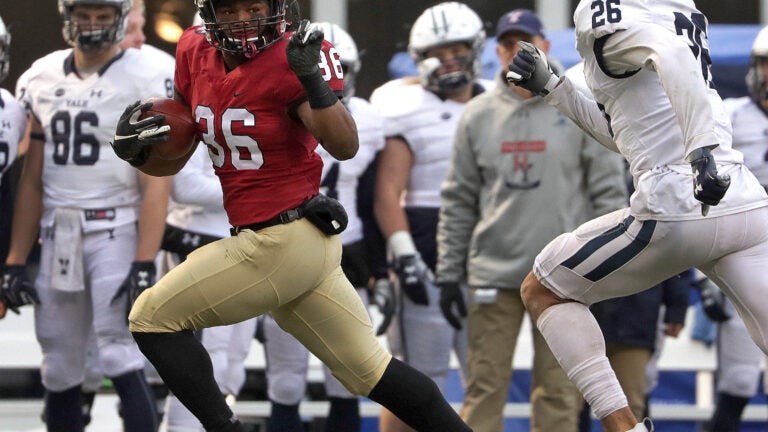 Harvard running back Devin Darrington's fourth quarter touchdown was called back during Saturday's rivalry game against Yale at Fenway Park due to "taunting," but he was accused of worse.
Video appeared to show Darrington flipping his middle finger at Yale defenders as the sophomore running back ran into the end zone to stretch Harvard's narrow late game lead.
The incident was widely reported, and many outlets initially believed Darrington had, in fact, made the obscene gesture at his opponent. However, Harvard Crimson photographer Tim O'Meara checked back through his game photos on Saturday night and discovered something different had occurred.
It turned out Darrington had simply waved his index figure in celebration.
The verdict on the Devin Darrington finger incident @Deadspin (?: @tromeara) pic.twitter.com/JZfYXmDUG8

— Crimson Sports (@THCSports) November 18, 2018
While the taunting penalty will forever cancel the touchdown run, the photo cleared up the untrue belief that Darrington had disrespected his opponent with a middle finger.
"It was cool to realize for the first time that something I'd seen all over the sports media was not as it seemed," O'Meara told Jason Gay of the Wall Street Journal.
Harvard kicked a field goal after Darrington's touchdown was called back, giving the Crimson a 31-27 lead. Yet the called back score ended up not costing Harvard, as they still defeated Yale 45-27.