College Sports
BC's Logan Hutsko injured in Hockey East title game
Hutsko was taken off the ice in a stretcher to Massachusetts General Hospital.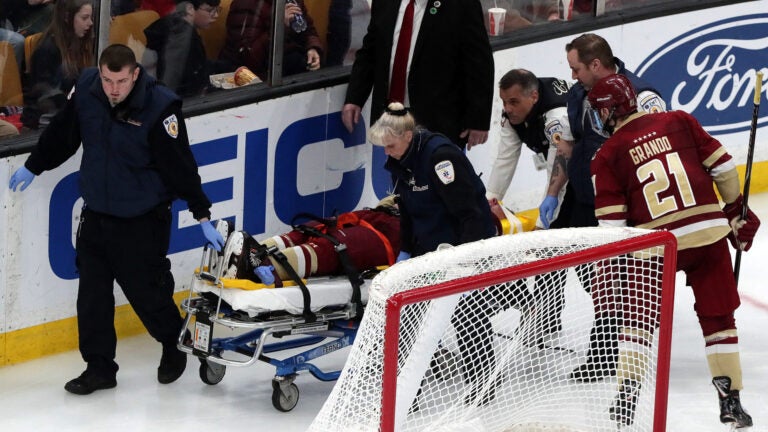 There was a scary moment in the opening minute of the third period of the Hockey East championship Saturday between Northeastern and Boston College. The TD Garden crowd fell silent when BC sophomore forward Logan Hutsko got tangled up with one of his teammates and a Northeastern defender after carrying the puck into the offensive zone and hit his head on the ice.
Play was halted for several minutes as a stretcher was wheeled onto the ice while trainers kept him immobilized and secured him to a backboard. He was taken to Massachusetts General Hospital, and was accompanied by his father, Todd.
#NTDP Alumni Update. Here is the play where Logan Hutsko gets hurt. He drives to the net hard and then falls awkwardly in the corner.

Hutsko did show some movement after the fall, but was taken off on a stretcher. Scary situation and our thoughts are with Hutsko. pic.twitter.com/fl4JgmE34R

— Stars n' Stripes Hockey (@StarsStripesHKY) March 24, 2019
Coach Jerry York was escorted onto the ice by junior Zach Walker and sophomore Chris Grando to check in on Hutsko. York opened up his postgame news conference by talking about the injury.
"The most important thing is, Logan is moving his fingers, his toes,'' York said. "He's at the MGH right now, so we're cautiously optimistic that he's going to be OK. They're doing a CAT scan as I speak now.
"He had a situation where he broke his neck three years ago in junior hockey, so they're being really cautious. But he's conscious, so we'll just hope for the best. So that makes me feel a lot better. I was really nervous when I walked out there.''
Hutsko skated on BC's first line at right wing and entered the game with six goals and 18 assists. He assisted on both of BC's goals in the 3-2 loss.
Boston College winger Logan Hutsko appears to have come through relatively unscathed after scary crash into boards last night. Tests have all come back negative. He remains in hospital for observation, doctors were very cautious given his previous fractured vertebrae from 2015.

— Frank Seravalli (@frank_seravalli) March 24, 2019
York was asked what he was feeling when he was escorted onto the ice to check on Hutsko.
"I was getting nervous,'' York said. "Things happen in sports with spinal injuries that result in a really difficult future for a young man. I was nervous.''
Hutsko was also on the mind of Northeastern coach Jim Madigan as he opened his postgame news conference.
"My first thought is that our thoughts and prayers are with Logan Hutsko,'' he said. "It's tough to see a young man on the ice like that, so we're hoping that he's doing well and that he has a quick recovery.''