College Sports
Baylor basketball becomes first women's team honored by Trump at the White House
The Lady Bears took home their third national title with an 82-81 victory over Notre Dame in this year's NCAA finals.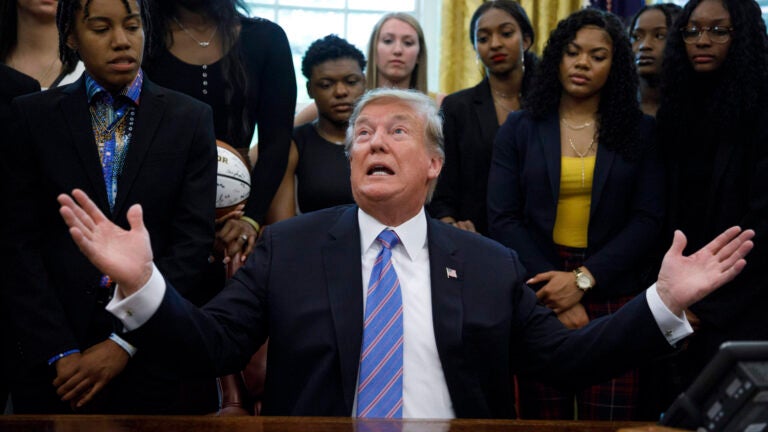 WASHINGTON — The championship-winning athletes who visited the White House on Monday were greeted with the typical trimmings of an Oval Office team visit: jokes, jerseys and heated platters full of Whoppers, among other things.
But it was the first time in President Donald Trump's 27-month tenure that the athletes were exclusively women.
The Baylor University Lady Bears, who took home their third national title with an 82-81 victory over Notre Dame in this year's NCAA finals, were welcomed to the Oval Office by Trump. They were the first women's team to be honored on their own at the White House since he has been president.
In his remarks, Trump said he watched the "tough, rough" final between Baylor and Notre Dame after several people called him and urged him to tune in. He singled out individual players, recounting their plays — "You'll be back next year? You'd better be," he said to the team's captain, Lauren Cox. The president also marveled over the Lady Bears' win, and extended another invitation to the team's coach, Kim Mulkey.
"Would you like to work at the White House, by any chance?" the president asked her.
"No," she replied.
"We'll take you," Trump countered. "We need the help."
With their visit, the Lady Bears blazed a trail that no other women's basketball team has yet traveled, in all likelihood because other women's teams say they were not invited.
Let's check in on the Baylor women to see how excited they are about visiting the White House. pic.twitter.com/zGp6hZ02zO

— Cork Gaines (@CorkGaines) April 29, 2019
In November 2017, the South Carolina women's team, the NCAA champions that year, declined an invitation to the White House to be a part of a coed group of college athletes, which included women's rowing and rugby teams, citing scheduling conflicts.
The Minnesota Lynx won the WNBA championship for the fourth time that year, but no invitation followed. And last year, no invitations went to the Notre Dame team, last year's NCAA winners, nor to the members of the Seattle Storm after they took the WNBA title.
Alisha Valavanis, the Storm's chief executive and general manager, said that Trump's politicization of the events had made it "impossible" for the team to attend, and if an invitation had been offered, it would have been declined.
This year, that pattern was broken when Baylor, a Baptist school in Waco, Texas, received a shout-out from Trump after its win.
Cheryl Reeve, the head coach and general manager for the Minnesota Lynx, praised the Lady Bears, but said that she was left wondering what a women's pro team would need to do to receive an invitation from Trump.
"While it is satisfying that a national champion of the women's NCAA tournament will be celebrated at the White House," Reeve said, "it is, however, confusing what the qualifications for a White House visit by a champion are."
Modern presidents have made it a point to expand invitations to women's teams, beginning regularly with President Ronald Reagan, and expanded in earnest with the efforts of President George W. Bush.
Trump, a president who has rewritten the rules on how everything from China trade policy to White House press briefings are done, has similarly reshaped the visits of athletes, according to Christine Brennan, a national sports columnist for USA Today.
For starters, he has served platters of fast food to athletes when his predecessors mostly stuck to cookies and punch. (The Lady Bears were invited to sample food from Burger King and Chick-fil-A, among other offerings.)
Kim Mulkey's grimace at the sight of a fast food spread for the Baylor Women's Basketball team's visit to the White House is worth a thousand words. pic.twitter.com/rXZ78UJ7ft

— Jay Sarkar (@ByJaySarkar) April 29, 2019
Brennan said the president has repeatedly missed an opportunity to call attention to the fact that women are participating in collegiate sports at an all-time high.
"So much of the conversation for generations about women and girls sports has been about equality," Brennan said. "It is truly mind-boggling to me as a journalist that this president wouldn't understand the incredible cultural development that has happened in this country involving women and girls' sports, and how strongly parents care about their daughter's sports."
The White House did not respond to a request for comment about why the women's championship teams had not been invited in the past, why Baylor made the cut this year, and if there will be additional invitations in the future.
It may have helped that Mulkey, the team's coach, publicly said she would welcome an invitation. In an interview with The Associated Press this month, she said she had taken her team to meet Presidents Bush and Barack Obama after Baylor's past two title victories.
"It's not a political issue for me," Mulkey said. "I want everyone to say they went to the White House."
With the knowledge that even the most benign of visits to this White House can involve a hearty sampling of politics, not everyone is so enthusiastic at the idea of receiving an invitation from the Trump White House. Generally after an invitation, a fraught conversation ensues about whether the team will — or should — attend.
This year, the University of Virginia, the men's NCAA champions, turned down a visit, citing scheduling conflicts. Charlottesville, where the university is located, was the site of a white nationalist rally two years ago, and the president has not walked away from heavily criticized comment at the time that there were "very fine people on both sides" of the debate over white nationalism.
Complicating matters, Trump has not always taken rejections kindly. He rescinded an invitation to the NBA champion Golden State Warriors in 2017, and in June canceled an invitation to host the Philadelphia Eagles in celebration of their Super Bowl victory after several team members were vocal about the racist undertones they saw in the president's comments about athletes who knelt during the national anthem.
Trump's revenge: throwing a "Celebration of America" party on the White House lawn, complete with a Marine band playing the national anthem.
Reeve of the Lynx suggested that the White House was picking a team that was reliably aligned with the administration's political views. Baylor, a conservative school, considered homosexual acts a punishable offense until repealing that language from its campus sexual misconduct policy in 2015. Brittney Griner, a Baylor graduate who plays for the Phoenix Mercury, has said that she was instructed not to disclose her sexuality — she is lesbian — when she played on the team.
"Why did South Carolina and Notre Dame not receive an invite?" Reeve wrote in an email. "Does the president only invite those who he perceives to align with his views? Unfortunately this president is making it a political statement rather than a celebration of basketball champions, which is what was intended since presidents began these type of celebrations in the 1980s."
Christy Hedgpeth, the chief operating officer for the WNBA, said in a statement that professional women athletes deserved to be honored, adding that "not celebrating the achievements of the WNBA champions is a missed opportunity to engage in a constructive dialogue with these dynamic women."
The obvious catch, of course, is that not all winning teams want the chance to engage with Trump.