College Sports
Every game on BC football's schedule, ranked
With matchups against Clemson and Notre Dame, there's no shortage of big games.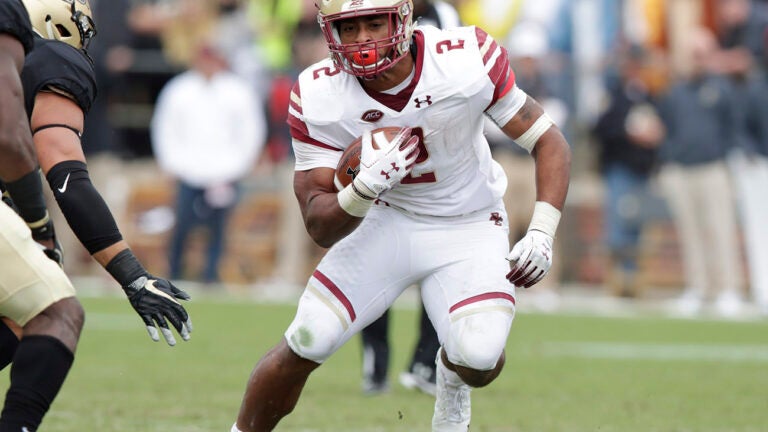 COMMENTARY
After lightning halted, and ultimately cancelled, its bowl game against Boise State a season ago, the Boston College football team ended 2018 with a 7-5 record.
That kept the Eagles at the seven-win mark for the third-straight season and deprived them of potentially reaching eight wins for the first time since 2009. BC is eager to make a jump in the Atlantic Coast Conference standings and enter the upper-echelon of the Atlantic Division.
The Eagles return running back AJ Dillon and quarterback Anthony Brown, and they welcome first-year offensive coordinator/quarterbacks coach Mike Bakajian. They have prime opportunities to shake up the polls against Clemson and Notre Dame, and there are plenty of other enticing games on the schedule as well.
Here's a look at all of them, ranked, starting with the most intriguing.
1) Clemson – Saturday, Oct. 26, TBA, Away: The Tigers are No. 1 in all major polls for a reason. Despite losing several playmakers on both sides of the ball, the defending national champions bring back plenty of talent all over the field. Led by star quarterback Trevor Lawrence, tailback Travis Etienne, and receiver Justyn Ross, the offense will challenge a BC defense that allowed 25.7 points per game a season ago. When the teams met last year, the Eagles hung around and trailed 13-7 at halftime, but the Tigers scored twice in the second half to earn a 27-7 win. This time, the challenge will be even greater, as BC has to travel to Death Valley. It certainly won't be easy, but if the Eagles can find a way to shock the world, few things help a program more than knocking off the best of the best.
2) Notre Dame – Saturday, Nov. 23, 2:30 p.m., Away: BC is 1-14 against ranked opponents under Steve Addazio, and the lone win came in 2014 when it upset No. 9 USC at home. This game is in late November, and time will tell how both teams' seasons unfold, but it's clear BC will face a daunting task. Notre Dame completed a perfect regular season last year, en route to the playoff semifinal against Clemson, and comes in with ESPN's No. 14 recruiting class in 2019. The Fighting Irish lost a lot of talent on defense, but they still have no shortage of weapons at every position.
3) Florida State – Saturday, Nov. 9, TBA, Home: It's impossible to definitively predict which home game will end up as the most intriguing, but this one is certainly a prime candidate. When the teams met a year ago, in Tallahassee, the Seminoles escaped with a 22-21 win that ended up as one of their best victories of the season in a rare down year. Florida State finished 5-7, failing to reach a bowl game for the first time since 1981. Each side has something to prove, and the game could end up shaping the fate of both teams. Fans who made the trek down south in 2018 won't have to hear the tomahawk chop quite as much this year as the game returns to Alumni Stadium.
?#DecideToFly is back!

Tomorrow night. 6:30 p.m. on @NESN #WeAreBC pic.twitter.com/4AHYrbsbV5

— BC Football ? (@BCFootball) August 22, 2019
4) Virginia Tech – Saturday, Aug. 31, 4 p.m., Home: There's always something special about the first Saturday of the college football season. Though many teams will have already played Thursday and Friday, Saturday is when the chaos really ensues, with dozens of games on at once. Masterful channel flipping becomes supremely important, and choosing who deserves the remote is a major decision. One nice part about this matchup, though, is that there are only four games on at 4 p.m., including a BC vs. Virginia Tech showdown to start the season. There's no excuse not to sit down and watch the Eagles as they try to make a statement right away. One interesting stat, according to BC Interruption, is that the Eagles were 7-1 last year when scoring more than 21 points. It makes sense, of course, that more points leads to wins, but it will be interesting to note how the offense comes out against a Virginia Tech defense that has a chance to impress this season.
5) Syracuse – Saturday, Nov. 2, TBA, Away: The Orange open the season in the Top 25 for the first time since 1998, when Donovan McNabb was the starting quarterback. Syracuse finished seventh in the nation in sacks last year, with 43, so the offensive line's ability to protect Brown will be a major factor in this one. The teams have met every year since 2013, with Syracuse taking four of six in the head-to-head series. Generating long possessions isn't easy against the Orange, but if AJ Dillon can keep picking up first downs, the Eagles have a chance inside the Dome.
AJ Dillon is one of the most exciting players in the conference and we're READY for more of this!

✌️days until @ACCFootball is back!#WeAreBC? | @BCFootball, @ajdillon7 pic.twitter.com/KCVx4nLMcK

— ACC Digital Network (@theACCDN) August 22, 2019
6) NC State – Saturday, Oct. 19, TBA, Away: If head-to-head history is any indication, this has the makings of a tight, competitive game. BC leads the all-time series 8-7, they've split the last 10 meetings, and the margin of victory has been seven points or fewer in each of the past three. This may not be the most enthralling game from a big name or offensive explosion standpoint, but it could be close, and that's a draw in itself. The consensus among Atlantic Coast Conference pundits is that the Wolfpack have lost some of their luster on offense but could still be in the mix for a bowl game. If the Eagles hope to hope to reach that eight-win mark for the first time in a decade, this would be an ideal one to have.
7) Pittsburgh – Saturday, Nov. 30, TBA, Away: This matchup is particularly enticing for one main reason: It could decide whether BC plays its way into a bowl game. After winning four in a row against Pitt in the early 1990s, and four out of five in the late '90s and early 2000s, the Eagles have lost four in a row against the Panthers since, including a 30-20 defeat in 2014. That was the last time they played, so this will provide a rare chance for the nostalgic fan to remember the Big East days when they did so every year. Or maybe it's a chance for those fans to be curmudgeonly and wonder how both schools ended up in the ACC. Either way, it will feel familiar to that generation.
8) Kansas – Friday, Sept. 13, 7:30 p.m., Home: The most important question to address here, first and foremost, is when the heck was the last time BC played Kansas in football? The answer might surprise you, or maybe it won't. They've never faced each other. Not once. ESPN's matchup predictor gives the Eagles an 85.3 percent chance to win, and chances are, that will happen. Regardless of how the game unfolds, this one has a unique feel throughout. For one thing, it's on a Friday night – the only game of the regular season that's not on a Saturday. The game was initially scheduled for Saturday, but now it's slated for the day prior. Secondly, it's Military Appreciation Day, so that's another reason to attend. Though this is unchartered territory, BC is 22-28-1 against current Big 12 members. The Eagles have played West Virginia many times, and have even faced Kansas State, Iowa State, and Oklahoma, but they've never matched up against the Jayhawks. They have played three times in basketball, facing off at the National Invitation Tournament at Madison Square Garden in 1969 – a game BC won, 78-62 – and in a home-and-home series in 2006 and 2008.
9) Wake Forest – Saturday, Sept. 28, TBA, Home: USA Today's Paul Myerberg expects both the Demon Deacons and Eagles to finish 7-5. Both teams like to run the ball, so expect a faster game with long possessions that could come down to the final minutes. The teams have split the last four meetings, with the road team, interestingly enough, winning all four times. Last year's matchup in mid-September was an entertaining one, as the Eagles pulled ahead in the second half en route to a 41-34 win. The game featured three ties and five lead changes, and each side racked up over 500 total yards. Both offenses are methodical, but they're also capable of putting up points in a hurry when they need to.
? Post-scrimmage reaction from QB1 @anthonybrown_2 #WeAreBC pic.twitter.com/oCZh4S8YaE

— BC Football ? (@BCFootball) August 17, 2019
10) Louisville – Saturday, Oct. 5, TBA, Away: According to BC Interruption, Boston College rushed the ball 46.4 times last season, which was ninth-most in the nation, but team team ranked just 85th with 4.1 yards per carry. This game provides a great opportunity for the Eagles to dominate on the ground, as the Cardinals posted the 127th-ranked run defense in the nation last year. Louisville gave up a whopping 277.3 yards per game on the ground. Compare that to 92.9 for Clemson, and it's clear life will theoretically be a little bit easier for the Eagles' offensive line against the Cardinals. Having said that, this could end up being a trap game, and BC doesn't want to take Louisville lightly. Heading into the bye week with momentum is important, and this one carries some extra weight for that reason.
11) Rutgers – Saturday, Sept. 21, TBA, Away: Rutgers has a particularly tough schedule this season, with games against Iowa, Michigan, Maryland, Ohio State, and Michigan State. The BC game will be the second time the Scarlet Knights hosts a Massachusetts school early in the year following a season opener against UMass on Aug. 30. BC and Rutgers have met 26 times, with the Eagles prevailing on 19 occasions, including each of the last 10. The last meeting was in 2004, so who knows … maybe Bill Belichick will make a surprise appearance. His son, Steve, played mainly lacrosse and a little bit of football for the Scarlet Knights.
12) Richmond – Saturday, Sept. 3, 3:30 p.m., Home: BC hasn't lost in four meetings against the Spiders, and it doesn't appear likely it will do so this year. Richmond is a Football Bowl Subdivision school, and it will presumably face its toughest test of the season against the Eagles. It's Youth and Spirit Day in Chestnut Hill, so it's an ideal time to enjoy the day, frolic with the family, and watch BC pick up a smooth win. But who knows how it will unfold. This is college football, after all.