College Sports
Boston's Terrence Clarke commits to play basketball at Kentucky
"This is for y'all. Especially basketball-wise, Boston is always getting downgraded as not the best basketball city, and that's one thing I take personal.''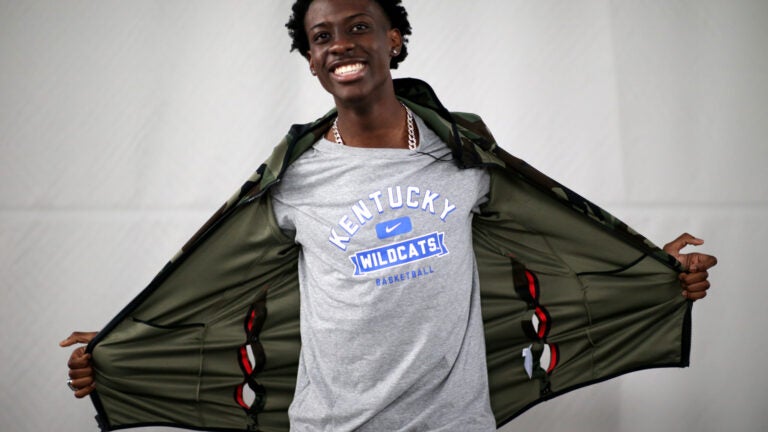 The decision was made where it all started.
On Saturday, Boston's Terrence Clarke sat in front of his family, friends, and a handful of media inside the gymnasium he grew up at, the Vine Street Community Center in Roxbury, to announce he would be taking his talents to Lexington, Ky., to play for John Calipari and the University of Kentucky.
Clarke, wearing a camo jacket and black sweatpants, sat at a table in the center of the court beside his mother, Osmine Clarke, and his 2-year-old brother, Gavin. Smiling, he listened to his middle school AAU coach, Maurice Smith, compliment him on his progression from a hard-headed middle schooler who "played like a point guard'' to a top college prospect:
"At first, coaching [Terrence] was hard because it was [his] way, but as he got older, you started to see the flashes of what he could become. Today before you, you're seeing a young man making a decision to a top Division 1 basketball school.''
Todd Quarles, coach at Expressions Elite, added to those sentiments. He recalled a time when one of their coaches was raving about Clarke as a sixth-grader:
"He said, 'Man, you got to see this guy. He could be a pro!' '' the coach had said about Clarke. "He said, 'I'm telling you with his skill level, his size and length.' [And] sure enough, [we] got a chance to lay eyes on him, and said, 'Wow. Man, he could be special.' ''
"Your talent level is different from most people,'' he said to Clarke directly. "By far [you are] the most talented person that's ever come from our organization . . . We've coached some pros, but never, ever, any one of the magnitude of what [Clarke] has brought to the organization. He's a player that comes around maybe once every 15-20 years.''
Clarke's Brandon Ball, credited the dedication Clarke developed from a young age for his success. "He came up to me [when he was in] fifth-sixth grade [asking], 'B, can you train me? Can you train me?' ''
By seventh grade, the two were in the gym nearly every day. Clarke acknowledged that his motivation stems from wanting to prove that Boston is a "basketball city.''
"This is for y'all. Especially basketball-wise, Boston is always getting downgraded as not the best basketball city, and that's one thing I take personal.''
With that, Clarke, a 6-foot-7-inch shooting guard who played at Brewster Academy, played a highlight video, announcing that he will attend Kentucky and reclassify from the class of 2021 to the class of 2020. He explained afterward that his decision was based largely on the school's history of producing elite talent.
"That's one of the main things that always jumped out to me. All the players that have been there. I really liked how they get their players better — like Keldon Johnson, Tyler Herro.''
His relationship with Calipari was also a huge factor.
"We built a relationship since ninth grade, it was some time. The first day that you can contact players [July 1], he was one of the first that contacted me. I knew right then and there, those are the little things [that stuck out.]''
While his mother, Osmine, thought that he would chose the hometown favorite, Boston College, she is happy for him. "I thought Terrence would choose [BC] coming out of Boston. Nobody really put Boston on the map for a long, long time, but ultimately it was his decision and I respect [that]. I'm going to be right there.''
Ultimately, Clarke is happy with his decision and ready for what's next.
"I'm trying to help the team win a national championship,'' he said. "I'm looking forward to the process, getting better, I'm ready for it all. This blue and white is going to look real nice! Trust me!''
And just like that, the kid from Boston will take his talents down south.