College Sports
Returning to Harvard is just the beginning of Ben Abercrombie's recovery
"It's the way it's supposed to be and eventually it will get better. This is just what it is right now."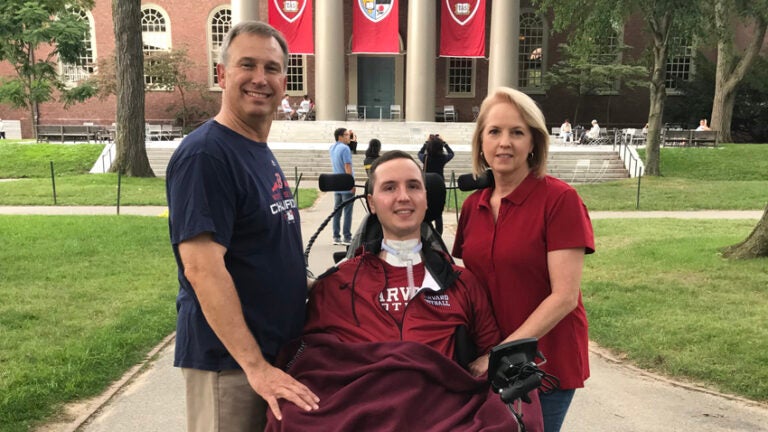 A quilt is folded neatly at the foot of the bed in Ben Abercrombie's Harvard dorm room. 
Sewn between the squares patterned in crimson, black, and white that decorate the patchwork are messages of faith, hope, and healing.
"Those who wait for the Lord will renew their strength," a passage from Isaiah 40:32 reads on the blanket. "They will raise up with wings like eagles. Run, and not be weary. Walk, and not faint."
The quilt, crafted in Harvard's colors, was made by a family friend — a gift for Abercrombie's return to the Cambridge campus two years after a severe cervical spinal cord injury during a football game left him paralyzed from the neck down. 
Seated in his wheelchair, which he controls with a sip-and-puff system, the Harvard student says he knows one day he will fully recover from his injury.
"I have faith in God that I will be healed eventually and soon," Abercrombie said. 
It is just over two years to the day that the undergraduate from Hoover, Alabama, took the field for Harvard's season opener against the University of Rhode Island. 
"I was excited because that was my first college football game," the now-20-year-old recalled. "It was a hot day. It kind of reminded me of being back in Alabama at first."
Playing defensive back, he was the only freshman on the team's defense to travel for the game in Rhode Island. 
He was the backup — it wasn't expected that he would play. That's why his parents, Marty and Sherri, were watching the game over the internet from home in Alabama and not cheering from the stands. 
But on the first kickoff, the starter got hurt, and Abercrombie, who helped his high school football team win the Alabama state championship in 2014 and 2016, was up. In the second quarter, he went to make a tackle on the sideline.
It was a clean hit, one Abercrombie says he'd made a "million times."
"I hit him and everything just kind of went — it was kind of like slow motion," he said. "I fell on my back. It was just something that I had never felt before."
He knew he was paralyzed. 
The injury to his cervical spine — a fractured C-4 and dislocated C-3 vertebrae — also included damage to his phrenic nerve, which descends from the spine to the diaphragm and assists with breathing. "I remember I was talking to the guy and then I just randomly couldn't talk because I couldn't breathe anymore," Abercrombie recalled. "I kept trying to talk, and then I eventually passed out."
At home in Alabama, Marty and Sherri Abercrombie were watching the video feed, praying to see movement from the younger of their two sons. 
"You felt helpless," Abercrombie's father said, remembering the day of the injury two years later. "Your son's laying there, and we were just praying, 'Please move.' It was obvious that he wasn't moving."
When the cameras cut away, Marty Abercrombie called one of the parents of a senior on the team they knew who was sitting in the stands. 
"He went down to the field level and within five minutes or so I got a call from one of the Harvard doctors that was on the sideline," he said. 
The doctor told the Abercrombies that their son appeared to have a severe spinal cord injury and was being rushed to the local hospital. 
The couple started searching for the quickest way to get to Boston and notifying friends and family of the situation. They were on the road, making the more than two hour drive to Atlanta, Georgia, to catch a direct flight to Boston, when the surgeon called to ask for permission to begin a procedure that would attempt to realign their 18-year-old's spinal cord. They agreed.  
By the time they walked into his Providence hospital room, he was finally out of surgery and awake. 
Abercrombie said he doesn't remember the reunion with his parents — he was groggy and still heavily medicated from the procedure. 
But it's a moment his father remembers clearly.
"He had a tear coming out his eye when he saw us," Marty Abercrombie said. "He's like, 'I don't remember that.' Well I do."
While Abercrombie spent the next month in the Rhode Island hospital, his community — from Hoover to Harvard — rallied to raise support and funds to help with his care using the hashtag "StandUpforBen." After his time in Providence, Abercrombie went on to spend several months at the Shepherd Center in Atlanta before returning to Hoover. 
At home, Abercrombie and his family took one day at a time as they focused on his recovery. 
But the 20-year-old said he knew from the start that he wanted to return to Harvard as soon as he could to continue working toward his degree, a major in economics. 
"He's always been very determined," Sherri Abercrombie said of her son. "If he had a goal in mind, you couldn't say, 'Oh, you're not going to be able to do that.' He would prove you wrong, pretty much. He just sets goals, whether he says them out loud or just has them in his head that, 'I am going to do that,' and just continues on until he does."
His determination and focus was evident when he was in high school, she said, when he started to get interest from Ivy League schools and set his sights on Harvard. 
Then once at Harvard for practices in August 2017, he was determined to work hard and not be on the sidelines too long, she said. 
"And there he was on the field in the first game," Sherri Abercrombie said. "And we didn't expect that. That's why we were at home."
It's just the way he is — if he has a mind to do something, he'll do it, she said. 
So on Aug. 26, his parents moved him back into a dorm on the Cambridge campus — the same building they had helped him settle into two years before. Abercrombie took an online class while he was still in Alabama to ease into getting reacclimated to school work using the new technologies he relies on and build his confidence for reentry.
"It's just been a blessing to come back," he said of his return to Harvard.
For now, he's enrolled in two classes at Harvard and he plans to graduate in 2023. Longterm, his goal is to become a financial manager for professional athletes. 
But he's still taking one day at a time as he adjusts to balancing his college work with his physical rehab, which is currently centered around getting off of the ventilator he is dependent on. He and his family are meeting with Boston doctors to establish a plan for moving forward. 
"Everything takes longer now," Abercrombie said. "With school or with healing or just whatever it is. Just getting up in the morning takes longer. Just one step at a time, one day at a time. You've just got to set your priorities. Especially with school now. You've got to look at what you're assignments are and take care of them as needed. Just one step at a time."
He said he continues to rely on the skills he picked up as a student-athlete for time management and prioritizing tasks.
"Ben's such a hard worker," his father said. "With the rehab he does, just trying to get better and obviously facing some very challenging circumstances. [He's the] same way with the schoolwork. He won't go to sleep at night till he gets that last problem done."
Sherri Abercrombie jokingly collapses on the bed when her husband references the late homework hours. 
"We forgot what little sleep college students got," her husband explains with a laugh. 
"I'm not handling it well," Sherri Abercrombie says with a smile. 
A registered nurse, she's moved in the dorm with her son and will work with the other nurses brought in to help with his care. Her husband plans to visit for a week or so at a time, traveling between Boston and Hoover.
"She's my roommate," the 20-year-old student quips, adding later that his mom is also his "scribe" for his homework.
One of the most challenging adjustments after his injury has been having to rely on others, rather than doing things himself. 
"You're not able to do what you used to be able to do,"  Abercrombie said. "You're not able to have as much fun as you used to be able to have. It's kind of more of a business mindset I guess. It's more of a hopeful mindset, too. It's a lot different. One thing you don't have, things aren't in your hands anymore."
In particular for his coursework, he said it's been a learning curve doing math without his hands. He has to verbalize instructions — to either a computer program he uses or to whomever is acting as his scribe.
"Sometimes explaining to people what you want is difficult," he said.
Since he's been back, Abercrombie has visited football practices and his teammates, who affectionately continue to refer to him by the nickname he picked up two years ago for his tenacity on the field — "Badgercrombie."
"Eventually they want me to help out with film and things like that," he said. "But not yet. Like I said, I'm just settling down and getting used to everything and getting back into the school mode." 
He and his parents said friends have learned from Abercrombie's experience not to take anything for granted. 
"I think that they know, like Ben, it can be taken away when you least expect it," Marty Abercrombie said.   
Sometimes it can be a struggle, Abercrombie said, seeing friends and former teammates continue to play through their college careers. 
He and his family still love football — but they agreed they watch it somewhat differently since 2017. 
"Sometimes when I'm watching it and somebody will put their head down and hit somebody and you're like, 'That looked a lot worse than my hit did,'" Abercrombie said. "But they're OK, that's good. You'll look at it differently. But I still love and enjoy the game."
They have hope — and believe there is good reason to be hopeful with the work being done for spinal cord injuries — that he is just at the start of his road to recovery. 
"That's what we'd like to share with other people who have spinal cord injuries is that we believe that there's hope and there's a lot of great signs to justify that hope that progress is being made," Marty Abercrombie said. "It's not like that there's going to be a cure out there next week or next month or next year. But we want to keep the focus on trying to find effective treatments for spinal cord injuries."
They have faith and pray, his son said, but the experience is teaching him patience.
Sometimes you just can't control what happens, the 20-year-old said. 
"I guess this was meant to be, and it was meant for a greater purpose," he said. "But eventually I'll be healed. It's just a matter of time…  It's the way it's supposed to be and eventually it will get better. This is just what it is right now."