College Sports
What to know about the 2019 Harvard football team
"Our goal is to win the Ivy League Championship."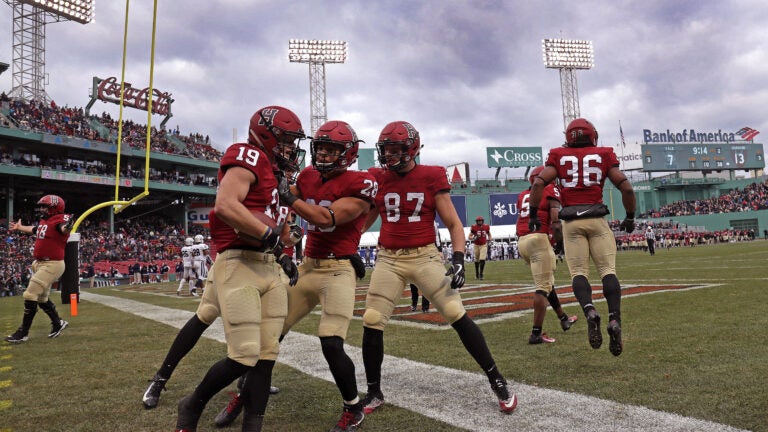 Harvard University has been one of the most consistent football programs in the FCS for years. Harvard has won the Ivy League four times this decade, without a losing season in that stretch.  
Head coach Tim Murphy doesn't expect things to change this year for the Crimson. 
"Bottom line, we expect to be a good football team," Murphy told Boston.com in an interview. "Our goal is to win the Ivy League Championship." 
Murphy went on to say that if the Crimson want to win the Ivy League, they will have to "play great defense, develop the quarterback position, and we are going to have to be very physical on both sides of the ball." 
While expectations are high in Cambridge, this season doesn't come without its challenges. 
Harvard lost 30 players from last year's team via graduation, making this a very youthful team. Making things more difficult is that because incoming freshmen aren't allowed to enroll early at FCS schools, freshmen will be stepping on the field for Harvard for the first time this fall.
"Reality is, it's very challenging for freshmen to make an impact without early enrollment," Murphy said. "We will have to develop depth very quickly."
Despite this, Murphy said that he's "very excited about this freshmen class."
Harvard will enter this season with major expectations, but also a chip on their shoulder, as they were picked to finish fourth in the Ivy League preseason poll. 
Schedule: 
Saturday, Sept. 21: Harvard at San Diego, 4 p.m EST
Friday, Sept. 27: Brown vs. Harvard, 7 p.m EST
Saturday, Oct. 5: Howard vs. Harvard, 1 p.m EST
Saturday, Oct. 12: Cornell vs. Harvard, 1 p.m EST
Saturday, Oct. 19: Harvard at Holy Cross, 1 p.m EST
Saturday, Oct. 26: Harvard at Princeton, 1 p.m EST
Saturday, Nov. 2: Dartmouth vs. Harvard, 1 p.m EST
Saturday, Nov. 9: Harvard at Columbia, 1 p.m EST
Saturday, Nov. 16: Penn vs. Harvard, 12 p.m EST
Saturday, Nov. 23: Harvard at Yale, TBA
Players to know:
Jack Cook, WR, senior 
With all three of Harvard's top receivers from the 2018 season gone, senior Jack Cook is expected to be a "key guy" this season for the Crimson, according to Murphy. Cook finished fourth on the team in receptions last season, behind three graduates seniors, catching 21 passes for 390 yards. 
Jordan Hill, LB, junior
Last year's leader in tackles, junior linebacker Jordan Hill returns as one of the anchors to the Crimson defense. He recorded 70 tackles as a sophomore.
Jake Smith, QB, junior
Smith played in seven games last year as a sophomore, splitting snaps with then senior quarterback Tom Stewart. With Stewart gone, Smith is the lone quarterback with game experience on this roster. Murphy said that Smith is "definitely the leader in the locker room."
Ryan Reagan, TE, junior
Reagan is entering this season as the expected starting tight end, and with Harvard having a long tradition of excellent tight ends, there will be a lot expected. 
"He has NFL potential," says Murphy. "He has to stay healthy, but he is on the cusp of great things." 
Liam Shanahan, OL, senior
A second-team All-Ivy League player in 2018, Shanahan is back for his senior season, and will anchor the offensive line for the Crimson in 2019. 
Wesley Ogsbury,DB, senior
The team leader with six interceptions in 2018, as well as a first-team All-Ivy League selection, Ogsbury will be another key player on Harvard's defense for the 2019 season. The Denver native was also named Harvard's 146th team captain.
Biggest Games: 
Saturday, Oct. 26: Harvard at Princeton, 1 p.m EST
Reigning Ivy League champions Princeton ran the table last season, finishing 10-0, 7-0 in conference. Harvard kept it close last season, losing 29-21. Picked to finish third in this year's Ivy League preseason poll, Princeton remain a tough opponent.
Saturday, Nov. 2: Dartmouth vs. Harvard, 1 p.m EST: 
Voted second in the Ivy League preseason poll, Dartmouth are another team that will be a tough task. Dartmouth are looking like they will be Harvard's biggest challenge at home this season, and Harvard will be looking for revenge after losing 24-17 last season. 
Saturday, Nov. 23: Harvard at Yale, TBA
The biggest game of the season for both teams, the Yale vs. Harvard rivalry has been one of the longest lasting rivalries in American sports. Currently, the rivalry leader is Yale, with a 67-60-8 record over Harvard, but Harvard has won 10 of the last 12 meetings between the two teams, including a 45-27 rout last season at Fenway Park. The rivalry will continue this season as the last game of the season for both teams, and it could be one that decides an Ivy League title, with Yale being the preseason favorite. 
Things to know about going to the game 
Stadium 
Harvard plays in the 116-year-old Harvard Stadium in Cambridge. 
Address 
65 N Harvard St, Boston, MA 02163
Tickets 
Tickets to a Harvard home game cost between $10 to $20 depending on your seating choice. Tickets can be purchased on the Harvard athletics website here. 
Parking
Parking at Harvard stadium is available at Gate 14 and is $20 a car. A diagram of where to park, as well as additional parking details can be found here. 
Public transportation
If you aren't driving, Harvard Stadium is easily accessible via the MBTA's T. The best way to get there is by taking the red line to Harvard, and from there it's a 5-minute walk. You can also get there via the Green Line's B train by getting off on Harvard Street. From there it's about a 20 minute walk to the stadium. 
Where to watch 
All games, with the exception of the opening game against the University of San Diego, will be televised on ESPN+. You can listen to every game on WRCA 1330 AM, 106.1 FM and 94.5 FM-HD2, WHRB FM 95.3.