College Sports
How hoops star DeMarr Langford Jr.'s upbringing led him to Boston College
He's eager to play alongside his brother, Makai Ashton-Langford, and learn from his father's high school coach.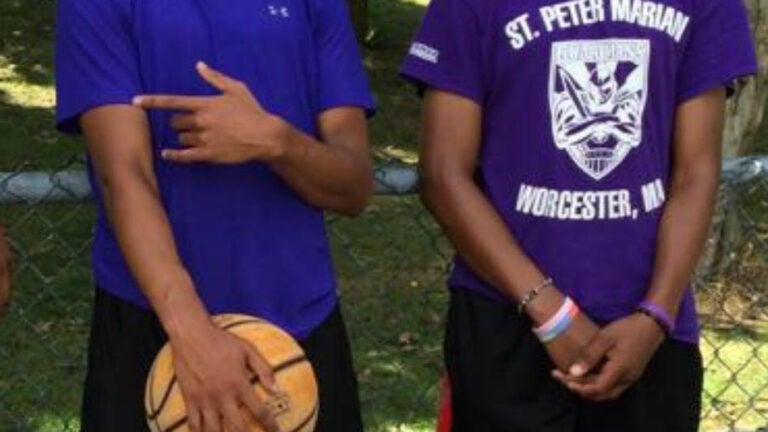 The scene unfolded the same way so many times that eventually DeMarr Langford Sr. didn't try to stop it.
He would be on one end, drilling his son, Makai, until Makai got it right. On the other end of the Vernon Hill Park court, his other son, DeMarr Jr. – whom he affectionately calls Boo – wanted absolutely no part of those intense workouts.
Langford Jr. hoisted up half-court shots, deep 3-pointers, and trick shots, focused more on goofing off than getting better. His father believed his mindset would change one day, and he was right.
"To be quite honest with you, Boo was more or less a late bloomer," Langford Sr. told Boston.com. "He liked the game. He didn't love the game at first, and Makai loved the game. Makai was getting better, getting better, getting better, and Boo was kind of flatlining a little bit."
Suddenly, Langford Jr.'s outlook shifted. All it took was Makai consistently dominating Langford Jr. in 1-on-1 battles for Langford Jr. to start taking his craft more seriously. He hasn't stopped grinding since, and now the Worcester native is a Top 100 recruit in the Class of 2020, a Brewster Academy standout, and Boston College's first Top 50 New England recruit since 2007.
?% Committed ?? pic.twitter.com/DlLBpkBOr6

— booba (@langford_demarr) September 21, 2019
Langford Jr.'s ascension to this point took time, and he still considers himself a work in progress. He's hoping to use this year in Wolfeboro, New Hampshire, as a chance to continue to improve his game, especially on the offensive side of the ball.
He's overjoyed to play with Makai at BC next year, and he hopes to play in the NBA one day. Despite his success, he remains humble, acknowledging there's a lot of room to grow.
"He's somebody that doesn't get too high, doesn't get too low," Brewster coach Jason Smith told Boston.com. "He's driven, he's motivated. He wants to continue to get better every single day. He's not complacent. There's absolutely no entitlement whatsoever."
That feeling of never being good enough stems from his upbringing. Langford Jr.'s parents met playing ball at Worcester State. His mother, Sacha Langford, is a 1,000-point scorer both in high school and college, while Langford Sr. scored 1,000 in high school (give him a few minutes and he'll explain how he actually got 1,000 in college, too, but was shortchanged).
Basketball was everything in the Langford household. Langford Sr. said the sport saved him, and taught him valuable life lessons, so he and Sacha wanted to use it as a tool to mold their children.
Makai Ashton-Langford, born Oct. 3, 1998, was already latching onto the sport when Langford Jr. was born Oct. 10, 2001. They didn't know what to call Langford Jr. at first, wanting to avoid the inevitable DeMarr confusion but thinking Junior was a little bland.
When Langford Jr. was a baby, his grandmother called him Booba. "Oh, that's my Booba," she'd said, holding him tightly and proudly. Booba was then shortened to Boo, and Langford Jr.'s Twitter handle still says Booba.
Family is everything to Langford Jr., and as far as basketball takes him, he knows he won't ever forget his past. That past included countless losses to Ashton-Langford. Every time Langford Jr. would build a lead and earn a sliver of false hope, Ashton-Langford would take over and pull out the win.
"My motivation was always Makai," Langford Jr. told Boston.com. "He always used to beat me in games, whether it was video games or going outside to race or whatever. He was always the one that got all the shine. He brought home all the trophies. It was always my goal to be better than him."
Suddenly, those battles started becoming more and more even. Ashton-Langford still came out on top, but Langford Jr. was getting closer.
"Then all of a sudden, a growth spurt came, and then it's like, 'Hold on. I'm not the little brother anymore physically," Langford Sr. said. "I'm the younger brother, but I'm not the little brother anymore. I can say this. Makai's still got the edge on him right now. I'm going to be quite honest. It's just because of experience. But Boo is rapidly catching him. That's for sure."
Langford Jr. still leans on Ashton-Langford constantly. Whenever he came home from Putnam Science Academy in Connecticut, he and Ashton-Langford would be right back at the park like they never left.
As Langford Jr. latched onto Brewster, Ashton-Langford – who also played there – told him he was in for a treat. After pursuing a national championship this year with ESPN's No. 13 overall recruit, Kentucky-bound Terrence Clarke of Dorchester, the No. 83 overall recruit Langford Jr. is thrilled to play alongside his brother for the first time.
DeMarr Langford is your newest Eagle… #RAW @langford_demarr pic.twitter.com/MavVYkBxWm

— Barstool BC (@BarstoolBC) September 23, 2019
Ashton-Langford, a Providence College transfer, will sit out the 2019-20 season, so the brothers will see the court together in 2020-21. At first, Langford Sr. didn't want to get his hopes up, knowing that Langford Jr. was considering many other schools, including NC State and Texas A&M in his top three.
Once Langford Jr. visited the campus, though, and quickly decided he wanted to play for the Eagles, Langford Sr. was ecstatic. Ashton-Langford isn't the reason Langford Jr. decided to go to BC, but as Langford Jr. put it, it's a certainly a nice bonus – particularly for his parents.
"Unbelievable," Langford Sr. said. "This is a dream come true for me, my wife and my family. Our upbringing wasn't the rosiest, wasn't the peachiest. For this to be happening to our family is a blessing. I'm at a loss for words for what's happening."
Langford Jr. is also looking forward to working with Eagles assistant coach Scott Spinelli, who has trained several NBA players, including Khris Middleton, and coached Langford Sr. in high school.
BC fans can expect a tremendous amount of defensive intensity from Langford Jr. When asked to reflect on his best game in recent memory, he chooses one where he kept a strong player in check, left the game due to an elbow in the face, and returned to help his team win.
On offense, he's still a project, 6'4 with long arms and natural athleticism, but always working on his jump shot and decision-making. Smith compared him to former Brewster and Iowa State player Melvin Ejim, someone who doesn't necessarily have a position but can contribute in so many ways.
"The one thing that stands out about him is his versatility," Smith said. "I'm not sure exactly what position he is. He just makes plays."
Smith said Langford Jr. can defend just about every position. He doesn't want to label him as a 2 or a 3, because that feels like a disservice to how multi-dimensional he is. Smith said Langford Jr. is someone coaches want to have on the floor because of his competitiveness, his consistency, and his ability to take over a game without having plays called for him.
Those who know him well rave about his modest and unselfish nature, but he's starting to fully develop that killer mentality Langford Sr. knows has always been inside of him.
"I'm a hustler," Langford Jr. said. "My momma always says I'm very unselfish, and I'm starting to see that now. I want to get my teammates involved in any way that I can, and if they're not doing their job, then I'm gonna have to take over."
He's come a long way from that bashful kid on the other side of the court who only liked the game. Now he's obsessed with the game, a national champion at Putnam hungry to reach the same fate at Brewster and eventually make some noise with the Eagles.
His father is amazed at how far he's come, but he's not surprised. He's been there first-hand to witness his growth and maturation.
"On the court, you've got to be a dog," Langford Sr. said. "You can be a nice kid off the court, and I love you the way you are. Be humble, because people love that and respect that, but on the court, you've got to be a dog, because it's a dog-eat-dog world between those lines."