College Sports
5 takeaways from BC football's 41-39 road loss to Louisville
The Eagles' final two drives were full of twists, for better and worse.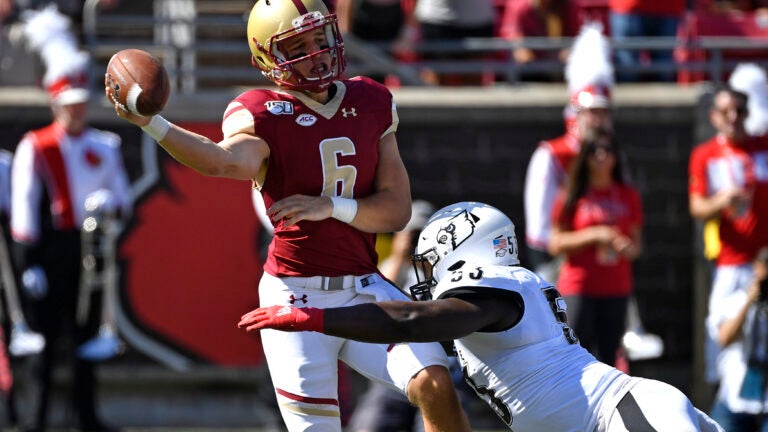 COMMENTARY
Ahead by one point in a back-and-forth game that featured four second-half lead changes, Boston College had a chance to sneak out of Louisville with a win.
The Cardinals had the ball at their own 25, with 3:32 remaining and their backup quarterback under center, and they managed to drive 52 yards in just over two minutes and kick a field goal with 1:02 remaining to pull back in front.
BC had one last gasp, but it came up short, suffering a 41-39 loss Saturday that will sting for two weeks as it prepares for NC State on Oct. 19. The Eagles (3-3, 1-2 Atlantic Coast Conference) allowed 664 total yards of offense as Louisville (3-2, 1-1 ACC) won its first conference game since November 2017.
"We needed one stop," BC coach Steve Addazio told reporters. "One stop. We've been a little up and down defensively. We've got to smooth that out."
.@UofLFootball & @BCFootball fought until the end in a high-scoring affair and the Cards came out on top, 41-39!

Louisville's offense amassed over 600 yards of total offense in the win. ?#GoCards pic.twitter.com/hkYFvNpDJB

— ACC Digital Network (@theACCDN) October 5, 2019
Defensive inconsistency hurt the Eagles once again, and they also lost starting quarterback Anthony Brown early in the second quarter to what appeared to be a left knee injury. Backup QB Dennis Grosel fared admirably, throwing three touchdown passes and keeping BC afloat, but the Eagles ultimately couldn't get a stop when they needed one most.
After starting the season 2-0, Boston College has now dropped three of its last four, and it heads into the bye week with more questions than answers.
Anthony Brown could be out for a while.
After starting the day extremely well, Brown's afternoon went downhill quickly.
Two plays after completing a 53-yard pass to Zay Flowers, he gained 14 yards on the ground on a run up the middle.
Anthony Brown makes a cut and picks up 14 yards on a QB draw two plays later, but immediately grabs his knee after the run.

Replay doesn't look good. Brown is getting looked at by trainers in the medical tent.

*Remember, Brown tore his ACL against N.C. State back in 2017. pic.twitter.com/NqLtD2h0aA

— Andy Backstrom (@AndyHeights) October 5, 2019
When he fell to the ground, he immediately reached for his left knee, eventually hobbling off and spending time in the medical tent. He was ruled out for the remainder of the game, and NESN showed him crutching around the field with his left leg wrapped.
Brown tore his ACL as a redshirt freshman in 2017, and time will tell whether he suffered the same fate Saturday. He was 6 of 7 with 193 passing yards and a 72-yard touchdown connection with Hunter Long before the injury, and he was also on pace for career highs in completion percentage, yards, and passer rating this season.
In his absence, Grosel – a redshirt sophomore from Ohio – came in and held his own. He immediately found Korab Idrizi for a 10-yard score to make it 10-10 in the second quarter, also adding a 13-yard touchdown pass to Kobay White late in the second – punctuated by a fortuitous yet opportunistic 2-point conversion – and a 19-yard feed to Idrizi in the third to give BC a 29-28 edge.
Dennis Grosel notches his first TD for @BCFootball!#WeAreBC #MustSeeACC | @d_gro3 pic.twitter.com/5XjPYQHdD3

— ACC Digital Network (@theACCDN) October 5, 2019
Grosel finished 9 of 24 with 111 yards and became the first BC backup to throw for three TDs since Paul Peterson against West Virginia in 2003. He appeared confident and under control, but the Eagles didn't have quite enough left for one final drive.
"I got a lot of support from everyone on the team," Grosel told reporters. "[They were] saying, 'You got this' and just stuff we've worked for since training camp and even beforehand. So going through my head was just, 'Make the simple plays, keep the ball moving, keep getting first downs.' I thought we did a pretty good job of that. I had trust in everyone else and they trusted me. So that's how it works."
The defense struggled to stop the Cardinals.
The 664 yards of total offense for Louisville was over 100 more than BC allowed to Kansas and the most the Eagles have given up in school history.
Louisville finished with 428 passing yards and 236 rushing yards, possessing the ball more than the Eagles in all four quarters. The disparity on third down wasn't as obvious as the Wake Forest game, but the Cardinals were 8 of 16 while the Eagles ended up 4 of 15.
BC had trouble slowing down wide receiver Seth Dawkins, who racked up six catches for 170 yards and a TD. He was one of three Cardinals to post a 100-plus-yard day, and of the Eagles' 67 tackles, only eight were assisted.
Louisville through the air today:

▪️428 total passing yards
▪️Three receivers with over ? yards#GoCards | @UofLFootball pic.twitter.com/LXTedHi6t1

— ACC Digital Network (@theACCDN) October 5, 2019
On a 59-yard connection from Micale Cunningham to Dawkins in the first quarter, Mehdi El Attrach and Jason Maitre both got caught in no-man's land, and Dawkins was able to sneak between them and waltz into the end zone. The trend continued from there.
BC had a chance to salvage the game in the final minutes, but Louisville marched downfield and did enough to win.
"We like to think that there's a lot of confidence in our defense," linebacker Max Richardson, who registered a team-high 14 tackles, told reporters. "We want to be on the field to make the final play, to stop the team on the final drive, and that did not happen today. … We like the fact that we were in that situation. We did not like the fact that we didn't capitalize."
Travis Levy turned in a strong game.
The junior Levy led all players with 192 all-purpose yards, racking up 135 yards on five kick returns, 20 yards on two punt returns, and adding a 37-yard TD run with 10:48 left in the fourth to trim the deficit to 38-36.
On the touchdown, Levy generated space on an end-around and benefited from a terrific block by Alec Lindstrom. He has kick returns of 40-plus yards in each of BC's last three games and was efficient in limited action in the backfield against Richmond and Kansas.
Levy has tremendous speed and vision, and it's possible the Eagles will try to get him more involved offensively going forward.
AJ Dillon also racked up 22 carries for 118 yards (though he did fumble early), Long finished with three catches for 99 yards, and Idrizi chipped in the two TDs. The Eagles ended up with a season-high 563 yards of total offense themselves.
They had their chances, as their playmakers made plays in key spots, but it ultimately wasn't enough.
BC's final two drives were full of twists, for better and worse.
The final two BC drives, just like the rest of the game, didn't lack excitement.
On the Eagles' penultimate possession, Dillon got the action going with three rushes for back-to-back first downs. Grosel gained 13 yards himself, then a false start on Lindstrom three plays later gave the Eagles a fourth and 6 with from the BC 47.
Grosel calmly found Kobay White for an eight-yard gain, then he rushed 12 yards for another first down. The Eagles tried a special play where Flowers threw to Grosel, but the throw was short, then Dillon gained five more and Boumerhi nailed a 45-yarder to put BC in front. Boston College showed plenty of composure to reclaim the lead on the road.
After the Louisville field goal, the Eagles started at their own 24 after a solid return from Ben Glines. Grosel hit Flowers for a nine-yard completion, then the Eagles benefited from a substitution infraction to pick up a first down. Running out of time, and facing immense pressure from the Cardinals, Grosel looked for Flowers, White, and Dillon, but nothing stuck, and BC turned the ball over with two seconds remaining.
"When you win the game, you make everything nice," Addazio told reporters. "When you don't, you over-look at everything else. What about this? What about this? And what about this? I'm really not in the mood to do that right now. I'd much rather get on the video, correct it, and work with it as we would do whether we win a game or whether we lose a game."
They sit at 3-3 entering the bye week.
If they had a couple breaks here and there, the Eagles would be 5-1 right now and in prime position to lock up their first eight-win season since 2009.
Instead, they're stuck in super glue, sitting at .500 at the midway point and trudging into the bye week wondering what could have been.
The Eagles have been excellent on offense in the first half, but their production has generally slowed down after halftime. As of Saturday night, they're fourth in the country with eight interceptions but 104th in total yards allowed per game at 439.
BC has a tendency to give up big plays. It's easier said than done, but curbing that trend could go a long way in the second half of the season.
NC State, Syracuse, Florida State, and Pittsburgh will all be tough games, Clemson is Clemson, and Notre Dame is Notre Dame. The Eagles still have an opportunity to change the momentum for the better, but time is of the essence.
This bye week comes at a perfect moment to regroup and prepare for what's to come. Though they have their work cut out for them, there's a whole lot of football still to be played.