College Sports
From the Virgin Islands to South Carolina, Aliyah Boston is ready for the next stop in her journey
Boston was ranked the third-best player in the country during her senior year.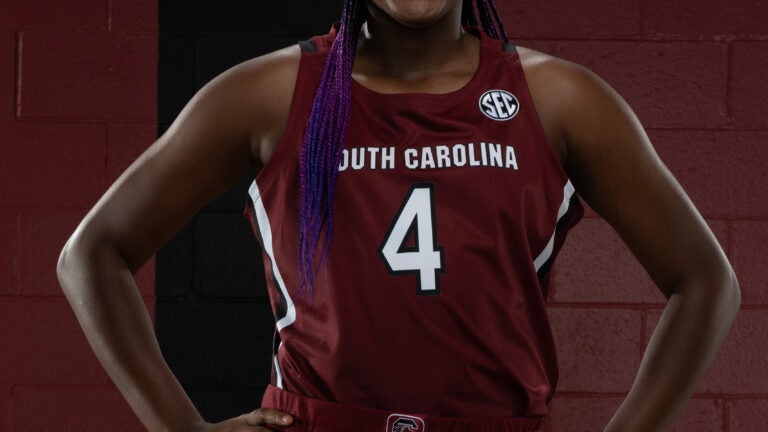 Aliyah Boston was 12 years old when she made the decision to leave St. Thomas.
The 6-foot-4 freshman at South Carolina explained on the phone how basketball took her from the Virgin Islands to Worcester, and eventually the SEC powerhouse. Her mother, Cleone, had been looking for a travel team for her and her older sister, Alexis, settling on the Worcester Stangs. After competing all summer, Boston was asked if she wanted to move overseas and attend Holy Name. Since the age of 9, she remembered being told that basketball could get her an education.
 "My mom would tell me: basketball and all these sports can take you so many places," Boston said. "Once I heard, 'this can really take you somewhere' that was my goal."
On the island, Boston said she would play against men in local tournaments, towering over them at six feet and dominating. She idolized Los Angeles Sparks forward Candace Parker, wanting to play at a high level just like her. So, she mentally prepared for harsh, cold winters in New England.  
"I hadn't seen snow like that," Boston said. "That was exciting and once it started snowing, that meant basketball time."
She transferred from Holy Name to Worcester Academy for her freshman year, and to say she played well is an understatement. In her four-year career, Boston solidified herself as one of the best high school women's basketball players in the state and ranked third in the country by her senior year.
Just as her mother spoke into existence, basketball would take her from St. Thomas to South Carolina.
How has ? changed @aa_boston?#SCWomanUp pic.twitter.com/fz4WzfwIhf

— GamecockWBB (@GamecockWBB) September 19, 2019
In her freshman season, Boston averaged 17 points and 12 rebounds as a freshman for the Hilltops. Her sophomore stats also improved, but her dominance came during her junior year, where she averaged 21.2 points, 14 rebounds, 6.2 blocks, 2.5 assists, and 2.2 steals a game. With her signature blue box-braids and a post game that couldn't be stopped, she helped lift the Hilltoppers to their first NEPSCAC title since 2006.
She earned Massachusetts Gatorade Player that season and went on to win a gold medal with Team USA, averaging a team-high 11.8 points and 8.6 rebounds a game. She was named the most valuable player for the U16 tournament. 
By her senior year, she clinched another state title, another Gatorade Player of the Year award, McDonalds All-American status and an invite to the Jordan Brand Classic. She picked up offers from top colleges, narrowing down her list to South Carolina, UConn, Notre Dame, and Ohio State. Everyone around her told her to choose UConn. 
"There were a lot of people that would tell me, 'Oh I can't wait to see you go to UConn' or 'UConn is the best school,'" she said. "I listened, but after everything, I had to do what was best for me." 
Regardless, Boston, who graduated as Worcester's all-time leading scorer, felt like South Carolina was "home."
"I built so many great relationships [with college coaches], but after all my visits, I went through the pros and cons, talked it over with my parents and it felt like South Carolina was [it]," she said. 
Ask her what her favorite part about the school is since she's gotten there, and she can't name just one.
"Can everything be an answer?" Boston said while laughing. "I love the environment here, all my classes are pretty fun and I just love being on the court with my teammates."
She's looking forward to applying her skill to the next level, despite the pressure that comes with playing for a powerhouse that won the SEC Tournament four times in a row (2015-18) and clinched an NCAA title in 2017. She's a part of the top-ranked recruiting class that includes Zia Cooke, Laeticia Amihere, Breanna Beal, and Olivia Thompson. Boston feels like she can handle the spotlight.
"I'm excited, honestly," she said. "When it comes down to it, everyone is always going to be looking at you, always going to be pressure but you just have to keep playing, keep moving the ball, keep rebounding, keep boxing out, and then it'll all come together."
"I'm looking forward to getting better, as a player and off the court. I'm a physical player, I like contact, and I'm very passionate. I'm working on post moves, continue to work on that. Work on my balance when it comes to going up on post moves, my outside game and getting a good feel with my teammates." 
She also knows that the sport can take her to the next level after college, too. Boston said her influences include Parker, Elena Delle Donne, and former Gamecock, A'ja Wilson, who are inspiring her to keep working on her craft.
"It's exciting to see because it's going to keep us working hard," she said. "We know what we're going for and what's coming after college. It's good to see that people are starting to respect the game [of women's basketball] more than they did before."
Boston also wants to continue to show that talent comes from St.Thomas. After winning the 2019 FIBA World Cup this past summer, she got to return home for two weeks and spent her time relaxing by the beach and going for swims in the morning.
"There's nothing like the Caribbean," she added.
While her journey has taken her away from home, she won't forget where she started.
"That's where I started off from, on the island where nobody knew me, having to travel away for camps and having to relocate from my parents and my grandparents to living with my aunt when I was 12. Even though it's a small island, there's so much talent there and for me to give back to them when I have an influence, that resembles what I want to do."