College Sports
6 things we learned about Walter McCarty from SB Nation's recent profile
The former Celtics forward is currently the head coach at Evansville.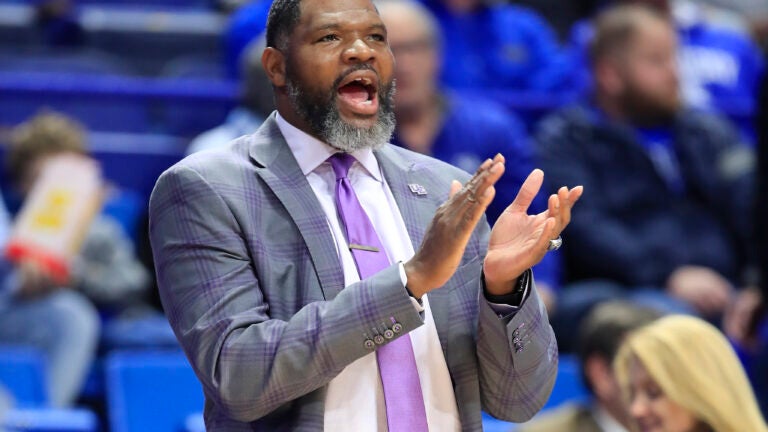 On November 12th, Walter McCarty's Evansville Aces defeated the Kentucky Wildcats in a stunning 64-67 upset. McCarty, who became the head coach of the Aces in 2018, has ties to both teams –  he grew up in the south side of Evansville, Indiana, and attended the University of Kentucky, winning a national championship in 1996.
After playing one season for the Knicks, McCarty spent eight seasons with the Celtics and was known for his big plays that caused Tommy Heinsohn's classic reaction, "I love Walter!". After a stint on the Suns and Clippers, he served as an assistant coach for the University of Louisville, the Indiana Pacers, and the Celtics, where he worked alongside head coach Brad Stevens before becoming the head coach at Evansville.
In a profile by SBNation's Harry Lyles Jr., McCarty details his upbringing in Evansville, his close-bond with teammates at Kentucky, and the support he received from Stevens while applying for the position at Evansville.
Here are a few more things we learned:
McCarty got his nickname, "Mr.Personality" from Kentucky teammate Jamal Mashburn, whose son goes to Brewster Academy
The nickname encompassed McCarty's booming laugh and big personality, given to him by Jamal Mashburn, who played on the Charlotte Hornets. Mashburn's son, Jamal Mashburn Jr., is a senior point-guard at Brewster Academy in Wolfeboro, NH and is committed to play at the University of Minnesota.
He looks at Brad Stevens as a model for success
McCarty praised Stevens for his coaching-style in 2018, calling him "phenomenal" and said working with Stevens helped "prepare him" as a head coach. Even a year later, those sentiments remain the same for him.
"For me, I've always made it a point to figure out and ask, 'Well why are you successful," McCarty said. "Whether it was with Coach P (Rick Pitino), Mike D'Antoni, Jeff Van Gundy, Mike Dunleavy, Jim O'Brien, Brad Stevens, I've always done that."
Stevens spoke to Evansville's athletic director Mark Spencer about McCarty when he was interviewing for the job
McCarty, then a Celtics assistant, had his reservations about whether he was getting the head coaching position at Evansville, feeling like he "blew" conversations with boosters. However, Stevens chatted with Spencer on the phone about him and went on to reassure McCarty that he was well perceived.
"Man, I don't know what you did, but this guy, he loves you," McCarty remembers Stevens telling him.
He is the Aces' first black head coach
"I thought about this, coming here and being the first African-American head coach at this university," he said. "Our people here in Evansville, especially people of color — what leaders do they see, other than a parent, a pastor, or an insurance guy or something? There's not a lot of people they can look up around and be like, 'He's really doing his job to bring his community together and people can look up to him.'"
"I gotta own that, and I got to make sure I do good by that."
He feels nostalgic to coach in the same town he grew up in
"I never thought in a million years I'd be the head coach at the University of Evansville," he said. "I used to pass this university every day, you know? I love sometimes on game days, I'm driving down to the arena, and I'm thinking, 'Man, I used to go to church there,' you know what I'm saying? It's one of those like, 'Damn. Good [things] happens when you work.'"
After Evansville beat Kentucky, he got phone calls from Patrick Ewing and Charles Barkley
According to the story, McCarty had over 284 unread text messages after defeating Kentucky, and received phone calls from both Ewing and Barkley. On the team bus, Barkley told him to "enjoy the win but to get back to work," while his former teammate and close friend had a more explicit reaction.
"I'm so f— proud of you, boy," Ewing said to him.