College Sports
This Roxbury native got a taste of basketball stardom. Now, he's giving back.
From being Steph Curry's roommate to navigating tragedy, Jamal Turner found his footing and thrives with Boston youth.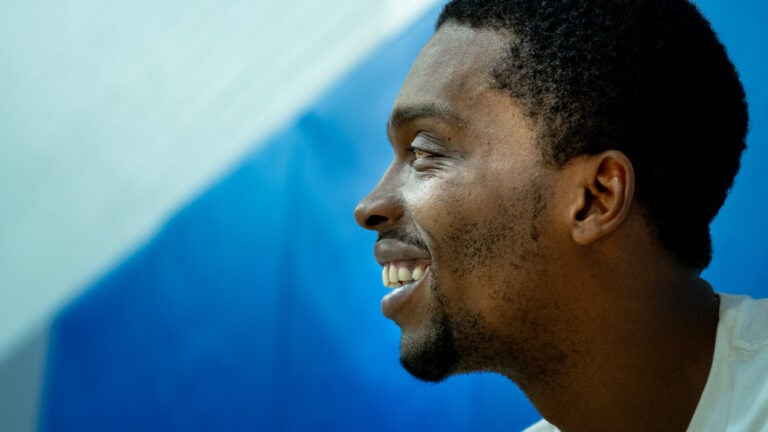 When Jamal Turner goes to a convenience store, he can't help but notice the Honey Buns.
The clear packaging to show off their pure white frosting.
"I see it, smile," said Turner.
The pastry brings back memories of a beloved family member gone too soon. His nephew, Soheil Turner, was shot twice in the head and killed in May of 2009. Police found his favorite snack at the crime scene.
Jamal Turner often thinks about his nephew. He works just a block or two from the site of his murder, just up the hill on Dudley Street.
Turner is the athletics assistant at Vine Street Community Center in Roxbury. It's the same place he and his nephew spent countless hours growing up. Turner, 30, connects with the people who use Vine Street daily. The three-story community center boasts brand new fitness equipment, multiple computer labs, and a recently updated playground. Those who spend the most time there know Turner well, especially those who thrive on the basketball court. At Vine Street, Turner tries to give teenagers the life his nephew never had.
Eating with an MVP
Back in 2008, NBA All-Star Chris Paul invited Turner, who had just graduated from New Hampshire's Tilton Academy, to compete with some of the best guards from around the country. It was the inaugural CP3 Elite Guard Camp, but it wasn't Paul who made the biggest impression on Turner.
"Steph Curry was my roommate, on my mother," Turner says, in case anyone is incredulous.
Curry had just finished his sophomore year at Davidson, where the now two-time NBA Most Valuable Player had led the Wildcats the Elite Eight.
"I knew who he was," said Turner, sitting in the corner of the Vine Street Gym, just outside the office he shares with the athletic director. "I didn't know he was going to be my roommate… I'm like, 'get the f*** outta here.'"
After exchanging laughs and building some trust, Curry piped up late one night in their shared hotel room.
"You hungry, bro?"
Even then, Turner knew it probably wouldn't be a feasible friendship to keep. They hopped in Curry's Rav4 and went to McDonald's to grab a bite. The gesture still means a lot to Turner.
"I was like, 'remember this s***,'" says Turner, his face lighting up. Turner and Curry exchanged phone calls a couple times in the months that followed, but they haven't spoken in years. That's a bit disappointing for Turner.
Curry wasn't the only NBA player Turner competed with at a young age. Between Camp Next and the Chris Paul camp, he played against future NBA players Lance Stephenson, Greivis Vazquez, Rudy Gay, and more.
Utah Jazz forward Georges Niang was a freshman at Tilton during Turner's senior year.
And while living in Texas later, Turner made sure to attend any of Niang's Iowa State road games in the area.
"He was more like a big brother," Niang said. "Always giving advice, always wishing guys would go harder in the gym even when we had guys that were committed to UConn on our team. He could easily have been down in Austin, Texas and not went to one of my games. He made it a priority. He always made time for me."
But Turner's relationship with Curry is the one that sticks out, and sometimes, it hurts.
"I was supposed to talk to him when I was in the league," Turner said. "It was like, meet me at the top."
But Turner never made it.
Becoming a star
Growing up in Roxbury, Turner first picked up a basketball at  5 years old. By the end of his high school career he was one of the top guards in New England. He played his first three years of high school at Thayer Academy in Braintree for coach Rob Dixon before finishing up at the Tilton School in New Hampshire in 2008 for more exposure to college coaches.
"A coach's dream," Tilton coach Marcus O'Neil said.
At 6-foot-4, Turner was a lanky guard and gifted passer. He never scored much, but made his presence felt as a dogged defender and distributor.
Dixon and Turner first crossed paths when Turner was in the sixth grade in Dixon's Project RISE summer program.
"This kid had it all together, man," Dixon said. "He always had this sense of conscience in supporting, engaging and leading others. I think it started when this kid was four or five years old. He may not know that, but it is a part of his DNA."
Turner played his senior year at Tilton with Dixon's blessing. Then, after being recruited by Fairfield University, Northeastern, Boston College, the University of Virginia, Rhode Island & UMass, he committed to Fairfield.
"My worst year"
Barely a month into his sophomore basketball season at Fairfield, Turner's mother, Wanda, called coach Ed Cooley in late November asking if Jamal could come home. Turner is one of four children on his mother's side and the youngest of 18 on his father's side.
Following Soheil's murder in May, Jamal's father became terminally ill.
"I didn't know my dad was really sick like that," Turner recalled. His father, Jim Lee, passed away on a late November Friday, the day Turner came home. His sister, Mekia Lee, passed the following Monday after suffering an aneurysm.
"2009 was my worst year," Turner says a decade later.
Turner stuck with school, but didn't feel the same passion for basketball as he did during his freshman season. He stopped doing the extra workouts he once loved. He also began to party more, he said.
Turner said what he was going through, no one can truly understand.
"I got distracted," said Turner. "Dumb s***. I can't breathe. I gotta finish school.
"Who the f*** is going through that? Not even a therapist."
Turner isn't afraid to talk about 2009. He's not hesitant to talk about anything, really. In fact, he's passionate about wherever the conversation turns. He gesticulates with pizzazz.
Yorel Hawkins was a year ahead of Turner on the Fairfield basketball team, and from the outside, said he was impressed with how Turner handled it all.
"He matured," said Hawkins. "It was to a point where it was like, 'Yo, whoa, who am I talking to?' This is a mature person who has seen a lot of things that the normal person walking through life would.'"
Turner did fine in school, and with Barack Obama in office, thought he might become a politician.
"These dudes are similar to the streets, but in suits," said Turner, who transferred from Fairfield to Mercyhurst after his sophomore year. "I needed basketball more than anything,"
"Everyone I talked to raved about him as a person, player and leader," Mercyhurst coach Gary Manchel said. "It was important to him when he transferred to be the guy, get important minutes because I think that was what he was missing at Fairfield."
Turner graduated in 2012 and flourished on the court as the starting point guard. He finished 10th among the program's all-time leaders in assists despite only playing two seasons. After graduation, the NBA dream seemed further away than it was before college, and Turner didn't want to play so far from home overseas. He decided then he was going to give back.
Life now
The doors to the gymnasium burst open.
"Sup Gio? Sup Mad Max?" Turner shouts to a pair of little boys, one clad in a grey shirt and blue pants with hair tightly woven in a braid, the other in a long sleeve polo shirt. A third friend comes in, and they sprint to the basketballs. The kids love him.
"I think Jamal is destined to be a leader of his community," Hawkins said. "He's going to have a real impact in that."
Turner himself grew up near Vine Street, coming often as a kid. During his shift, Turner bounces between the second-floor gym and teen center in the basement.
Whether it's his daily routine, or setting up for special events like Terrence Clarke's commitment to Kentucky, Turner makes it all about the kids.
"I think he responds well with everybody that he comes in contact with," Vine Street administrative coordinator David Hinton said.  "He's able to communicate with them if they're five years old or are 18 years old."
The youth crowd around him. Hinton said more kids come by the basketball court because Turner is there. Most of them don't even know how good he was. They're all OK with that.
"Jamal mostly helps me when it comes to basketball stuff and he sees the potential I have, and for me personally, he brought in a coach from a really good program to come see me play so that I can hopefully play on that team," said Kamari James, 15. "We just met but he is someone I can trust and talk to about a lot of things because he is very understanding."
Turner tries to give Roxbury kids the life his nephew never had.
When he's in the gym, there seems to be an understood mutual respect between the kids and Turner. No one steps out of line. There are few, if any, issues.
And Turner is plenty busy. His salary from Vine Street alone is not enough. He works overnights as a security guard at the Bruins practice facility. He drives for Lyft, and even spent six weeks as a substitute physical education teacher at Roxbury Prep.
Beyond his current jobs, beyond basketball, Turner has another interest. If he could get a paid internship at a law firm, and the firm would pay for his law school, he'd be in.
Turner coaches 15U and 13U basketball teams in addition to providing basketball workouts for the local kids. He does this stuff for free.
"He was definitely passionate about where he was from, definitely Massachusetts, Boston to the fullest," said Niang, the Jazz forward and Tilton teammate. "He was prideful of being a kid that made it out of his situation. He was the guy to really try to show kids that there's a way out. I think he still strives to do that every day. It's impressive because his situation wasn't easy."
And because of the circumstances he dealt with, Turner feels obligated to help his community.
"I'm forever indebted," said Turner. "One of the main reasons that I do this job… [is] to be there for kids and alleviate some stuff ."
NBA dreams never go away.
As he launches 3-pointers, his unlaced grey Nike Air Maxes bouncing up and down, Turner is at home on the basketball court. Make after make, he inches back.
He can still dunk, too.
Turner roots for all of the local talent to succeed. He's quick to note Minnesota Timberwolves guard Shabazz Napier is from Charlestown. Turner can't wait for Roxbury native Terrence Clarke to suit up at Kentucky next year.
And sometimes he thinks he could compete with the best of them.
"If I could go hard for 60 days," Turner says, "I could compete for a 10-day contract."
"I'm better than Patrick Beverly right now," as his voice raises in excitement. Turner said he's a lockdown defender like the Clippers starting point guard.
It's partly why Turner is so focused on the kids. He thinks he knows what it takes to become a professional basketball player. He's also comfortable with his current life, even though he is clearly passionate about basketball.
When discussing current young players, Turner rolls his eyes and laughs.
"If I had access to that s*** now," he said, "it's over." The AAU travel, the gym access, the gear, it's all different now."
Both Hawkins and Niang agree that Turner had the potential to be an NBA player.
"Being in the NBA, I could see him filling a role," Niang said.
At one point, basketball saved Turner from the streets. Now, it's a way for him to give back to his community. Even if it's not his main job, basketball helped Turner stay the course. He hopes to use it as an example and tool to help others.
"I want to be around the game forever," Turner said.