College Sports
Why BC basketball feels like the right fit for Derryck Thornton
It's been five years from top recruit to rocky stints at Duke and USC, but Thornton finally feels like he's found his place.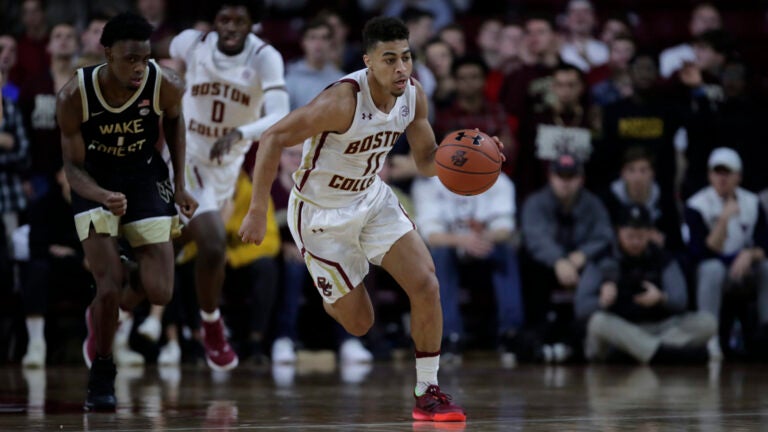 Derryck Thornton is down, lying on his back in the final seconds of his first game for Boston College. But he won't be down for long; Thornton's new teammates come sprinting over to offer their hands to their fallen teammate, who had just all but secured their first win of the season. On the previous play, with 27 seconds left in the game, Wake Forest's Torry Johnson came barreling down the lane to attempt a layup, but Thornton slid in front to take the charge.
Thornton is quick to pop to his feet, as if he didn't even need the hands offered to him, and flexes his muscles and screams in celebration.
It's clear this is a new year, and a new Derryck Thornton. 
In his five-year collegiate athletic career, Thornton has played at two different universities before finding his fit at BC. Over the course of 93 games at Duke and USC, he struggled to find his rhythm on the court, and never scored more than 20 points in a game. In his very first game for Boston College Thornton set a new career-high, dropping 23 points in the Eagles' season-opener against Wake Forest.
As a top-ranked recruit out of Las Vegas' Findlay Prep, the 17-year-old was expected to make an instant impact and hold his own at the collegiate level. It's not until now that the buckets finally begin to fall consistently. That he's finally a focal point of a team's offense.  
His past serves as a reminder of his journey, but it's past he is hesitant to look back upon. 
"I'm trying to focus on the day by day. I'm trying to focus on this practice today and then tomorrow, that practice, and then keep on going from there," Thornton said. 
Thornton's father, who is also named Derryck but goes by the nickname Tank, first recognized his son's potential very early on in his life. Thornton was taking on other elite prospects, such as former Kansas Jayhawk Dedric Lawson and current Sacramento Kings point guard De'Aaron Fox, when he was as young as 9 years old. 
Thornton's father wasn't the only one who saw his son's a future in basketball. He was first noticed by then-assistant coach for Findlay Prep Andy Johnson when Thornton was in middle school, playing in a scrimmage against high schoolers.  
Thornton went on to join the Findlay Prep basketball team for his sophomore year of high school, playing at the same school that produced NBA players such as Avery Bradley, P.J Washington, Tristan Thompson, and Kelly Oubre Jr. among others. 
Johnson had nothing but praise for his former player. 
"You could tell he just loved basketball. I mean, he was a gym rat through and through," Johnson said. "He was just a genuinely great, great, great kid."
This dedication showed on the court, as Thornton quickly became one of the top high school recruits in the country.  Thornton led Findlay Prep to a 29-3 record his junior season, averaging 17 points, 6.2 assists, and 3.4 rebounds per game.
https://www.instagram.com/p/3PzVQ0ywrL/?utm_source=ig_web_copy_link
He was a consensus five-star recruit in the class of 2015, ranked 18th overall by 247sports, 17th by ESPN, and 14th by Rivals. 
247 Sports' scouting report was equally as complimentary, stating that Thornton was, "One of the top point guards in high school basketball. Thornton plays the game almost exactly how someone at his position should. He has a terrific basketball IQ, sees the court very well and does a nice job creating for others. He's best from midrange, but can also hit shots from the perimeter or get to the basket, where he finishes with both hands." 
But while other members of the 2015 recruiting class like Jamal Murray, Ben Simmons, Jaylen Brown, and Donovan Mitchell are currently thriving in the NBA, Thronton remains in college. Of the five star recruits of 2015, there are only four players still playing in college right now: the University of New Mexico's Carlton Bragg, the University of Virginia's Mamadi Diakite, Thornton's former Duke teammate turned Arizona Wildcat Chase Jeter, and Thornton. 
So why is a player who was described as "one of the top point guards in high school basketball" still in college, while the majority of those ranked around him are playing in the NBA? 
Thornton's struggles began at Duke, a school he never intended to go to in the first place.
Thornton had originally committed silently to the University of Kentucky, the school Tank described as "the dream" for Derryck, to play for coach John Calipari following the completion of Thornton's senior year in 2016. But things quickly changed. Kentucky added an additional guard to their 2016 class, Isaiah Briscoe, and then Duke came in with an offer. Duke coach Mike Krzyzewski wanted Thornton to skip his senior year of high school to replace Tyus Jones, who had declared for the NBA Draft following the 2014-15 season.
"Initially, I don't think we were even serious about it," Tank said. "It just got serious so fast." 
Thornton says that he still believes he made the right decision graduating early.
"I just felt that I was prepared and had proven myself at all levels in high school."
Thornton's old high school coach agreed.
"Yeah, I think it was, it was the right timing for him," Johnson said. "He had an opportunity to go play for a great Hall of Fame coach in Coach K. An opportunity to get challenged and play college basketball at a young age, that that's the opportunity of a lifetime right there."
His father, however, wishes he had waited. When asked if he thought Thornton leaving was a good idea, Tank responded. "In my opinion, it was not."
By foregoing his senior season of high school, Thornton lost an entire season of development, as well as the opportunity to be a McDonald's All-American, an honor only given to high school seniors.
"First we have been getting up since he was a little kid early every day to become a McDonald's All-American, and to give that up, to me it was never a good decision." 
—
It became quickly apparent that Thornton just wasn't the right fit at Duke, due to a combination of his role with the team, his age, and his relationship — or lack thereof — with the coaching staff.  
University of Pittsburgh head coach Jeff Capel was an assistant coach at Duke during Thornton's freshman season. Capel's first impression of Thornton came while he was playing in Colorado Springs trying out for USA Basketball. 
"When I first met him he seemed like a really good kid, confident but humble," Capel said.
Capel believed that Thornton left Duke primarily to be closer to home.
"I think he wanted maybe to be closer to his family."
The opportunities were there for Thornton at Duke. He started an impressive 20 games as a freshman, averaging 7.1 points, 2.5 assists, and .8 steals per game. The team went 25-11 while Thornton was there, finishing sixth in the ACC and reaching the Sweet 16 of the NCAA Tournament. 
While he enjoyed the opportunity to be a part of the Duke program, Thornton knew it was not a good fit. 
"I have nothing bad to ever say about Duke. Such a great program basketball-wise. Such a great school, and a great town, there's so many great things about the school," Thornton said. "Sometimes, you know, the shoe just doesn't fit for everyone… Duke was far from home, I was very young at the time, 17, 18 years old, so I wanted to get back close to home." 
—
Struggling with the adjustment at Duke, Thornton and his father made the decision to leave. Tank saw how his son missed home and wanted more of a connection with the program. 
"Derryck's whole thing after he left Duke was, 'I want to go where I can trust the people,'" Tank said. "We've known Tony Bland for years, and years, and years. I've known Tony since he played in college and high school."
Thornton ultimately made the call to move back west to play for the University of Southern California, and to play for family friend and former USC assistant coach Tony Bland. But disaster struck again when Bland was removed from the USC coaching staff before the start of the 2017-18 season due to being implicated in the FBI's probe into fraud in college basketball. He pleaded guilty earlier this year to a felony count of conspiracy to commit bribery as part of a deal with federal prosecutors.
With Bland off the coaching staff, Thornton no longer had the person he connected with most at USC. From there, things began to spiral. 
"The guy you had a relationship with on staff is gone. So now you're just kind of there," Tank said about Bland's departure from the university. 
"All you want is to see your kid be happy bro," Tank said. "He was just unhappy at USC."
Thornton left USC following his graduation in May of this year. 
"I was happy being in LA, being close to home, but as far as the basketball side I wasn't happy," Thornton admitted. "As far as with me and some of the coaches, it wasn't the best fit. I wanted to go somewhere where I felt like everyone was behind me and wanted the best for me and I felt like I got that here at BC."  
Thornton played in 57 games for USC, starting in 28 of them. He averaged 6.0 points, 3.0 assists, and 1.0 steal per game during his two seasons with the program. USC went 50-22 with Thornton on the roster, making the NCAA Tournament in 2016-17 and advancing to the Round of 32. USC made the NIT in his second and final season with the program.
—
With only one year of eligibility remaining, and things not seemingly getting better at USC, Thornton decided to give it one last shot by moving to Boston College. 
A major reason for his decision to head back to the East Coast was the care that head coach Jim Christian put into his recruitment.
"From day one me and coach [Christian] had a great relationship," Thornton said. 
"He's really, really happy now," Tank said. "Him and the coaching staff, they laugh and they joke and they're like real people. Just good honest people. 
"It was just his first time being around that since high school, that kind of environment."
At Boston College, Thornton is playing a career-high in minutes, starting every game thus far for the program. 
"He just got his swagger back," Tank said about his son's performance so far this season.
Through 12 games Thornton is averaging a team-best 14.2 points and 3.9 assists per game, as well as providing elite defense on the perimeter, grabbing 1.7 steals per game. 
Earlier this season, the Eagles went to South Bend, Indiana to take on the No. 16 team in the country, Notre Dame. The Eagles left with a massive 73-72 upset win, and Thornton was a crucial reason why, putting up a team-high 19 points and four assists in the Eagles' biggest win of the season. 
Currently sitting at 7-5, and 2-0 in the ACC, Boston College has had their ups and downs this year, But Thornton believes this team has what it takes to end the year strong. 
"We have a group of fighters…we got some momentum right now," Thornton said. "We are going to be alright."