College Sports
5 takeaways from BC basketball's defensive-minded battle with No. 7 Duke
Derryck Thornton was a bright spot on a tough offensive night for BC.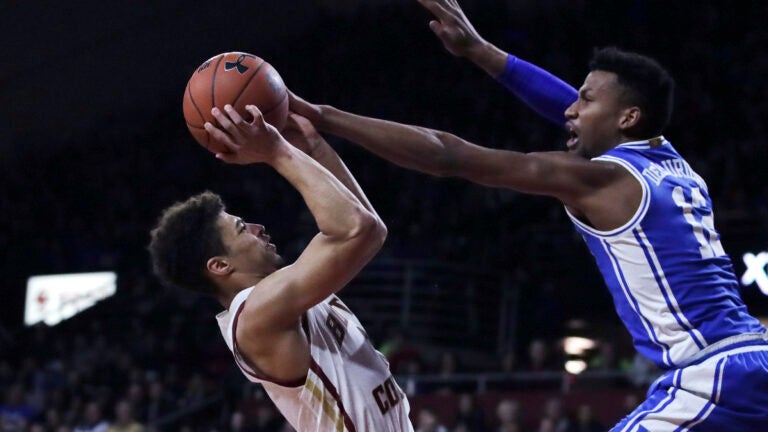 COMMENTARY
"Hellacious" was the fourth word out of Mike Krzyzewski's mouth Tuesday night after his team escaped with a 63-55 win at Boston College.
Krzyzewski was quick to credit the Eagles for playing outstanding basketball of late, including against the Blue Devils, and he believes his team was fortunate to leave Conte Forum unscathed. 
"I've watched (BC's) recent games," Krzyzewski said. "They've been playing great, not good. (Jim Christian's) a good coach, man. These kids played their butts off, and I thought they did that even better than what I've seen the last three games. They took it up a notch. They were very good tonight. They were certainly deserving of winning."
Krzyzewski did, however, praise his players for executing late in the game. After scoring 21 points in the first half, Duke doubled that output in the second half and used a pivotal 10-0 run in the final minutes to seize command.
A Jairus Hamilton bucket put BC ahead, 49-46, with 7:08 remaining, then the Eagles didn't score until the 2:50 mark. By that point, Duke had built a seven-point lead, and BC was unable to salvage what started out as a largely promising night.
The Eagles (11-12, 5-7 Atlantic Coast Conference) came out strong defensively, generated solid looks all night, and got a terrific showing from Derryck Thornton against his former team, but No. 7 Duke (19-3, 9-2 ACC) ended up spoiling what could have been BC's best win of the season.
"We did everything you're supposed to do to beat them," Christian said. "We just didn't finish plays that we normally make."
Here's what we learned in the game.
BC outplayed Duke in the first half.
When these teams met on New Year's Eve, Duke dropped 88 points on the Eagles and thumped them by 39. 
This time around, BC's offensive output was only slightly better, but its defensive energy and execution improved exponentially. In the first half, Duke shot 27 percent from the field and 0 for 12 from 3-point range. 
There were instances when BC simply benefited from some unusually unkind bounces, yet there other times when the Eagles disrupted the Blue Devils and made their lives difficult. Duke, which came in averaging 83 points per game, only had two through the first seven-plus minutes after starting the game 1 for 11. Duke gained some momentum late in the half, however Krzyzewski made it clear the Eagles were the aggressors early as they built a 24-21 lead.
"They thoroughly outplayed us in the first half," Krzyzewski said. "As much as we told our guys what to expect, we weren't ready for that. It's a human nature thing. We weren't able to overcome it, and then BC was so good. We were lucky to be down by three."
BC Men's Basketball – live via https://t.co/jsmszcRPhq https://t.co/iMv0mMC7gM

— Boston College Men's Basketball (@BCMBB) February 5, 2020
Derryck Thornton was a bright spot on a tough offensive night for BC.
The ideal part for BC about the defensive-minded start to the game was that Duke wasn't in any sort of rhythm offensively. The flip side, however, was that BC couldn't get much going itself. 
Boston College had a prime opportunity to extend its lead at various points, but Christian said some jumpers that typically fall simply didn't go down. 
"I'm signing up for the shots we took," he said.
One constant the bulk of the night was Thornton, who finished 3 for 12 for six points in the teams' first meeting but was BC's best player in the rematch Tuesday. He finished 7 of 13 from the field and 7 for 8 from the line, racking up 21 points and three assists. He did commit six turnovers, but the way he played helped the Eagles way more than it hurt them.  
"Derryck played great tonight," Thornton's former coach, Krzyzewski, said. "He seems healthier, too, and he's got his bounce. He was really athletic and good tonight."
Thornton, who played for Duke in 2015-16 before transferring to the University of Southern California and eventually Boston College, scored in a variety of ways. He hit a floater in the lane to put BC ahead early, stuck an open jumper later in the half, and attacked the basket late in the game.
On a night where BC and Duke started a combined 0 for 26 from 3 and finished 3 for 33, Thornton didn't fall into the trap. He only attempted two 3s, and he put constant pressure on Duke in the pick and roll and off dribble penetration.
BC could never quite get hot as a team, though, and it went particularly cold down the stretch. That was ultimately the difference as Tre Jones took over and the Blue Devils played the way they typically do. 
"That was the difference in the game," Christian said. "They remained poised when they were down, and we lost poise just for two minutes. Then we came back, but you can't do that."
Coach K is 500-200 all-time in ACC games. That's very good. pic.twitter.com/InZwPgSsgT

— Duke Men's Basketball (@DukeMBB) February 5, 2020
Vernon Carey and Tre Jones didn't go off, but they did enough to help Duke win.
Duke's Vernon Carey Jr. is projected as the No. 10 pick in the NBA Draft on NBADraft.net. He's averaging 18 points and nine rebounds and shooting 59 percent from the floor on the season.
While Carey ended up right around his averages, with 17 points and 10 rebounds, he had to work hard for that kind of production. He shot 5 of 13 from the field and never got totally comfortable inside as BC bottled him up early.
"I think it's a position battle with a guy like Carey," Christian said. "If he gets deep, and angles, he's almost impossible to stop."
Nik Popovic and Steffon Mitchell spearheaded the effort, and CJ Felder and Jairus Hamilton helped inside as well. Carey picked up his fourth foul with 14:44 left, and had to go to the bench, but BC was unable to capitalize. The Eagles led, 33-29, at that point, yet Duke managed to cut the deficit to one with Carey sidelined.
Then when he came back, the Eagles almost got a fifth foul on him, but he was called for a travel instead. A few minutes later, Carey scored four quick points to give Duke the lead for good.
Then Jones took over late, finishing inside multiple times with the outcome not yet decided. The Eagles never let Carey or Jones erupt, yet they still managed to influence the game. 
"Tre was outstanding down the stretch," Krzyzewski said. 
Best PG in America???

— Tyus Jones (@1Tyus) February 5, 2020
They're playing better overall, but they didn't cash in on a prime opportunity.
BC came into this game with plenty of momentum after outlasting North Carolina, 71-70, on the road Saturday night. The only time the Eagles have beaten UNC and Duke in the same season is 2008-09, and that goal was well within reach Tuesday.
The Eagles are now 2-2 in their last four games, and they're playing much better than they had been the weeks before that. After losing four in a row, BC has hit its stride again with a win over Virginia Tech, a respectable loss to Louisville, the win over UNC, and now this solid showing.
Christian and his players are encouraged by the overall growth yet disappointed to leave with a loss.
"We had our opportunity today," Christian said. "We just didn't shoot the ball the way we need to shoot the ball to beat them. When you get your opportunity to beat a team, especially a team like this, you've got to cash in on it."
The head coaches discussed the landscape of the ACC and beyond.
In Joe Lunardi's latest ESPN Bracketology, he only has three ACC teams making the NCAA Tournament. Of course, a lot can change from early February to mid-March, and a surprise team could win the ACC tournament, but as of now, it's possible only Florida State, Louisville, and Duke could make it. Christian said there's a lot more balance in the ACC than people give it credit for, and he sees many teams, including his own, consistently improving.
"In my opinion, I think this is the most parity we've had in the ACC in my six years," Christian said. 
With Baylor, Gonzaga, and San Diego State (and blue-blood Kansas) currently projected as No. 1 seeds, this year's tournament appears to be as wide open as it's been in quite some time. Krzyzewski, who said he doesn't watch the ACC much outside of preparing for Duke's games, acknowledged there are a lot of good teams and no great teams. 
He said the state of college basketball has been affected more by graduate transfers than by traditional one-and-dones. 
"I wish the whole thing would change," Krzyzewski said.