College Sports
College baseball starts this weekend. Here's what to expect from local teams.
Get your baseball fix as the seven D1 teams in Massachusetts get going.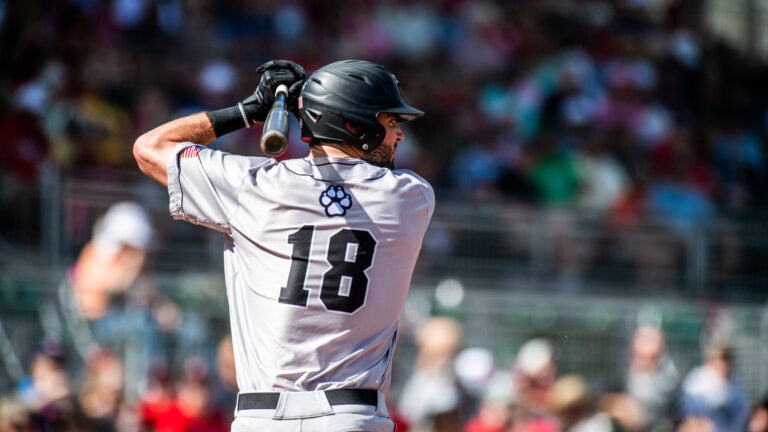 MLB Opening Day is just more than a month away, but baseball fans still have reason to celebrate now. The college baseball season gets underway Friday, and all seven Division 1 teams in Massachusetts are beginning to hit the road.
Here's a look at what each of the teams have to offer this season.
Harvard
Looking back: 27-16, 14-7 Ivy League (1st)
The road ahead: A year after reaching the NCAA regionals with a sweep of Columbia in the Ivy League playoffs and a regular-season title, the Crimson are projected to finish second with four first-place votes. They open in Alabama for a three-game series with the Crimson Tide.
Players to watch: Senior outfielder Jake Suddleson was named the Ivy League Player of the Year after finishing the year with a .416 average against conference opponents. He led the conference in hits (37), home runs (8), RBIs (36), and on-base percentage (.758), and set a new program record with 53 total RBIs. On the hill, senior righty Kieran Shaw returns after setting a new Ivy League and program record with 13 saves, good for 11th in the nation.
Home opener: vs. Dartmouth, Sat. March 28th, 11:30 a.m.
Northeastern
Last season: 28-29, 12-12 Colonial Athletic Association (5th)
The road ahead: The Huskies, celebrating the program's 100th season, were picked to finish second in the CAA and received two first place votes. They will play Alabama for the first time in program history Friday-Sunday in Tuscaloosa before playing the Red Sox in an exhibition Feb. 21.
Players to watch: Redshirt junior Ian Fair (Walpole, Mass.) was tabbed the CAA Preseason Player of the Year after claiming the conference batting title (.357) and earning All-CAA first team and all-tournament honors. The infielder hit eight home runs and had 33 RBIs and enters 2020 on a 14-game hitting streak. Senior infielder Scott Holzwasser (Sudbury, Mass.) also was named to the All-CAA preseason team after hitting .254 with five homers and 27 RBIs last year. Freshman Sebastian Keane (North Andover, Mass.) was drafted in the 11th round by the Red Sox after leading North Andover to a Super 8 championship, but chose to honor his commitment and will be the Huskies' Sunday starter.
Home opener: vs. Hartford, Wed., March 11 at 3 p.m.
Holy Cross
Last season: 22-32, 15-10 Patriot League (2nd)
The road ahead: The Crusaders, picked to finish third in the Patriot League behind Army-West Point and Navy, open at South Carolina this weekend before heading to Norfolk, Va., to play Old Dominion.
Players to watch: Junior righthander Liam Dvorak was picked as the Patriot League's Preseason Pitcher of the Year after a sophomore campaign that landed him on the All-Patriot League first team. He posted a 2.89 ERA in league play, which expanded to 3.58 through a team-high 75.1 innings pitched. He struck out 83 batters, the most for a Crusader since 1925. Senior outfielder Austin Masel (Stoneham, Mass./Belmont Hill) led the team offensively last season, with a .312 batting average and .454 slugging percentage, 13 doubles, and 31 RBIs. The Preseason All-Patriot-League selection is already 10th in program history with 170 career hits.
Home opener: vs. UMass Lowell, Wed. March 18 at 5 p.m.
UMass Lowell
Looking back: 20-36, 12-12 America East (4th)
The road ahead: The Riverhawks are projected to finish fifth in the league in 2020, and open with a four-game series against Canisius in North Carolina.
Players to watch: Ciaran Devenney returns behind the plate for his senior year after earning an All-America East first-team nod last year, when he posted a .287 average with 11 doubles, seven home runs, and 25 RBIs. Josh Becker (Burlington, Mass.) was named to the All-Rookie squad after posting a 4.44 ERA with five saves and 56 strikeouts. Returning offensive power is senior outfielder Cam Climo (Billerica, Mass.), who crossed the plate a team-best 30 times in 2019 and knocked 11 doubles, five homers, and 33 RBI.
Home opener: vs. Dartmouth, Tues. April 7, at 3 p.m.
Boston College
Looking back: 31-27, 12-18 ACC (7th Atlantic Division)
The road ahead: Despite a disappointing season in conference play, the Eagles rallied to reach the ACC semifinal for the first time in program history and are slated to finish sixth this year. They open the season with a four-game series against Northern Illinois in Winter Haven, Fla. this weekend.
Players to watch: The Eagles return three sophomores who posted freshman All-American campaigns: outfielder Sal Frelick (Lexington, Mass.), infielder Cody Morissette (Exeter, N.H.), and right-hander Mason Pelio. Frelick, the New England Intercollegiate Baseball Association's Rookie of the Year, started 38 games and hit .367/.447/.513 with 32 RBIs, 30 runs, and 18 stolen bases. Morissette started every game last year at second base and hit .320 with four home runs, 41 RBIs, 27 runs, and 20 doubles. Pelio went 4-3 last year through 70 innings, striking out 62 with a 3.62 ERA.
Home opener: vs. Siena Wed. March 18, at 4 p.m.
Merrimack
Looking back: 28-20, 18-9 Northeast-10 (3rd)
The road ahead: After failing to defend their 2018 title in last year's NE-10 championship, the Warriors have moved on to Division 1. In its inaugural year in the Northeast Conference, Merrimack is slated to finish sixth – but are not postseason eligible. The Warriors open with a four-game series against Oral Roberts this weekend.
Players to watch: Joey Porricelli had a breakout season last year and will be the face of the Warriors' program as they head into a new year and new division. The NE10 co-Player of the Year, he became the 10th All-American in program history after setting career-highs in homers (9), triples (5), RBIs (41), slugging percentage (.551), on-base percentage (.395), and stolen bases (33). The infielder led the NE-10 in steals, triples, and runs scored, and is already fourth all-time in runs scored. Classmate Nick Shumski (Salem, N.H.), returns as a D2 Gold Glove winner.
Home opener: vs. Central Connecticut, Sat. March 28 at 1 p.m.
UMass Amherst
Looking back: 18-27, 8-14 Atlantic 10 (10th)
The road ahead: The Minutemen, picked to finish 11th in Atlantic 10 play, open with a doubleheader at Delaware State Feb. 22. UMass hasn't finished in the top 10 in the league since 2014, when they finished ninth.
Players to watch: Junior righty Sean Harney (Natick, Mass.) went 3-5 last year with a 3.27 ERA, and junior Ben Shields (Westwood, Mass./Catholic Memorial) returns to the mound after missing last season. Baseball America notes freshmen Jordan Erbe (third base) and Ryan Coleman (outfield), as newcomers who could make an impact.
Home opener: vs. Richmond, Fri. March 27 at 3 p.m.