College Sports
Holding up his McDonald's All-American jersey was a surreal moment for Terrence Clarke
"Man, that's special."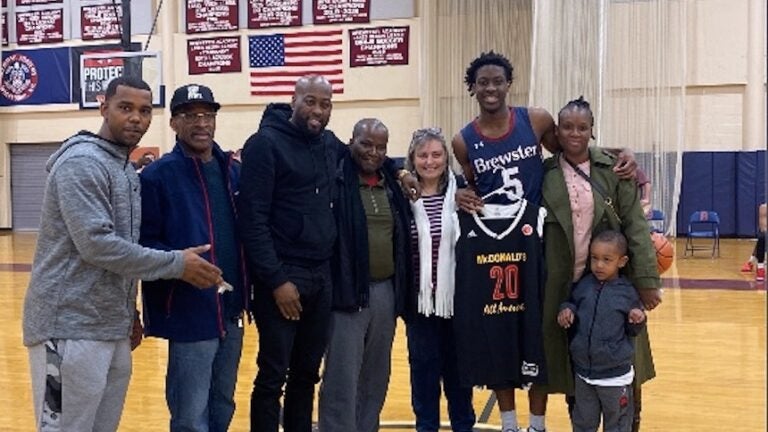 Terrence Clarke held up his McDonald's All American jersey in awe.
"Wow," he said to himself, beholding his own name printed in gold on the crisp, black jersey.
The Brewster Academy guard still cannot believe that his dream of being selected came true. The prestigious accolade is given to the best high school basketball seniors in the country, and Clarke will join the likes of Lakers forward LeBron James, former Celtics guard Kyrie Irving, Nets' Kevin Durant, and legends such as Earvin "Magic" Johnson and Michael Jordan.
He first heard the news back in January. After finishing a school day, he went to his dorm room at Brewster, grabbed some snacks, and went to his friend's room. He sat there, waiting and waiting for the official list to be released, and once it was, the excitement hit him all at once.
"I just started screaming," the University of Kentucky-bound Clarke said Friday after Brewster Academy crushed Kimball Union Academy, 105-70. "I started running through the dorm, I was going crazy."
The selection is an historic accomplishment, as Clarke is the first athlete from Boston in seven years to be selected, since Tilton's Wayne Selden back in 2013. The game will take place on April 1 in Houston and will be televised on ESPN.
During halftime against KUA, Brewster honored Clarke — who will wear No. 20 — with his jersey.
"Terrence Clarke will join the ranks of high school basketball's elite as part of the prestigious 2020 McDonald's High School All America game," said Athletic Director Matt Lawlor to a cheering crowd. "The only other Brewster basketball player to receive an invite was T.J. Warren from the Class of 2012."
Clarke's family, including his mother, Osman, and little brother, Gavin, joined him at center-court.
It's all falling into place for Clarke, who was also selected for the prestigious Allen Iverson Classic and the Jordan Brand Classic, two other highly selected showcases. However, it's been a journey for the entire Clarke family as well. Everyone, from his mother to mentor Dexter Foy to trainer Brandon Ball to Expressions Elite AAU coach Todd Quarles, played a hand at supporting Clarke both on and off the court. Hours in the gym. Kicking basketballs in frustration while pushing himself to become the best. The family traveling around the country for his tournaments and showcases.
They've watched him rise up the ranks as one of the top high school basketball players in the country.
"He's come a long, hard way," his mother said while the family gathered outside of the gym. Clarke will be gifting the jersey to her.
"When he used to call me, 'Mommy! I want to leave, Todd is yelling at me!' You can sit back now and tell those stories," she said with a laugh.
It was a special moment for all of them, a testament to his hard work.
"It really hasn't hit me yet," Clarke admitted.
Quarles, who stood next to him, starting marveling at the jersey himself.
"I could tell," he said. "Man, that's special."