College Sports
Former Sox manager Bobby Valentine's next project? Turning Sacred Heart into a hockey school.
Sacred Heart is no hockey school, but Bobby Valentine is making a big bet that it can be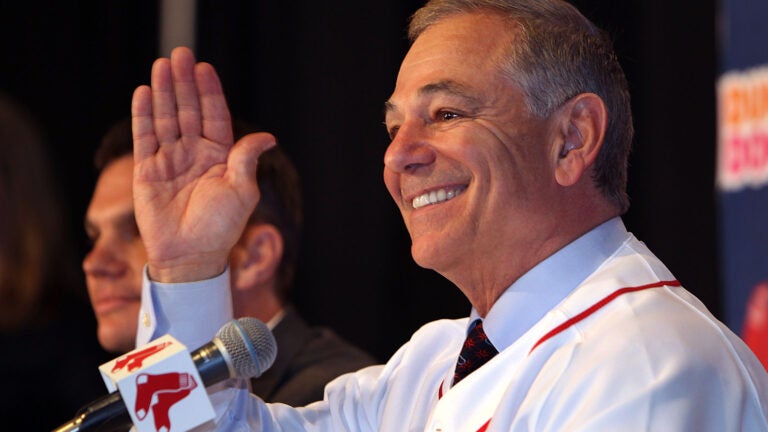 FAIRFIELD, Conn. — Sacred Heart, a Roman Catholic university tucked in the tidy suburbs along Connecticut's southern coast, has been around since 1963 and has had a men's ice hockey program for 27 seasons — including nine straight losing seasons entering this one.
Sacred Heart is no hockey school, but it is making a big bet that it can be.
In an effort to step into the ranks of college hockey's most competitive programs, the university is building a $60 million, 4,000-seat arena that is set to open in 2022 for its men's and women's teams. With only about 60 men's teams and 40 women's teams, major college hockey is a much smaller world than, say, Division I basketball, so it is more likely that a program can improve quickly and for a small university to compete with big ones.
At least that is the thinking of Sacred Heart's athletic director, Bobby Valentine. Yes, that Bobby Valentine. The former manager of the New York Mets and the Boston Red Sox, Valentine is still energetic at 69 years old and is driving the growth of the university's facilities, with the hockey arena set to be the final jewel in the process.
"There's a plan now, with the arena being a shining star, for all of our sports having a facility to call home in a short period of time," he said in an interview.
Valentine grew up in Stamford, just a 25-mile hop down the Merritt Parkway. But he had no idea where the university was until he was contacted about becoming its athletic director in 2013.
To that point, Sacred Heart had experienced only a glimmer of success in hockey. C.J. Marottolo, who still coaches the men's team, had a winning record and took the Pioneers to the Atlantic Hockey championship game in his first season, 2009-10. The team won only 42 games total over its next six seasons.
Since the inception of the program in 1993, the Sacred Heart men have played at the 1,000-seat Milford Ice Pavilion, on the other side of Bridgeport. The women's team has played since 2014 at the 800-seat Sports Center of Connecticut in Shelton, 10 miles away. Not an ideal setup for a team hoping to sell itself as a hockey powerhouse.
"I'd watch a recruit come in here and look at the situation and say they liked the school and program and say, 'But this isn't it for me,'" said Thomas O'Malley, who has been the women's head coach at Sacred Heart for 17 seasons.
The teams needed a new home, but Valentine's options were limited.
This is where Lou Lamoriello enters the story. Long before Lamoriello became the general manager of the NHL's New Jersey Devils, Toronto Maple Leafs and Islanders, he was manager of the Yarmouth Indians of the Cape Cod Baseball League in 1967, when Valentine, then 17, was on the team's roster. The two stayed in touch over their careers.
Valentine, as a newly minted Sacred Heart athletic director, called Lamoriello for advice about hockey facilities. "I was still learning how to spell hockey and AD at the same time," Valentine said.
He had an option to have the team play games at Webster Bank Arena, an 8,500-seat arena in Bridgeport, 15 minutes from Sacred Heart, but he felt that the site was too big.
Lamoriello's advice: "Go into the arena. You'll recruit better."
In the four seasons the Pioneers men's team has played its home games at Webster, its fortunes have changed. All but four of the 29 players on the Sacred Heart men's roster are from outside New England, with six international players: five Canadians and one player from Denmark.
Sacred Heart's men's team was 16-17-4 last season and 18-8-2 in conference play this season, winning the first Connecticut Ice tournament, which included Connecticut, Quinnipiac and Yale, in January.
The men's team, 21-10-3 overall, was ranked in the top 20 nationally at times this season, and the women (21-11) won 18 of 20 regular-season games in the New England Women's Hockey Alliance. The Sacred Heart men have never been to the NCAA tournament, but the Pioneers were considered to have had a good chance to qualify this year before the NCAA and Atlantic Hockey tournaments were canceled last week because of coronavirus concerns.
All but two home games this season drew crowds of fewer than 1,000 spectators to the arena, which is primarily used by the Islanders' top farm team, the Bridgeport Sound Tigers. It is a top-notch site, but there are two problems for the Sacred Heart teams: It is too big, and it is not theirs.
"It's no secret that getting the rink is the next step for a program, where players want to come," Patrick Dawson, a freshman defenseman, said.
In that light, the arena idea still seems audacious: a Roman Catholic university without a big hockey portfolio funding an arena on its own, through borrowing and fundraising, ticket sales and concessions, and by renting the ice and the arena to outsiders once it is completed.
"Sacred Heart's investment, while understandably difficult to comprehend and easy to criticize due to the cost, may actually make sense if the institution is able to realize many of the positive consequences that can flow from having a nationally visible hockey program," said Scott Rosner, a sports business professor at Columbia University.
"It is fair to ask if the success of newly minted hockey powers like Quinnipiac and Union is achievable and sustainable for another relative athletic minnow like Sacred Heart and question if it will be yet another institution in pursuit of fool's gold," Rosner added. "The answer comes down to execution."
Union College, a 2,200-student institution in Schenectady, New York, won the NCAA title in 2014. Quinnipiac University, in Hamden, Connecticut, a 10,000-student institution that is a keen athletic and academic rival of Sacred Heart's, advanced to the national championship game in 2013 and 2016. The Bobcats play in a 13-year-old arena with separate areas for hockey and basketball and are members of the ECAC Hockey conference, a league more powerful than Atlantic Hockey.
Valentine said of the Sacred Heart arena: "It's going to be the best building to play in in the tristate area. Quinnipiac is there, but we're going to be newer."
Sacred Heart's student population has swelled by more than 50% in the last 10 years to more than 5,100 undergraduates, and the university's property covers more than 300 acres since the 2016 acquisition of the 66-acre former General Electric corporate headquarters. Its campus is now home to the three-story Bobby Valentine Health & Recreation Center, which opened in 2019.
"This, as far as building an arena, is fitting into a progression that's been going on for a decade," said Jim Barquinero, the senior vice president for enrollment, student affairs and athletics at Sacred Heart.
Olivia Bryant, a senior defenseman, said of the arena project: "It kind of shows a belief in us. Acknowledges us. That we can move the school forward, to be a hockey school."