College Sports
'It's time for action': Northeastern's Jayden Struble, a Canadiens prospect, wants to stop racism on and off the ice
In an NCAA survey from 2019, there were 1,114 men's ice hockey players. Just eight were Black.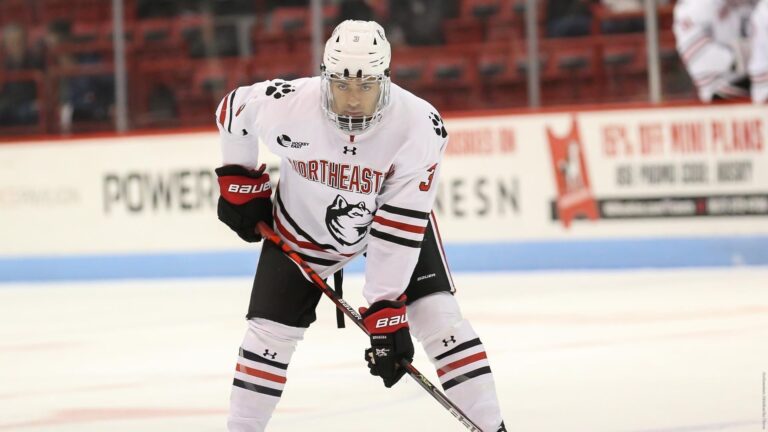 Jayden Struble will head to Michigan next month to be evaluated for a spot on next year's U.S. National Junior Team.
A local product who is from Cumberland, R.I. and graduated from St. Sebastian's, the defender was ranked the No. 48 North American prospect by NHL Central Scouting before he was selected by the Montreal Canadiens in the second round of the 2019 NHL Draft.
It's an impressive resume for a rising sophomore. But even with all he's accomplished, Struble, like other Black hockey players, has been told over and over again that he doesn't belong on the ice.
"I've been called the n-word when I'm just trying to play hockey, or told, 'Stick to basketball, you're in the wrong sport,'" Struble said. "I think it's really hard. You're just a young kid trying to play a sport. It happens, and it happened a lot."
Across 31 NHL franchises, there are 713 total players on active rosters at any given time. In January, WDET reported there were 43 players of color in the NHL. That's just more than 6 percent.
In an NCAA survey from 2019, there were 1,114 men's ice hockey players. Of them, 346 were identified in the data as a race "other" than white or as two or more races. Just eight were Black, the fewest since 2014, when there were seven.
According to Census Bureau estimates, 23.5 percent of the United States identifies as non-white – including 13.4 percent as Black.
On June 8, San Jose Sharks forward Evander Kane and former Calgary Flames winger Akim Aliu were announced as heads of the Hockey Diversity Alliance, an organization independent of the NHL with a goal to "eradicate racism and intolerance in hockey." The group, which also includes NWHL players, was formed as individuals across hockey began speaking out about racial injustice in the aftermath of the killing of George Floyd.
By the time the Hockey Diversity Alliance was formed, Floyd's death and the subsequent protests had already inspired Struble to speak out. The 19-year-old posted a statement to Twitter on June 2.
"I wrote it really in just one take," Struble said of his own statement. "I just put everything down and obviously looked over it to make sure, but everything was just on my mind for a while, so it was pretty easy.
"I just didn't really know [what would happen]. It was a little unsettling."
Being silent doesn't ignite change✊🏾 pic.twitter.com/aA2c9e1X0O

— Jayden Struble (@jaydenstruble) June 2, 2020
I wish I had a larger platform to express the way that I feel, but I do know that most of my following is white and hopefully this reaches whoever it needs to.

To start I wanna say that I've just been angry for a while now. Angry that I keep seeing innocent black lives taken at such a rate that the news seems incomplete without another victim. I'm angry that time and time again this country lets us know that black lives are disposable without any consequence. Angry that the 'every man is equal' slogan proves to be just a slogan in this country. And most recently, I'm angry at a lot of the responses, and opinions I see about protests and riots.

First of all these people rioting are not thugs, they're not criminals, they're not lower than you. They are people so broken down by years of systematic racism, and discrimination, in a country who stands for freedom and equality. They're people who have watched brothers, sisters, friends, and/or other people of color be beaten, killed, and belittled, asking for help and justice, without the slightest hint of support or change. Peaceful protests got us NOWHERE. So before u label people thugs think about where this country could be if people in power listened,helped, and implemented change.

The black community is, and has been, at its limit with the injustices of this country, so I want to stand up as a person of color from one of the whitest sports out there and say I stand with y'all!! And I ask for everyone reading this whether teammate or fan, black or white, to understand that a lot of things have to change. The black community is with it, but we need everyone!

And understand that the black community isn't asking anymore. It's time for action.

To the black community, a lot of people stand with u

Stay safe,

Jayden Struble
Northeastern coach Jim Madigan read the statement and immediately had a conversation with his player. Then, inspired by what he heard, he called for a team meeting the following morning.
"When he spoke about [racism], it raised our awareness of it a lot more in allowing us to have a more frank, honest, conversation," Madigan said. "I don't think our team was naive to think he hadn't faced some racism over his time as a young man, but when he brings it up, it brings it right to the forefront. It allows us to start thinking differently, and say 'How can we support our teammate?'"
Together, the team – which has three Black players – brainstormed ideas to educate themselves about injustices, then act upon them. Madigan said the team regularly visits elementary schools outside of the city to read to students, and are looking forward to keeping those visits closer to home in the Roxbury neighborhood their campus shares.
"When you have awareness and education, then you know what the Black community has been dealing with and experienced," Madigan said. "If we see it here and touch it, then we can stand up and lend our voice to it and stop it."
Leon Hayward, who played for Northeastern from 1998-2002 and is now an assistant at Colorado College, also shared a statement on Twitter following Floyd's death, saying he was "devastated for George Floyd and his family … law enforcement officers … [and] that the sport I love still has so much work to do and that up-and-coming boys and girls of color don't always feel that Hockey is for Everyone."
Hayward is one of just three Black coaches in college hockey, according to NHL.com. During his time at Northeastern, he said he was one of two Black players on the team. He has been texting with Struble and teammate Jordan Harris, who is also Black.
"It's very complicated from a coach's side, even more so than a player's side, just because of the dynamic," Hayward said. "As divisive as these times are, they can also bring people together, and so that's what I'm very hopeful for. I just felt like, in my position, that it would be helpful for players that looked like me, that were playing, could do it and just put it out there."
In his role at Colorado College, Hayward is heavily involved in recruiting. He said he says more players of color, but "still not enough."
"Hockey's been late to addressing that," Hayward said. "It's done a lot of good things in other spaces, and I think that the hockey community, when it gets around something, will go after it. I'm hopeful this will be the case with this."
For Struble, seeing people that look like him succeeding in hockey was one of the things that kept him pushing through the racism he experienced. When he reached high school, he played under Black coaches at Noble & Greenough and St. Sebastian's. It was something new for Struble, who does not know his Black father and was raised by his white mother and stepfather. He had been dealing with his experience with racism internally.
Now, he's hopeful that the national conversation he's helping to lead will mean players who come after him won't have to.
"A lot of these awkward conversations are starting to be [not] as awkward now," he said. "Younger kids are definitely going to take advantage of that and be better off for what's happening now. There's going to be more support that you don't have to look for."
Struble recently attended a Black college hockey player Zoom meeting, where he connected with players across the country. The group is planning to continue to get together regularly.
"Wherever you have people that know what you've been through, go through, and can understand it, it's great to kind of network and talk about things. It's really beneficial," he said.
But he doesn't want to the conversation to end with his Zoom meetings with Black players and his white teammates, or with Twitter statements from him and others. For hockey to be for everyone, the conversation must continue.
"In the past, [racism] has been shied away from," he said. "It isn't a belief or something political. It's right and wrong.
"It starts with what you can control in your community. That comes with not turning a blind eye to something that you usually would have. You think of it more as a responsibility. You have to do your part."