College Sports
4 takeaways as backup quarterback Dennis Grosel guided BC to a win over Louisville
If it seemed like Grosel had been in this exact spot before, that's because he had.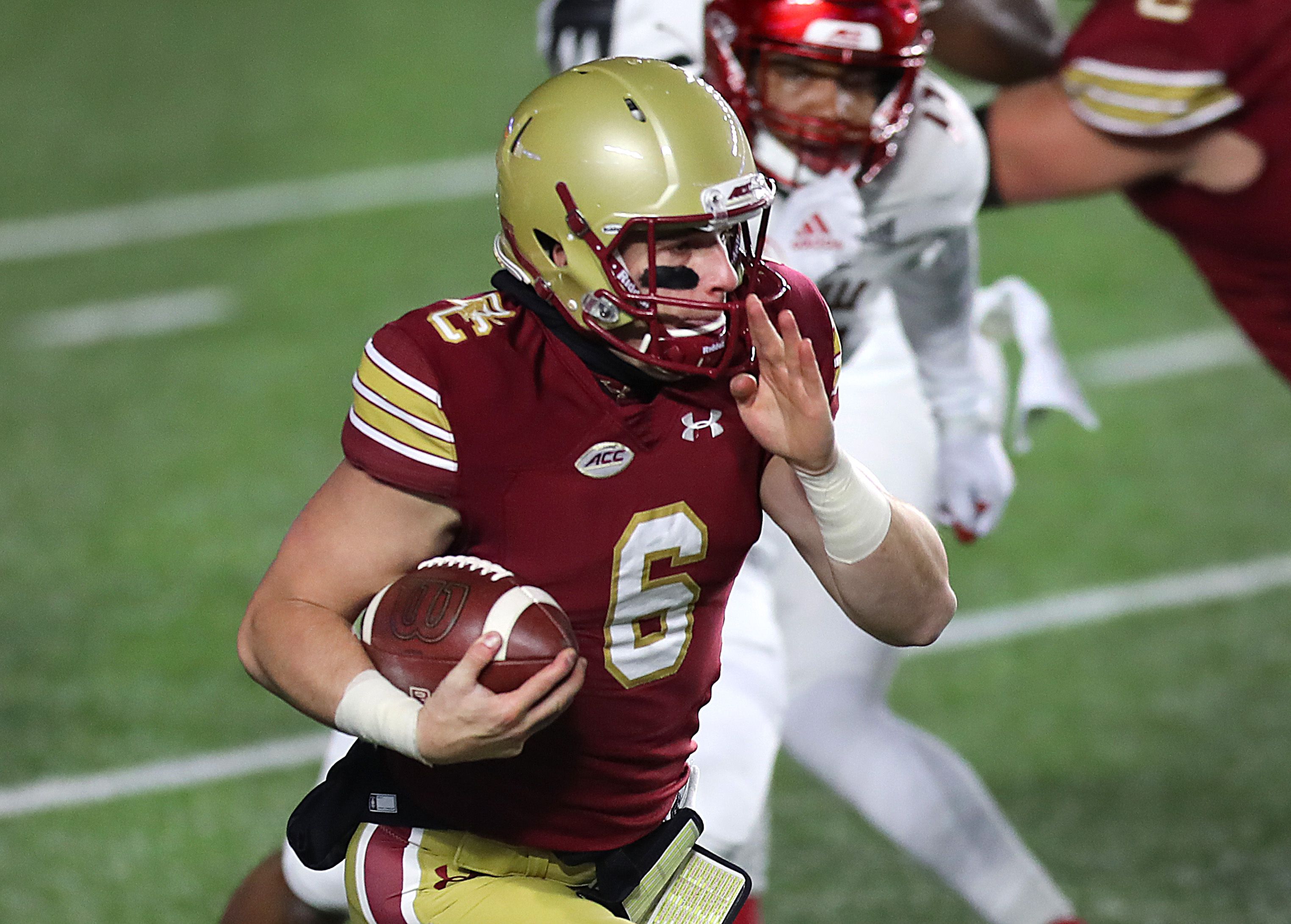 COMMENTARY
As Dennis Grosel saw Phil Jurkovec exit Saturday's game with a knee injury, he found himself in an eerily familiar situation.
Last season, also against Louisville, starting quarterback Anthony Brown left with a knee injury and Grosel entered as his replacement. The Eagles lost that game, but Grosel fared admirably and finished out the season strong as the team's starter.
This year, as Jurkovec hobbled off in the third quarter, Grosel immediately started warming up with center Alec Lindstrom. He turned to Lindstrom and told him that it's like riding a bike, and they both knew he was fully prepared for the moment.
"It was good to have that experience against Louisville to fall back on again," Grosel said. "Something about it."
Grosel threw touchdown passes to CJ Lewis and Jehlani Galloway, helping the Eagles (6-4, 5-4 Atlantic Coast Conference) outlast the Cardinals (3-7. 2-7 ACC) at Alumni Stadium. Louisville QB Malik Cunningham accounted for over 400 all-purpose yards, and the Cardinals never relented, but BC was able to cement a crucial 34-27 win and guarantee it finishes the regular season with a winning record.
Here are four takeaways from a game that featured plenty of action in the second half.
Highlights from the Heights.#ForBoston🦅
📝📷🎥📊➡️ https://t.co/W1jnXvxmjW pic.twitter.com/Hcay91ZgBh

— BC Football (@BCFootball) November 29, 2020
The BC defense caused multiple turnovers early.
The first half was relatively even, as the Eagles built a 13-10 cushion heading into the break.
Deon Jones recovered a fumble late in the first quarter for BC. Jahmin Muse forced a fumble and Cam Horsley pounced on it early in the second quarter. The Eagles – who entered the game tied for third nationally with 17 takeaways – were opportunistic defensively and were able to turn that defense into offense.
David Bailey scored from eight yards out late in the first and Aaron Boumerhi drilled a 23-yard field goal midway through the second to make it 10-3 Eagles. The Cardinals responded with a score, and Boumerhi added a 27-yarder with 30 seconds left in the half.
After squandering a stellar drive to start the game with a fumble of their own, the Eagles finished their opportunity to start the second half, as Bailey delivered from 1 yard out to extend the lead to 20-10 with 12:38 left in the third. 
Head coach Jeff Hafley said it was perhaps the best Jurkovec had played all year. He was 15 for 19 for 203 yards on the evening and made great decisions.
"He was on fire," Hafley said. "Dennis came in and didn't miss a beat."
Jurkovec's incident, which came with 5:37 left in the third quarter and BC nursing a 20-13 edge, appeared to be a non-contact injury. He fell awkwardly and needed help getting off the field. Jurkovec went into the tent, and teammates frequently came to check on him. Moments later, he was back on the sideline, with his leg wrapped, walking under his own power.
Hafley said after the game that he didn't have an update on Jurkovec but that he "seemed to be in good spirits."
Fortunately for the Eagles, his backup was extremely prepared.
Dennis Grosel played like he had been there before – because he had.
In addition to his work last year, the redshirt junior Grosel had also come in a pivotal spot on the road against Clemson earlier this season and converted a play on fourth down.
He's proven throughout his career that he's unfazed by key moments, and Saturday was no exception. He finished the night a modest 4 of 7 for 44 yards, but he added a 44-yard scamper on the ground and threw two pinpoint touchdown passes.
Grosel found CJ Lewis for a spectacular one-handed TD grab early in the fourth quarter to make it 27-13 Eagles. Lewis, who has had a knack for making highlight-reel catches this season, said he preferred this one over the Clemson one because it helped lead to a win.
CJ Lewis ARE. YOU. KIDDING. ME! 😮@BCFootball | #SCtop10

📺: https://t.co/fTNfBfyghn pic.twitter.com/nmbePfWCMG

— ACC Football (@ACCFootball) November 28, 2020
The Cardinals responded to slice the deficit to 27-20, but BC came right back and scored again. With Bailey, the starting running back, out with an unspecified upper-body injury, Travis Levy and Patrick Garwo were crucial in the fourth quarter. A 22-yard run from Garwo led to a 21-yard touchdown catch from Jehlani Galloway to put BC ahead 34-20 with 4:36 left. Once again, Grosel hit his receiver in stride.
That Grosel-Galloway connection is 𝙂𝙊𝙊𝘿.#ForBoston🦅
📺 @accnetwork
💻 https://t.co/VjlOYIlCel pic.twitter.com/lO4UygGIXu

— BC Football (@BCFootball) November 29, 2020
"It's the example of what life is all about," Hafley said. "The starting quarterback gets beat out, yet he comes to work every single day. He's one of our best leaders. He never complains, never says a word. All he does is prepare. When his time came, he took the game over, and he made huge plays. That's such a good example for the young guys to see. That's football, and that's life."
The Cardinals answered right away, as Cunningham fed Dez Fitzpatrick for a 69-yard TD with 4:16 to go. BC had to punt on its next drive, but the defense delivered with the game on the line.
Shitta Sillah came up with a crucial interception.
The Eagles had already forced multiple turnovers on the day, but they had trouble slowing Cunningham and Co. down the bulk of the second half. Louisville finished with the overall edge in first downs, rushing yards, receiving yards, and overall plays, but BC ensured none of that mattered.
On second and 2, from near midfield, Cunningham attempted a pass with 1:42 remaining. Muse managed to get a hand on it, and sophomore defensive end Shitta Sillah swooped in and snared it for his first career interception.
"I just looked it in and caught it," Sillah said. "It was crazy."
The Eagles were able to run out the clock and prevail in a game that got a bit dicier than it initially looked like it might. 
BC is now 4-2 in one-score games, and the Eagles were able to escape on Senior Night.
"It meant everything to me," Levy said. "I know it meant everything for all the seniors."
This leaves them in an ideal spot big-picture.
In an 11-game season, with 10 ACC games, there have been no easy matchups for the Eagles this season. Texas State isn't a Power-5 team, but other than that, it's been a grueling slate filled with high-caliber opponents.
After playing nine games in nine weeks, the Eagles were able to take a breather and reset with a bye week. A loss Saturday would have dropped them to .500, whereas a win ensures they'll never get below that mark.
In this most-unusual season, every team is bowl-eligible, but Hafley doesn't want to hear that malarkey.
"Whether or not you can go to a bowl with three wins or two wins, that's not real," Hafley said. "You've got to earn it. Those kids earned it. I don't want to go to a bowl game if we're 5-6 or 4-7."
Jeff Hafley: "Whether or not you can go to a bowl with three wins or two wins, that's not real. You've got to earn it. Those kids earned it. I don't want to go to a bowl game if we're 5-6 or 4-7. You've got to earn a bowl game."

— Trevor Hass (@TrevorHass) November 29, 2020
They don't have to worry about that anymore. BC finishes the regular season Saturday, Dec. 5, at Virginia. A win in that game would put the Eagles at a very respectable 7-4 and set them up for a solid bowl. 
Regardless of how the season pans out, the seniors will always have this one to cherish.
Said Grosel: "Seeing the guys emotionally attached and having each other's back, and hugging each other after the game, was something that I'll never forget."
Get Boston.com's browser alerts:
Enable breaking news notifications straight to your internet browser.