College Sports
4 takeaways as Dennis Grosel ties a Doug Flutie record but BC loses at Virginia
"This one game won't define us this year."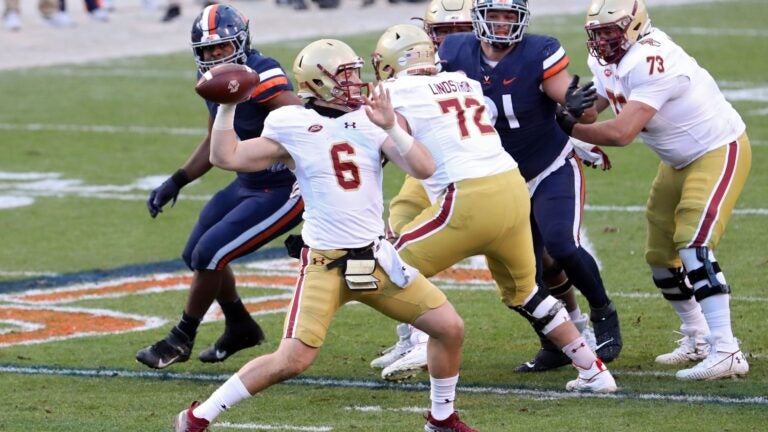 COMMENTARY
Boston College entered Saturday's matchup at Virginia needing a victory to cement its first winning record in conference play since 2009.
The Eagles were without standout quarterback Phil Jurkovec, starting running back David Bailey, and a host of other players against the Cavaliers. In a season where they've stood out nationally for the way they've handled the COVID-19 pandemic, this was simply the latest challenge and wasn't anything they couldn't adjust to.
Backup QB Dennis Grosel turned in a historic performance, tying Doug Flutie for the most passing yards in a single game in program history (520). Zay Flowers racked up eight catches for 180 yards and two touchdowns. The Eagles posted a whopping 513 total yards, and the offense was clicking most of the evening. It had all the makings of a signature win.
The only problem, however, was that the Cavaliers were in even more of a rhythm. Once they started scoring in waves, they never stopped. Virginia totaled 549 yards en route to a 43-32 shootout win at Scott Stadium in front of 250 socially distanced fans.
Boston College finishes the regular season 6-5, and 5-5 in Atlantic Coast Conference play, and Virginia moves to 5-4 overall and 4-4 in conference. It wasn't the poetic ending the Eagles had envisioned, but head coach Jeff Hafley said one game shouldn't change what was a promising and fulfilling season.
"This one game won't define us this year," Hafley said. "They've accomplished way too much, and I'm proud of them."
Now, they wait to find out whether or not they'll play in a bowl game. In a season of unknowns, what's next is simply the latest question mark.
Dennis Grosel turned in a stellar performance.
The Eagles – while they've had some pass-first offenses over the years as well – are known historically for running the ball early and often and relying heavily on their offensive line.
While this year's offensive line improved as the season progressed, and the running backs were strong in spurts, the identity of the offense shifted considerably from last year's approach of feeding the ball to AJ Dillon.
Even with Jurkovec out this week, the Eagles stuck to what's worked to this point. Grosel's 520 yards is certainly an eye-popping stat, but it also accurately illuminates the larger trend. While he was impressed with Grosel's performance, Hafley believes the offense was capable of even more.
"There were a lot more yards left out there," Hafley said. "I thought our offensive staff did an incredible job."
Dennis Grosel tied the school record for passing yards in a game at 520.

The only other player to do so, also in a loss, won the Heisman Trophy two years later… pic.twitter.com/vmTR7PsQxd

— BC Football (@BCFootball) December 6, 2020
Grosel was disappointed by the result, but he took some time afterward to acknowledge the significance of the milestone.
"I'm honored to be in some great company. Maybe we can go review that and get a yard back somewhere," he joked.
W I D E O P E N@d_gro3 ➡️ @HunterLong80#ForBoston🦅
📺 NESN (https://t.co/VjlOYIlCel) pic.twitter.com/f8e8MdA4LA

— BC Football (@BCFootball) December 5, 2020
He threw four touchdown passes, including one apiece to Hunter Long and Jehlani Galloway, but he also ended up with three interceptions. Grosel helped the Eagles close the half strong, as they scored A10 unanswered to slice UVA's lead to 20-17 at the break, but a pick early in the third quarter resulted in another Virginia touchdown.
The Cavaliers extended their three-point halftime edge to a 30-17 margin through three and a 36-17 cushion early in the fourth. BC tried to rally – and did so somewhat successfully –but the Eagles ran out of time.
Zay Flowers believes he still has more to prove.
After another electric performance Saturday, Flowers is now tied for second in BC history with nine touchdown receptions on the season. If BC plays in a bowl game, he'll have a chance to tie or surpass Kelvin Martin's mark of 10 from 1984.
Flowers has established himself as one of the top receivers in the ACC, but he made it clear he's not satisfied.
"I want to prove that I'm one of the best receivers in the nation," Flowers said. "I feel like I'm still not at that point yet, but I think I'll prove it. I'll get there."
B U R N E R 💨#ForBoston🦅
📺 NESN (https://t.co/VjlOYIlCel) pic.twitter.com/SVX3D7QaFP

— BC Football (@BCFootball) December 5, 2020
Grosel – who found Flowers for TD strikes of 45 yards in the first quarter and 15 yards in the fourth – credited the wide receiver for making his job easier.
"He's a monster," Grosel said. "There's no doubt about that. I don't know anybody in the country that'll cover him. I even had some trouble. He was outrunning me a bit. I had some throws I wish I could have had back."
They had trouble stopping QB Brennan Armstrong and the rest of the Cavaliers.
BC's defense has made considerable strides this season and is a much-improved unit from last year, but Saturday was certainly a setback for a group that's proven it's capable of more.
The Cavaliers finished with over 250 yards both in the air and on the ground, and their multi-dimensional attack was tough for the Eagles to slow down. Quarterback Brennan Armstrong rushed for 130 yards himself, including a 60-yard TD scamper, and BC had trouble tackling him and his teammates in the open field.
Boston College was without defensive back Mike Palmer, and it lost starting safety Deon Jones to a knee injury in the first half, but Hafley said the performance simply wasn't up to par.
"The plays were out there to make," he said.
Another big game & another W for @bstrong34!

That's 4-straight for @UVAFootball! pic.twitter.com/DrNZnD7Qlp

— ACC Football (@ACCFootball) December 6, 2020
There were some bright spots for the Eagles, as Luc Bequette and Jason Maitre registered sacks, Jahmin Muse had an interception, and Isaiah McDuffie and Max Richardson totaled 13 tackles apiece.
The effort was there on defense, but the execution wasn't present in enough pivotal moments.
They've garnered national attention for their success dealing with the pandemic.
In a year that has in many ways been overshadowed by the pandemic around the country, BC has consistently been the exception.
The Eagles went nearly the entire season without a COVID-19 case, with only one case coming before they returned to campus to start the year and another around Thanksgiving. Hafley said the player who recently tested positive at home has stayed home and is doing well.
He called it a "special season" because of the way the Eagles have come together to make sure everything happened as close to on script as possible.
Muse, a defensive back, pointed out that the Eagles took care of one another and didn't go out on weekends. They all bought into the larger concept, and it paid dividends in the long run.
"Harder accomplishments than winning games on the field this team has accomplished, and no one can ever take that away from them," Hafley said.
Get Boston.com's browser alerts:
Enable breaking news notifications straight to your internet browser.