College Sports
3 takeaways from Boston College's 'hurtful and embarrassing' 38-point loss to Syracuse
"Sometimes as a head coach you have to just take responsibility for things you really have no answer for. There's no way I saw that coming."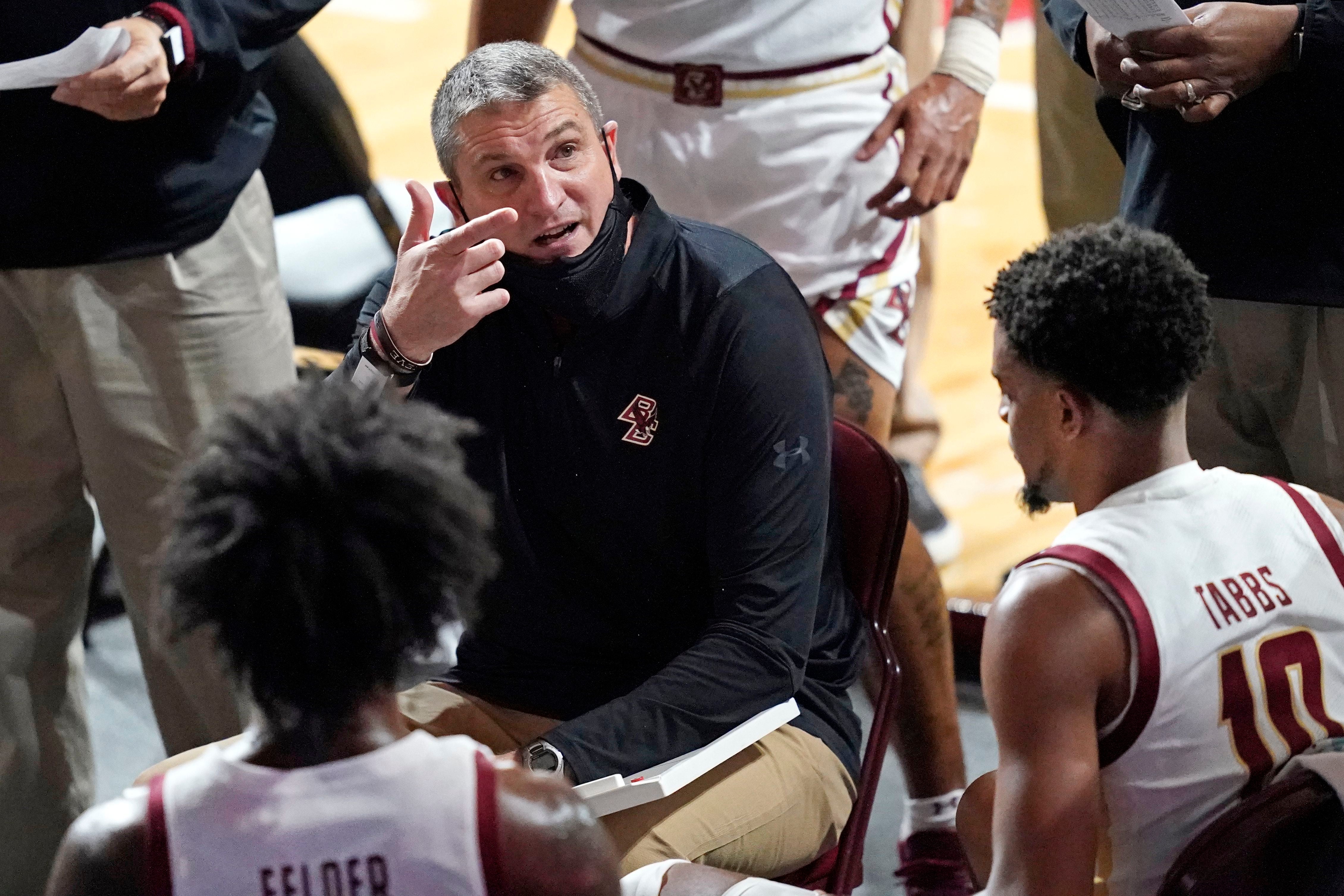 COMMENTARY
Even as Boston College has sputtered in winnable games this season, Jim Christian believes he's seen consistent effort and intensity from his players the entire way.
Against Syracuse on Saturday, BC's head coach acknowledged that same energy was noticeably absent, and he said he has "no idea" why the Eagles were so lethargic to start the game.
Boston College (1-5, 0-1 Atlantic Coast Conference) shot 35 percent from the floor, allowed Syracuse (4-1, 1-0 ACC) to shoot a sizzling 59 percent, and looked out of sorts all day in a brutal 101-63 loss to the Orange that was even more lopsided than the score indicates.
"Sometimes as a head coach you have to just take responsibility for things you really have no answer for," Christian said. "There's no way I saw that coming."
Christian said the Eagles typically fight for one another and compete. He's expecting his players to take ownership and learn from the loss, as he will, and he hopes it's an outlier rather than the start of a trend.
"I'm trying not to put too much into today," Christian said, "but it's obviously very hurtful and embarrassing how we played, and we need to grow from it."
Syracuse got hot early and never cooled off.
The Eagles entered Saturday's game allowing their opponents to shoot 50 percent. It's a long season, and there's time to improve defensively, but that number is a telling statistic at this point.
BC allowed wide-open 3-pointers, uncontested layups, and nonchalant put-backs the entire way. Syracuse head coach Jim Boeheim said it was the best his team has moved the ball this season.
The Orange flew out to a 20-9 edge, as Buddy Boeheim and Quincy Guerrier got hot early. BC tried to play zone and tried to press at various points, but nothing worked. It didn't take long for Syracuse to get comfortable, and the onslaught never stopped.
SU extended its lead to 48-30 at the break, added to it with a 23-5 spurt to start the second half, and continued to drain several 3-pointers once the game was well out of reach. Syracuse hit 52 percent of its 3s (16-for-31), and many of them were in-rhythm looks that came with little resistance.
"We need to get back to reforming our identity," Christian said.
Today's starters vs. @Cuse_MBB

Of Note:
Frederick Scott (knee) & Luka Kraljevic (knee) will not dress for today's game#ForBoston🦅 pic.twitter.com/jc3AMZPIFJ

— BC Men's Basketball (@BCMBB) December 12, 2020
The consistency wasn't there offensively.
The offensive showing was lackluster as well, as BC finished with its lowest scoring output of the year and never found any consistency.
Last year, when BC played Syracuse at home, the Eagles set a program record with 19 3-pointers in a loss. This time, they were 8 of 31 (25.8 percent).
Christian said the Eagles got "great shots" in the first 10 minutes – shots they should make – but missing some of those shots led to frustration and a lack of poise in his eyes.
"You can't let offense dictate effort level, and I thought we did that," Christian said. "We were just looking for any combination to spark us. We just couldn't find it."
The Eagles tried to get Steffon Mitchell, CJ Felder, and James Karnik the ball in the high post to have them kick it out to shooters on the wings. That approach generated some decent looks, especially early, but BC simply couldn't get in a rhythm.
Jay Heath finished the game 2 of 12 and 1 of 8 from 3. Rich Kelly was 4 of 11 from 3 with three of the makes coming in the final minutes with the outcome decided long ago. Makai Ashton-Langford shot 1-of-9, including 0-for-4 from distance, and Mitchell and Felder were a combined 1 of 6.
Karnik, who finished with 20 points on 8-of-13 shooting to go with eight rebounds, was a major bright spot for the Eagles. Wynston Tabbs was solid, with 11 points on 4-of-9 shooting, but that was about it.
The Eagles have shown their offensive firepower in flashes to start the season. They built a 13-point lead on Villanova, nearly rallied from down 20 against St. John's, and led Minnesota by 15 on the road.
Opportunities have been there, and this team could easily be 3-3 or at least 2-4 right now. With this loss, however, the Eagles are forced to push the restart button.
James Karnik showed what he can do as the focal point of the offense.
This Syracuse team has lots of shooting and several skilled offensive players, but it lacks a bulky presence down low. Marek Dolezaj, a crafty 6-foot-10, 201-pound forward, is the Orange's center in the middle of the 2-3 zone.
BC's best chance to beat Syracuse was to pound the ball inside, and that's what it did in spurts. Karnik was aggressive and methodical down low, finishing in traffic on several occasions. He showed his offensive versatility and ability to create mismatches in the post.
Even though it came in a loss, Karnik's performance was still worth noting. The 6-foot-9, 230-pound Lehigh transfer, who was cleared to play before the Florida game, has already proven he's a force down low.
He's shot 50 percent or better in all three of his games and is now averaging 11.3 points and seven rebounds on the season. Ideally for BC, Karnik will command so much attention that he passes out of the double and finds shooters for open looks.
That concept presented itself at moments throughout Saturday's game, but the Eagles weren't able to build on Karnik's strong play.
"It can't be one guy, two guys," Christian said. "It's got to be everybody."
The Eagles have a 10-day gap before hosting California on Tuesday, Dec. 22, at noon. Christian expects a better effort then and going forward.
"I still have total confidence in our team," Christian said. "We've just got to get back to trying to be who we were. We just were not that today."
Get Boston.com's browser alerts:
Enable breaking news notifications straight to your internet browser.