College Sports
4 takeaways as BC basketball shows flashes but can't capitalize in a loss to Louisville
The Eagles made the right plays most of the day, but they weren't rewarded for their efforts.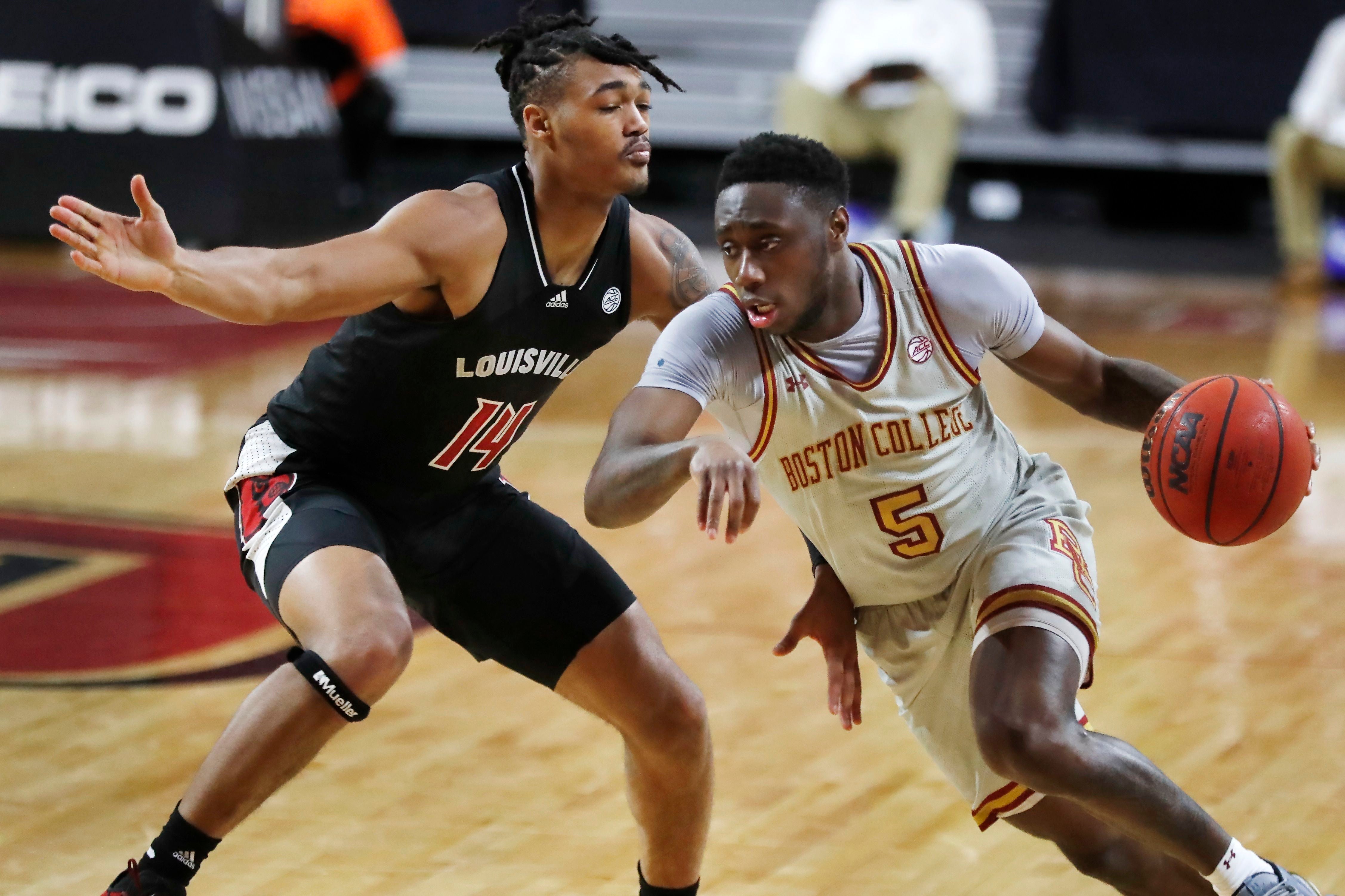 COMMENTARY
At times in the past, when Boston College has struggled shooting the ball, head coach Jim Christian has seen his players' defensive intensity dwindle.
Sometimes it's human nature, but he knows it's the coaches' job to help them fight those instincts. On Saturday, though the Eagles (2-7, 0-3 Atlantic Coast Conference) lost, 76-64, to Louisville (7-1, 2-0 ACC) at Conte Forum, Christian was "unbelievably proud" of their effort.
He said it was simply "one of those days" where shots didn't fall despite the crisp ball movement and consistently solid opportunities. BC finished 34 percent from the floor and 25 percent from 3 for the game. Despite a 28-17 edge in free-throw attempts, and a career-high 20 points from sophomore Jay Heath, the Eagles suffered yet another disappointing loss.
"It's disheartening that their effort didn't get rewarded," Christian said, "but I'm encouraged with the effort."
They started strong but struggled to hit shots later in the first half.
The Eagles came out with tons of energy, as Makai Ashton-Langford won a loose ball and CJ Felder made an extra pass to Heath for a corner 3. Ashton-Langford delivered inside, Steffon Mitchell converted an and-one, and Ashton-Langford registered a steal and another layup to help put the Eagles ahead, 10-3.
A little around-the-horn to get the scoring going for BC#ForBoston pic.twitter.com/xVXIm1SvPN

— BC Men's Basketball (@BCMBB) January 2, 2021
BC maintained the lead until the 10:13 mark, then the Cardinals got hot and showed why they're one of the top contenders in the ACC. Louisville ripped off a quick 8-0 run in less than two minutes to seize momentum and claim a 22-15 edge. It then extended that lead to 37-24 at the break, outscoring BC 23-9 to close the half.
The Eagles shot 29 percent from the floor. Many of the looks were decent, but nothing seemed to stick.
"We're not capitalizing and making the defense pay when they break down," Christian said. "We have to do that. That's the next step for our team, but we made the right plays today."
They consistently chipped away in the second half.
The Eagles outscored Louisville, 40-39, in the second half, and their ability to draw contact and get to the free-throw line was a major reason why.
BC had 22 free-throw attempts to Louisville's four at one point, and the final margin in attempts was only relatively close because the Cardinals got some additional chances late in the game.
Midway through the second half, Heath deliberately stopped short, drew contact, and finished in the lane for an and-one. He then buried a corner 3, off a bullet pass from James Karnik, and a steal from DeMarr Langford Jr. set up a Rich Kelly layup to cap an 8-0 burst from BC to slice the margin to 49-42 with 10:36 to go.
The Eagles continued to zip the ball around, attack the basket, and make the extra pass, but they never got into a consistent rhythm offensively. It was relatively close the rest of the way, yet Louisville had a bit more success finishing and hitting shots. David Johnson paced the Cardinals with 20 points.
20 PTS ▪️ 8 REB ▪️ 3 AST ▪️ 4 3PM

David Johnson continues to do his thing for @LouisvilleMBB! #ACCMBB #GoCards | @davidjohnson13 pic.twitter.com/Nut07oiVme

— ACC Digital Network (@theACCDN) January 2, 2021
Though BC ended up with only six assists, the framework was in place. The next step is turning that grittiness into concrete results.
"When you know you had a play you can make, and you didn't make it, it's easy to take your focus off playing hard, but we didn't do that today," Christian said.
Jay Heath was extremely efficient.
Heath was a major bright spot once again for the Eagles.
While he led them in scoring last year as a freshman at 13.1 points per game – and is right around that same mark this season – he had somewhat surprisingly never scored 20 until Saturday.
After pouring in 17 points and hitting three 3-pointers in BC's 79-76 loss to NC State on Wednesday, Heath finished an efficient 5 of 10 from the field, 4 of 6 from 3, and 6 of 7 from the line against Louisville. His usage percentage was third-highest on the team, yet he was BC's best player.
BC trails 56-45 | 7:57 to go

Heath with 17 points to lead BC (5-9 FG; 4-5 3FG)…he's 9 for his last 17 from beyond the arc over the last two games.#ForBoston pic.twitter.com/YSfree14qM

— BC Men's Basketball (@BCMBB) January 2, 2021
Heath's versatility was on full display, and he continues to be one of BC's most consistent players.
"I thought in the Syracuse game, when the ball wasn't going in for him, I don't think he played with the same edge and the same energy. He let it get to him," Christian said. "He hasn't done that since. This is about growth."
The Eagles have had their opportunities, and now they need to turn those chances into wins.
Right now, it's all about framing.
On the one hand, the Eagles are consistently improving and showing that they can hang with some of the tougher teams in the conference. On the other, they're losing those battles and are now 2-7 on the season.
Much like in the Villanova, St. John's, Minnesota, and NC State games, the Eagles hung around and had their chances. Outside of the duds against Florida and Syracuse, they had an exactly even point-differential on the season coming into Saturday's game.
This team is capable of making some noise in the ACC, but it has to start soon if it wants to to be considered a legitimate threat.
"The result hasn't been there," Christian said, "but we're getting better."
Get Boston.com's browser alerts:
Enable breaking news notifications straight to your internet browser.