College Sports
7 things to know as you fill out your March Madness bracket
Here are some storylines, players to watch, and tips.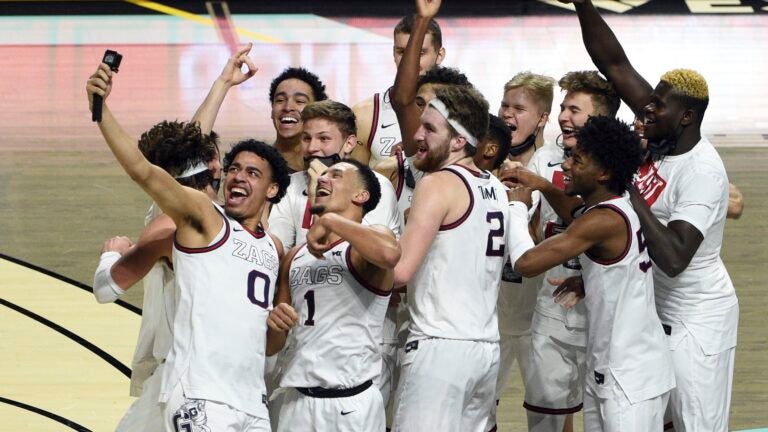 The two-year wait is over, college basketball fans.
After what felt like an eternity to many, March Madness is finally here. The bracket has been revealed, office pools around the country are underway, and friendly trash talk among friends has returned.
This year's tournament will look different than others before it in some ways, but the essence of what makes March so special is still very much intact.
Here are seven things to know about the 2021 NCAA Tournament before you fill out your bracket in the coming days.
THE BRACKET!#MarchMadness pic.twitter.com/6tRUVIXS4X

— NCAA March Madness (@marchmadness) March 14, 2021
The field is set, but there's a chance it could change.
As of Sunday night, the 68 teams in the NCAA Tournament have been established. It's possible, however, that there might be some last-minute tweaks between Monday and Friday.
If a team currently in the field is unable to compete due to COVID-19 complications, Louisville, Colorado State, Saint Louis, and Ole Miss are next in line to step in and fill the void. The deadline is Tuesday, and if a team becomes ineligible after Tuesday, its opponent will simply advance to the next round.
Dan Gavitt, senior vice president of basketball, said the NCAA has conducted over 2,100 tests so far and has zero confirmed positive cases as of Monday morning.
Dan Gavitt says the NCAA has collected over 2100 tests so far. Zero confirmed positives.

— Jeff Borzello (@jeffborzello) March 15, 2021
The goal, of course, is that the 68 teams chosen are able to participate and the tournament runs smoothly with no snafus. After teams frequently needed to go on pause throughout the regular season, and with Duke, Virginia, and Kansas withdrawing amid their conference tournaments, the NCAA is expecting the best but preparing for the worst.
The setup and schedule are different this year.
Typically, teams are scattered around the country in four distinct regions with the common goal of meeting at the Final Four.
This year, in an effort to limit travel and ensure the tournament unfolds as smoothly as possible, every game will take place in the state of Indiana. Regions are still labeled East, West, North, and South, but a team's geographical location doesn't carry much significance this year.
The First Four is set for this Thursday, then the first round tips off Friday afternoon. First-round games run all day Friday and all day Saturday, and the second round is scheduled for Sunday and Monday.
NCAA Tournament tip times, venues, TV announcing teams. FRIDAY AFTERNOON WINDOW: pic.twitter.com/Q2ta4tLn0C

— Matt Norlander (@MattNorlander) March 15, 2021
The Sweet 16 is slated for Saturday, March 27, and Sunday, March 28, the Elite Eight for Monday, March 29, and Tuesday, March 30, the Final Four for Saturday, April 3, and the championship game for Monday, April 5, at 9 p.m.
Gonzaga is the clear favorite, yet several others are in the mix.
Upsets are what make the tournament so glorious, but there's a very solid chance that No. 1 overall seed Gonzaga will simply be too overpowering to take down at any point this year.
Gonzaga is a perennially strong program but has never won it all despite all its consistent success. This might be head coach Mark Few's most talented team ever, and Jalen Suggs, Corey Kispert, Drew Timme, and the rest of the 26-0 Bulldogs have 2-to-1 odds to become the first team since Indiana in 1976 to go undefeated the entire season.
Elite company.
– Kentucky in 2014-15
– Duke in 1991-92
– UNLV in 1990-91 pic.twitter.com/ruz1fLTLei

— Gonzaga Basketball (@ZagMBB) March 15, 2021
Baylor (5-to-1), Illinois (6-to-1), and Michigan (6-to-1) are the other No. 1 seeds. Baylor only has two losses, Illinois is peaking at the right time, and Michigan still has a formidable core despite losing Isaiah Livers to injury.
The 2-seeds are Alabama, Ohio State, Iowa, and Houston. All eight are considered likely to make at least the Sweet 16 and potentially beyond, but it's March, so it's anyone's game. Maybe 16-seed Hartford – will stage a colossal upset. Time will tell.
Upsets will happen. Here are some potential sleepers.
The beauty of upsets is that there's no way to know they'll happen. It's fun to gloat afterward when it actually works out, but it's really almost all luck.
With that in mind, here are some potential teams that could bust brackets all over.
7-seed Oregon: PAC-12 basketball often unfolds once folks on the East Coast are sound asleep. Bill Walton is very much awake at that time, and he's right that the PAC-12 has some dangerous teams. Oregon, who faces VCU in round one and would likely get Iowa in the Round of 32, has made at least the Sweet 16 each of the last three times it's played in the tournament.
12-seed Georgetown: The Hoyas stumbled to a below-.500 regular season before winning four games in four days to capture the Big East Tournament title. Head coach Patrick Ewing made sure everyone at Madison Square Garden knew what he and his Hoyas were about. They face Colorado in round one and would get Florida State or UNC Greensboro after that.
Patrick Ewing has been getting stopped in the hallways at MSG during the Big East Tournament:

"Everybody in this building should know who the hell I am. Is my number in the rafters or what?" pic.twitter.com/zuTgMhb9dK

— Knicks Videos (@sny_knicks) March 11, 2021
12-seed Winthrop: Villanova doesn't have quite the same firepower as it usually does. Jay Wright is one of the savviest coaches in the country, and the Wildcats always seem to get it together in March, but this team is beatable – especially without starting point guard Collin Gillespie. Winthrop (23-1) certainly has a chance to do so, and it could also knock off 4-seed Purdue in the Round of 32.
14-seed Colgate: Just in case a 12-seed wasn't wild enough, here's a 14-seed that could make or break brackets all over. The Raiders, led by electric guard Jordan Burns – who's shooting 41.5 percent from 3-point range and 89.6 percent from the line this season – play free, uninhibited basketball and will have nothing to lose when they face favored Arkansas.
There are many intriguing matchups, both early and potentially later in the tourney.
11-seed Michigan State vs. 11-seed UCLA: The First Four doesn't frequently have much firepower, but this year's matchup between Michigan State and UCLA features two of the game's elite historically. The winner of this game could knock off 6-seed BYU and make some sort of run.
8-seed North Carolina vs. 9-seed Wisconsin: North Carolina tends to overpower teams on the glass, but Wisconsin's physicality and experience could give the Tar Heels fits. If the game is in the 50s or 60s, that favors the Badgers. If it's in the 70s or 80s, the edge goes to the Tar Heels. The winner will likely get a crack at Baylor and could certainly give the Bears a game.
2-seed Alabama vs. 15-seed Iona: On paper, Alabama should steamroll Iona. The X-factor, however, is that Iona's coach is none other than former Celtics coach Rick Pitino. Pitino recently became the third coach ever to lead five different teams to the NCAA Tournament. Alabama is expected to win, but there's a chance Pitino and Co. could pull off one of the biggest upsets in tournament history.
It has been 38 years since I first went to the tournament with Boston University. Thinking of those players right now. Love you guys! pic.twitter.com/jg7l6heO4x

— Rick Pitino (@RealPitino) March 14, 2021
1-seed Illinois vs. 4-seed Oklahoma State: Oklahoma State is one of the more intriguing teams in the tournament. The Cowboys, who have come on strong of late, could lose in the first round, could win it all, and could end up anywhere in between. ESPN bracketologist Joe Lunardi believes the Cowboys should have been a 2 or a 3-seed. If they have a shot to take down Ayo Dosunmu and the Illini, that game will be must-see TV.
1-seed Baylor vs. 2-seed Ohio State: Chalk is boring, but this possible Elite Eight matchup wouldn't be dull at all. Both teams have balance, experience, and versatility, and it's possible the winner could end up winning it all.
There are plenty of key players to know.
Max Abmas, Oral Roberts: It's highly unlikely Oral Roberts will stun Ohio State in the first round, yet if it does, Abmas will likely be a major reason why. The country's leading scorer, at 24.2 points per game, he's shooting 48.4 percent from the field, 43.3 percent from 3, and 89.9 percent from the line.
Jose Alvarado, Georgia Tech: The ACC's defensive player of the year will give Loyola-Chicago fits and could help slow down Dosnmu in the next round. He's full of energy, will likely implore the crowd to get behind him at least once a game, and plays extremely hard all the time.
The passion. I love it!! https://t.co/GU9jCBDuwd

— DWade (@DwyaneWade) March 14, 2021
Cade Cunningham, Oklahoma State: Led by the potential No. 1 pick Cunningham – a smooth 6-foot-8 point guard who makes the game look easy – the Cowboys are a dangerous team. Cunningham has no weaknesses in his game.
Luka Garza, Iowa: The Hawkeyes' all-time leading scorer has by far the most career points of any player in the field (2,246). Don't be fooled by his lack of speed. He can hoop.
Jalen Suggs, Gonzaga: Gonzaga's balance is really what sets it apart, but having Suggs around to take over games down the stretch doesn't hurt. He's explosive, unselfish, plays hard on defense, and can shoot at a high clip.
Some strategy is involved, but it's ultimately a total crapshoot.
No one likes the person who picks all 1-seeds and 2-seeds to go to the Elite Eight and ends up stealing hundreds of dollars from their colleagues. Don't be that person.
Picking favorites can help, but the person who correctly identifies some upsets and sleepers before crowning the eventual champion is usually the one who wins in the end.
In a year where the country is in serious need of a pick-me-up, perhaps the NCAA Tournament can bring the good kind of Madness to households across the nation.
Get Boston.com's browser alerts:
Enable breaking news notifications straight to your internet browser.