College Sports
'Gritty, not pretty': New coach Earl Grant shares vision for Boston College hoops
"I think in a matter of time we'll have people in Conte Forum excited about the type of spirit we're putting out on the floor."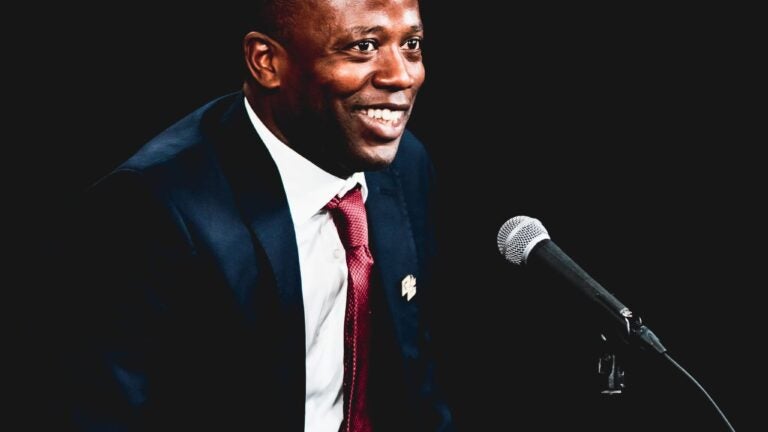 New Boston College men's basketball head coach Earl Grant understands what it's like to be an underdog and turn visions into concrete results.
After playing Division II basketball at Georgia College and starting his coaching career as an assistant at The Citadel and Winthrop, Grant eventually made his way to Wichita State and Clemson before earning his first head coaching job at the College of Charleston.
In seven years at Charleston, he led the program to its first NCAA Tournament berth since 1999 in 2018 and was a finalist for the Skip Prosser Man of the year Award in 2019. Grant, speaking in an introductory press conference Tuesday morning, said he had no desire to leave Charleston. When Boston College Director of Athletics Pat Kraft called, however, the opportunity to lead the Eagles was simply too enticing to turn down.
Grant, 44, believes, his views align with the values at Boston College, and he's eager to help transform the program into a perennial contender in the Atlantic Coast Conference. He knows the challenge is a daunting one, particularly after the Eagles sputtered to a 4-16 record this season, yet he's confident he can lead the way with the right coaching staff, players, and supporters in his corner.
"I think we've got to be gritty, not pretty," Grant said. " … This is a place for a fighter to come play."
Kraft started the press conference by explaining that the ideal candidate would have a dynamic personality, understand New England and ACC basketball, know how to rebuild a program, be able to recruit and evaluate at a high level, and have integrity.
He believes Grant checks all those boxes, calling him "tough as nails" and indicating that he's had success everywhere he's been.
"I'm on cloud nine," Kraft said. "The new chapter of Boston College basketball has already started."
Grant, who was set to meet with the team later in the day, said he watched BC play this season because he keeps tabs on all ACC teams. He saw lots of talent on the floor, and he wants the players currently on the roster to stay patient and buy in to the process of becoming great.
"Anything is possible here at BC," Grant said. "They don't need to kill their dreams. They need to keep their dreams alive."
He said he's chatted with former coach Al Skinner – the last coach to lead the Eagles to the NCAA Tournament back in 2009 – and that Skinner playfully scorned him for not letting him know he was taking the job until it became official.
Grant, who comes across as stern yet measured and approachable, said an important part of the equation is that the Eagles have thrived in the past. Building something out of nothing is extremely difficult and takes lots of time, whereas building something back up from a foundation that's already set is much more doable. He said he's followed BC teams over the years and hopes to model his formula after those contenders of the past while also adding his own flavor.
"Part of the reason you study history is because it's the best indication of what will happen in the future," Grant said.
Grant called it "bittersweet" to leave Charleston, but he felt like the time was right. He said his wife, Jacci, and sons, Trey, Eyzaiah, and Elonzo have all been extremely supportive, and Jacci even clairvoyantly suggested that he inquire about the BC job two days before Kraft reached out.
He hopes those around him follow suit as he practices what he preaches and leans on his gradual yet steady ascension and his belief that everyday habits lead to greatness. Grant is grateful for the opportunity and ready to bring some buzz back to a program searching for consistency.
Said Grant: "I think in a matter of time we'll have people in Conte Forum excited about the type of spirit we're putting out on the floor."
Get Boston.com's browser alerts:
Enable breaking news notifications straight to your internet browser.