College Sports
4 things to know as UMass men's hockey returns to the Frozen Four
The Minutemen have been here before, and they're eager to bring home some hardware.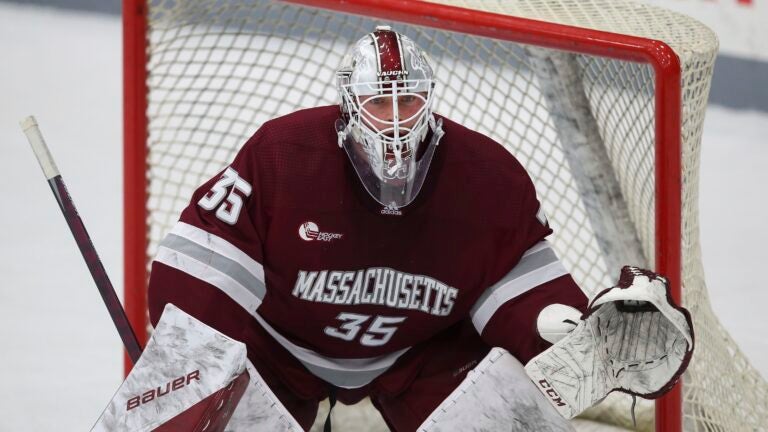 The University of Massachusetts men's hockey team is set to make its second consecutive trip to the Frozen Four.
UMass faces Minnesota Duluth in the national semifinals Thursday, April 8, at 9 p.m. EST in Pittsburgh. The game will air on ESPN2. A win over the Bulldogs would put the Minutemen in Saturday's championship game against either St. Cloud State or Minnesota State.
As the Minutemen try to prove themselves among an all-Minnesota field, avenge a disappointing loss to Duluth, and capture the first national title in program history, they do so with plenty of momentum, a confident core, and a goalie inspiring fans in multiple countries.
Here's a closer look as UMass tries to accomplish a goal that seemed unimaginable just five years ago.
Frozen Four vibes 😍 pic.twitter.com/sRURIqvCei

— Pittsburgh Penguins (@penguins) April 2, 2021
Their win total skyrocketed from five to 31 in just two seasons.
Before coach Greg Carvel arrived in Amherst, the Minutemen went 39-88-13 from 2012-16. They finished just 5-29-2 in his first year in 2016-17 – including a 17-game losing streak to end the season – but the vast majority of their games were relatively close, and they started to lay the foundation for what was soon to come.
UMass was 17-20-2 the next year, then Hobey Baker Award winner Cale Makar helped the program go 31-10 and reach its first-ever Frozen Four in 2018-19. The Minutemen ended up 21-11-2 a season ago, before COVID-19 halted their run prematurely, and now they're back in the Frozen Four once again after winning their first-ever Hockey East postseason title and convincingly dispatching both Lake Superior State and Bemidji State in the Bridgeport Regional.
Carvel – who said he arrived at UMass with "a vision" – had lofty goals when he assumed the position, but even he's surprised at how quickly the ascension to a perennial contender has unfolded. 
"I'm pretty sure anybody would have answered they'd be surprised, just given how tough our conference is and where the program stood when we got here," Carvel said.
And, of course, @CoachCarvelUM talked some @Cmakar8 too! #NewMass | #Flagship 🚩 pic.twitter.com/dgiymSjZJK

— UMass Hockey (@UMassHockey) April 1, 2021
He called the first year "eye-opening" and said it reminded him that greatness requires patience.
"It was a rough year," Carvel said. "It wasn't fun by any means, but I guess it's part of the process. I'd much rather talk about the last three years than the first year."
Junior defenseman Marc Del Gaizo said he came to UMass to win, and he credited the class before him for helping to revamp the program and ignite the upward trajectory. 
He said many of those players have texted this year's group after every game and reminded them to keep going and that the job isn't finished yet.
"They're really, really excited for us," Del Gaizo said. "They're a huge part of this program. We're just trying to make them proud."
They're eager for another crack at Duluth.
In 2019, as they steamrolled Harvard and Notre Dame and squeaked past Denver in overtime in the Frozen Four semifinal behind Del Gaizo's electric game-winner, the Minutemen zoomed into the championship game against powerhouse Minnesota Duluth with plenty of momentum.
Exactly one week until we return to the #FrozenFour 🙌

Here's a little #TBT look back at last time we played in the National Semifinal…#NewMass | #Flagship 🚩 pic.twitter.com/pQVFNXG2XM

— UMass Hockey (@UMassHockey) April 2, 2021
The Bulldogs quickly squelched their dream by blanking UMass, 3-0, as goalie Filip Lindberg surrendered one goal in each period and the Minutemen never got within striking distance.
It's clear two years later that the loss still irks the Minutemen – not just because of the result, but also because of the way they played. They left feeling as though they had more to give, and Lindberg said he's glad to have a chance to face the Bulldogs again.
"Two years ago, we were pretty close, but we weren't good enough," Lindberg said. "Now it's a new opportunity, a new challenge, and I'm really fired up about that."
Del Gaizo said it's imperative that the Minutemen don't sit back and instead prioritize attacking Duluth right away.
Senior forward Jake Gaudet emphasized the importance of sticking with what got the Minutemen to the Frozen Four, practicing with intent, and staying focused on the task yet relaxed at the same time. He's hopeful this year ends differently, and he's confident this group has what it takes.
Said Gaudet: "We've built ourselves into a team that can play well in the playoffs."
They're confident their experience at the Frozen Four will pay dividends.
As the Minutemen arrive in Pittsburgh, they'll do so with a slightly different mindset than the last time they played in the Frozen Four.
"The difference this time is that we're all pretty excited to go in there with some experience," Carvel said. "Last time it was eyes wide open, just go wherever you're told. Now we kind of have a feeling of how it runs."
March 2021 was a month we'll never forget 🏆

Here's to making more memories in April 🙌#FrozenFour #NewMass | #Flagship🚩 pic.twitter.com/N4JvzpqS1M

— UMass Hockey (@UMassHockey) March 31, 2021
Carvel said he learned last time that it's key to get plenty of rest, as opposed to jam-packing their schedule and working like crazy in the moments leading up to each game. He pointed out that after the Minutemen's semifinal win in 2019 went past midnight, they were up the next day with an itinerary and back to work. If something similar happens this time around, he might reconsider and recalibrate.
"The whole Frozen Four happened so fast," Del Gaizo said. "After the semifinals, it seemed like an hour later we were playing in the finals."
Del Gaizo added that the players who have been there before know how to handle the outside attention such as the banquet, media, and unique skating schedule, and their focus is on helping the younger players adjust as seamlessly as possible.
Carvel called the experience from two years ago "critical" in helping the Minutemen this time around, and Gaudet echoed his coach's thoughts.
"I think last time it was a little bit different," Gaudet said. "You're excited to have the opportunity. I think last time it was really exciting to be there. It was exciting just to get to the Frozen Four. This year I think we have a different mindset, where we're going there with a purpose. We're going to do everything we can to come back with some hardware."
Filip Lindberg has made Finland believe.
Thursday's 9 p.m. start means the game will begin at 4 a.m. in Finland – where Lindberg is from – and he expects a bit of an audience despite the brutal wake-up.
"I really appreciate that," Lindberg said. "It's a big thing for me to know that my family and best friends back home support me even though it's pretty late back in Finland."
Congrats to #mnwild prospects F Sam Hentges (@SCSUHUSKIES_MH), G Filip Lindberg (@UMassHockey) and F Nick Swaney (@UMDMensHockey) on advancing to the Frozen Four.

— Minnesota Wild PR (@mnwildPR) March 29, 2021
Those who have tuned in this year, from near and far, have seen Lindberg put on a show late in the season. He currently boasts the best goals against average (1.32) and save percentage (.946) in Division 1 this year, and he's helped the red-hot Minutemen go 9-0-1 in their last 10 games.
This summer, as Lindberg and Matt Murray battled for the starting spot, Carvel encouraged them to make it easy for him as a coach to decide who to play. Murray made it easy in the first half of the year, Carvel said, and now Lindberg has made it easy down the stretch.
He told Lindberg to get a .940 save percentage and allow fewer than two goals a night, and that's exactly what he's done. Carvel credited him for taking his game to "really, really impressive levels."
"Filip Lindberg is maybe the untold story of college hockey, how well he's playing this year," Carvel said. "He's got stats that I don't know if I've seen in a long time."
Get Boston.com's browser alerts:
Enable breaking news notifications straight to your internet browser.