College Sports
7 questions with ESPN hockey guru Barry Melrose before UMass competes in the Frozen Four
"They're well-built. They're built for longevity. They're going to be a good program for a number of years."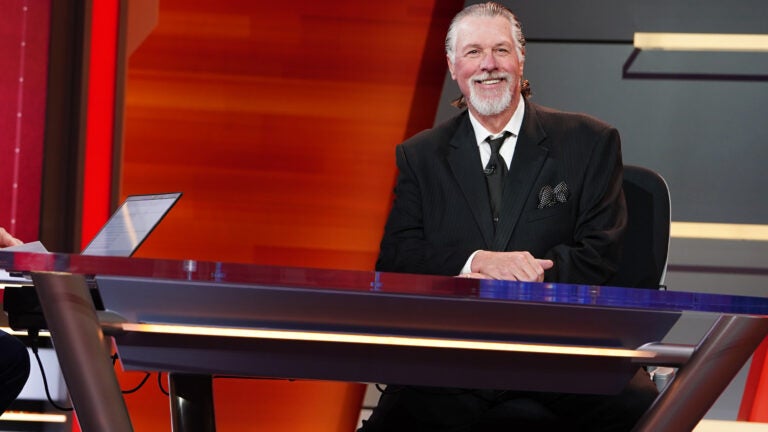 UMass men's hockey will face Minnesota Duluth on Thursday, April 9, at 9 p.m. EST, in the semifinals of the Frozen Four. The game will follow St. Cloud State vs. Minnesota State and will air on ESPN 2.
Ahead of the showdown, Boston.com spoke with ESPN hockey guru Barry Melrose, who will call the Frozen Four with John Buccigross for the eighth consecutive time, alongside Colby Cohen.
The Minutemen are 9-0-1 in their last 10 games and are looking for their first national championship in their second Frozen Four appearance in as many full seasons. They'll be without goalies Filip Lindberg and Henry Graham and forwards Carson Gicewicz and Jerry Harding due to COVID-19 contact tracing policies.
Here are Melrose's thoughts on UMass's ascension, how hockey in Massachusetts stacks up with hockey in Minnesota, what makes Buccigross unique, and more.
What were your impressions of the program before head coach Greg Carvel arrived, and what has he done to get it to where it is now?
When we started doing this, and UMass became a player on the national stage, Cale Makar was a member of UMass. Cale is now one of the best defensemen in the NHL. You can see how important he was to the program to put them on the map. Now, they're an excellent hockey club. They're deep in a lot of positions. They sprinkle talent throughout their lineup. They're solid in net. The coach is awesome. Defensively, they're rock solid. Obviously we're all disappointed with what happened in missing the four players on their team, because of COVID, but I've got a feeling they'll find a way to overcome that. I've said it before. I really think this is the emergence of what's going to be a good team for the next number of years on the national stage. I think if you're a UMass fan, you're going to have a lot of good things to cheer about for a lot of years.
2021 Frozen Four

Thursday, April 8 (ESPN2/TSN Stream)

5 p.m. ET: Minnesota State vs. St. Cloud State
9 p.m. ET: Massachusetts vs. Minnesota Duluth
 
Saturday, April 13 (ESPN/TSN)
7 p.m. ET: Championship Game pic.twitter.com/ocn4bwdUFy

— Bucci Mane (@Buccigross) March 30, 2021
What makes this particular team special?
They take the coach's mentality. You can see how that works. He's very aggressive, very in your face. He speaks very well and is very well prepared, extremely physical. I think that's how the team is, too. They're tough to play against. They play very fast. If you're going to beat this team, you're going to have to work your butt off and be very close to perfect with the puck. I just think it's a well-coached team and the recruits are excellent. They've got older players like (Jake) Gaudet and (Oliver) Chau, and then other players like (Josh) Lopina and some other young guys. They've got a very good defense with (Matthew) Kessel, Zac Jones, Colin Felix, and they're very good in net. They're well-built. They're built for longevity. They're going to be a good program for a number of years.
How will UMass adjust without those four players who are out due to contact tracing policies?
St. Cloud lost (Easton) Brodzinski, their best player, for the tournament. Injuries are part of the sport, and this now, is it classified as an injury? I don't know how you classify it, but it's happening all over the place. This time it happened to UMass, where they lost some players due to the protocols. I think what the coach is doing is, 'OK, you guys all thought that I wasn't giving you enough ice time. You all thought that you were better than what you were. Now you can prove it to me. You're going to get a ton of ice time.' Matt Murray now is the goaltender. That's a little different situation. He got a lot of ice time this year, but he's a goaltender that hasn't played much. He's an excellent goaltender, and that shouldn't be a problem, unless of course he gets hurt, because the backup is one of their equipment men, so that would obviously create some problems. But I think that's how you handle it. Someone else has to be the guy. Someone else that wants more ice time, someone else that is a leader on this group has to come up big. You challenge everybody. You challenge your seniors. Everybody's going to have to play the game of their lives to beat the team that they're going to play.
Expect to see Anthony Del Gaizo on the top line for UMass replacing Carson Gicewicz. He had a strong Bridgeport Regional. #FrozenFour teams practice today.

— Bucci Mane (@Buccigross) April 7, 2021
What do you remember most about UMass's tournament run two seasons ago?
What I remember is Makar. He's such a good player, and you could see him getting better and better as the tournament went on. Obviously he signs with Colorado, and in his first game he scores a goal. That's what I remember about the tournament, is the emergence of Cale Makar as a player on the national stage.
How do you think hockey in Massachusetts stacks up with hockey in Minnesota?
There's a lot of competition. There's a lot of people that want to prove that their state is the best. It used to be Minnesota, Michigan, Massachusetts. It used to be that Boston University and Boston College were all getting all the ink and stuff, and now I think Minnesota is putting a whipping on them right now with the number of kids they're producing. I think there's a big argument and a big fight with all these states now to see who can produce the most players. Right now, when I'm looking at these papers and teams, there's a lot of kids from Minnesota. I'd have to say that Minnesota has a leg up right now in terms of which state is producing the most players.
People know what John Buccigross is like on TV. What's he like in real life?
If he were a hockey player, he'd be a goalie. He's a little weird. He loves hockey. That's what comes across to me. We talk hockey all the time. Bucci's sons played hockey. He loves hockey, he loves hockey players, but he is a weird duck. When you're talking with and about Bucci, that's the first thing that comes to mind. He is a little weird. It's all music with Bucci. Everything is music, music, music. He's asking these kids which songs they play after a win. Do they play a different song after a loss? Things like that. I think the thing that impresses me most about Bucci is how much he loves hockey.
#FrozenFour pic.twitter.com/6zXopiOovk

— Bucci Mane (@Buccigross) April 7, 2021
How sweet is it to finally get to the Frozen Four this season after the tournament was canceled last year and no one knew what would happen this time around?
It's great to be back. It's great to see the kids. It's great to do the regional tournament and now the Frozen Four in Pittsburgh, which is a great hockey city. The kids that we've met have been great and the teams have been great. It's so nice to start getting back to normal, but then saying that, we lost four kids to the virus a couple days ago. The bottom line is it is turning around and getting back to normal, and hopefully we won't have to wear these masks anymore that I absolutely hate. They're the worst things in the world. Maybe the next time we're here we don't have to wear those.
Get Boston.com's browser alerts:
Enable breaking news notifications straight to your internet browser.