College Sports
'She's a winner': How former Newton South hoops standout Veronica Burton has helped Northwestern reach new heights
Burton, nicknamed the "Backcourt Burglar" for her defensive prowess, was recently invited to the USA Basketball Women's AmeriCup Team trials.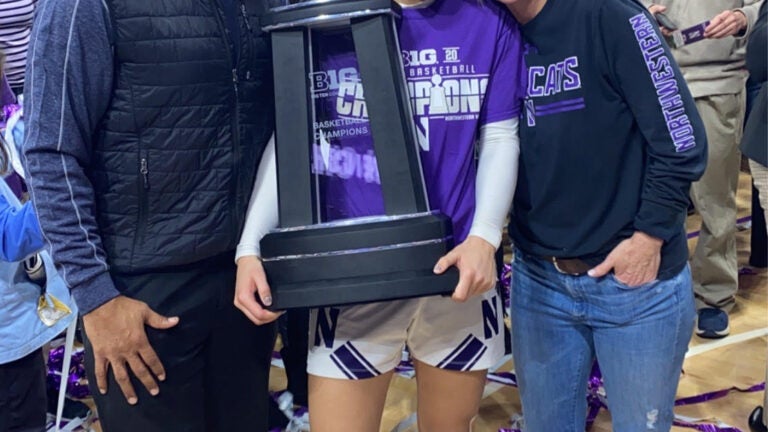 When Veronica Burton was around 5 years old, her whole family frequently woke up early before the kids went to school and played basketball together.
Her father Steve, a sports reporter for WBZ-TV who often worked late, wanted to be a part of it, and morning was the only time they could all participate. 
"They couldn't really leave me at home, so I started going early in the morning at a very young age," Veronica said. "I eventually picked up a basketball, started dribbling, and fell in love with it. That's all I really wanted to do."
One ball became two simultaneously, and two became three, and she quickly became adept and well advanced for her age.
Burton hasn't stopped playing since, and her dedication to her craft allowed her to become Newton South's all-time leading scorer. She's currently a star at Northwestern University, where she helped the Wildcats capture their first conference title in 30 years last season and earn their first NCAA Tournament win in 28 years this March.
Along the way, Burton – aptly nicknamed the "Backcourt Burglar" for her knack for steals – has earned back-to-back Big Ten Defensive Player of the Year honors and was named a first-team conference selection this season.
She recently accepted an invitation to attend the USA Basketball Women's AmeriCup Team trials in South Carolina in mid-to-late April, and she hopes to play professionally in the coming years.
20 of the best in the nation getting together to 🏀.

Yep, @Veronicaab22 is right at home. 🇺🇸 👀

📰 https://t.co/gUKtipX4bn#GoCats x #LockedN pic.twitter.com/r29rWLXC9o

— Northwestern Women's Basketball (@nuwbball) April 14, 2021
Those who know Burton well highlight her faith, loyalty, relentless drive, and ability to see the game extremely clearly as some of her best assets. While those traits have come to the forefront on a national stage recently, they've been a crucial part of her makeup for years.
With the help of her sports-crazed family, her boyfriend and soon-to-be NFL draft pick Greg Newsome II, and supporter Brian Scalabrine, she's taken her game to the next level.
Here's a glimpse into what makes her the person and player she is today.
'She's all about team harmony.'
Though Kayla Burton is Veronica's older sister, Kayla still regularly leans on Veronica for advice.
"She's just so loyal and level-headed," Kayla said. "She's not rushed. She's very composed, and honestly, everyone in our family admires her for that. It's a very unique gift and quality that she has that makes you feel comforted."
Even in elementary school, she understood right from wrong, valued harmony more than individual gain, and wasn't afraid to speak up when she saw something that didn't align with her values. Kayla said that young Veronica's mood would quickly sour if Kayla didn't do her homework, wanted money from her dad, or argued with anyone in the family. 
"You can see it echo onto the court, because she cares about the feelings of everyone," Kayla said. "When we would fight, she would start crying, and she would care that we'd hurt our parents' feelings."
Steve said her sense of togetherness, and innate ability to play with love in her heart, stems from his father, Ron, a former first-round pick of the Boston Patriots in 1960.
Veronica has never cared about individual accolades, but those in her corner are quick to dish out plenty of praise.
"She's all about team harmony," Steve said. "She's all about sharing the love. She doesn't mind the struggle. If there's going to be a struggle, she wants to be the one to overcome it, but she'll overcome it with love."
She's found inner peace in the gym.
Veronica was around the game early because her two older sisters spent so much time sharpening their skills. In elementary school, she played in a boys league and won MVP.
"Guys would play hardcore defense on her, because they didn't treat her like a girl," Kayla said. "They treated her like Veronica Burton."
Kayla recalled how one time their brother Austin mercilessly checked Veronica during a tackle football game in the house and completely wiped her out. She told her parents it hurt, but she maintained her trademark Veronica toughness and never cried.
Eventually, her mother Ginni brought her to the hospital and was freaking out once she learned Veronica's arm was broken. 
"She didn't show much emotion, so it was tough to read her," Kayla said. "It speaks wonders to who she is today. She doesn't let big things or little things phase her. She's steady, she's strong, and she just has this different mentality that's like, 'Man, this girl's not average."
Veronica and her basketball coach Sam Doner would watch film of her sisters Kendall and Kayla's high school games and dissect what they were doing well and where they could improve. Once Veronica got to high school, she realized she had the tools to be an effective player, and eventually she blossomed into a dominant one.
When Kayla came home from college one night and heard a basketball from the other room, she realized that Veronica was still doing the "spins" that Doner recommended every single night. Kayla hadn't kept them up consistently herself, but Veronica stuck to the routine and never stopped.
Steve said she works at all hours, even when everyone else is sleeping.
"Every chance I would get, I wanted to get better," Veronica said. "The hours in the gym, I kind of found peace in that, just being by myself and getting up shots and working on my craft."
'She comes out of nowhere' to steal the ball.
Burton was always drawn to Northwestern because of the purple gear and the family ties. There's a picture of her in a Northwestern T-shirt as a young kid that the Burtons look back on as a sign of things to come.
Steve played quarterback at Northwestern, Ginni was an All-American swimmer for the Wildcats, Ron is an NU Hall of Famer who inspired the Ron Burton Academic Advising Center, and all four of Steve's siblings also attended the school.
Even so, it wasn't a foregone conclusion that Burton would end up there. Her parents encouraged her to reach out, and she grew to love the school on her own. Once she saw the campus and met her future teammates, it "felt like home."
Burton said she was never homesick freshman year and was enamored by the fact that her teammates had the same vision and goals that she did. She appreciated how everyone at Northwestern felt as though they had something to prove.
Burton started all 31 games as a freshman and led the Big Ten in steals. She blossomed into the conference's top defensive player each of the next two years, earning the moniker "Backcourt Burglar" along the way. 
"When people think of Northwestern Women's Basketball, her name will be a part of the discussion for years to come," said former teammate and Big Ten first-teamer Abi Scheid. "I think that truly shows how impactful she has been."
The 5-foot-9 junior Burton upped her scoring average to 16.2 points per game this season while posting 5.2 rebounds, 4-9 assists, and a whopping 3.8 steals per game. She finished with eight steals in one game this season and posted a stat line of 20 points, 15 rebounds, nine assists, four steals, and a block in another.
Northwestern PG Veronica Burton highlights tonight! @Veronicaab22 pic.twitter.com/J1UXtjQ03T

— Courtside Films (@CourtsideFilms) January 29, 2021
Sometimes her family jokingly gives her a hard time via text if she doesn't end up with five or six steals in a game.
While her athleticism is a factor, her anticipation and instincts are what truly set her apart. Steve said she baits offensive players into making passes, sneakily becomes the receiver of the pass herself, and takes off with the ball.
"You don't see it coming," Kayla said. "I feel bad for the players against her, because I know their pain playing her 1-on-1. Your coach may get mad at you and say, 'We scouted her. You know she's going to get those steals.' But she's so discreet when she does it that it's so hard to tell. She comes out of nowhere."
Veronica Burton scored 25 points and grabbed 13 rebounds to help lead @nuwbball to a 65-49 win over Michigan to advance to the semi-finals in the @B1Gwbball Tournament.

Highlights from the win: pic.twitter.com/JFRX1wPrkA

— Northwestern On BTN (@NUOnBTN) March 11, 2021
Burton and NFL-bound boyfriend Greg Newsome constantly push each other.
The former Northwestern cornerback Newsome, who is projected by many as a first-round pick in the upcoming NFL Draft, has Burton in large part to thank for keeping him grounded throughout his college career as he dealt with injuries.
"She's been by my side through all of them," Newsome said. "If she has practice the next morning, and I can't even move from my injury, she'll be waking up at 3, then 4, then 5, to take care of me and make sure I'm OK."
Newsome returns the favor, calling himself her biggest support and also her biggest critic. He tries to find ways to push her to her limits, which includes making Burton hit 50 shots in a row late at night before they leave the gym.
He played basketball competitively as well, and they often go head-to-head in 1-on-1 and various drills. Newsome, a defensive specialist himself, figures that if Burton can get by him, she can get by anyone. Newsome has the edge when they run sprints, but Burton does her best to give him a run for his money.
Over quarantine, Newsome came to Massachusetts and constantly put pressure on Burton and made her figure out creative ways to get by him on the court. When they returned to Evanston, Illinois, this year, he was there for every game and often gave her advice afterward.
Newsome said she has no weaknesses in her game, which is what makes her so dynamic, but he said she can sometimes be too unselfish. 
"He sent me a little text basically analyzing what I did well, what I needed to do better," Burton said. "He'll tell me I need to shoot the ball more if I need to."
They both support each other's dreams of reaching the pinnacle of their respective sports and are extremely grateful to always have someone to lean on – even if their jam-packed schedules sometimes don't allow them as much time together as they would like.
"We're both at the top of our games right now, so it's cool to have somebody who understands that," Newsome said.
Brian Scalabrine rolls with Veronica Burton.
The Celtics broadcaster Scalabrine is around the Bay State Jaguars AAU program often and frequently works with players to help them reach their potential.
One day, when Burton entered the gym, everyone told him to keep an eye on her. Scalabrine was solidly impressed with Burton during drills, but initially, he wasn't blown away.
Scalabrine called her "very unassuming" in a workout environment, but he said that all changes in a heartbeat once the game gets underway and Burton is terrorizing opponents. He quickly realized she has "special basketball qualities."
Her basketball IQ, defensive intensity, and ability to make her teammates better stood out right away in pickup action.
"Within three minutes of playing I'm trying to get on her team," Scalabrine said. "Then I'm inviting her to my pickup runs, which sometimes pros are in the game, like Shabazz Napier and Bruce Brown. I think she's good enough to play in these runs, so I invited her … At the end of the day, I roll with Veronica Burton, because she's a winner."
He's told her several times that she should dream about making the Hall of Fame, using basketball to travel the world, and becoming an NBA or WNBA head coach if that's what she desires.
Scalabrine said that if she decides she wants to be special, Veronica Burton will be a name that everyone will know and look up to.
"I have super high expectations for her," Scalabrine said. "I think she's only scratching the surface for how good she can be."
Get Boston.com's browser alerts:
Enable breaking news notifications straight to your internet browser.